POTENSI BAITUL MAAL WAT TAMWIL (BMT) DALAM MENINGKATKAN PERTUMBUHAN EKONOMI DI INDONESIA
Irdlon Sahil

STAI Syaihona Moh. Kholil Bangkalan
Keywords:
The Potential Baitul Maal wat Tamwil (BMT), Economic Growth
Abstract
The study was intended to explain the potential Baitul Maal wat Tamwil for bringing economic growth to Indonesia. This method of research is done by reading reference books, journals and other media related to BMT. The concept of Baitul Maal wat Tamwil is to develop productive businesses and invest in developing the quality of macro and small economic activities, in part, it encourages savings and financing its economic activities. BMT is made up of two main functions: Baitul Tamwil (property development home), and Baitul Maal (treasure). This study shows that BMT has the potential to increase economic growth in Indonesia. It's proven by several journals that there are among them as INFERENSI (a religious social research journal), SOSIO DIDAKTIKA: Social Science Education Journal, and HUMAN FALAH
References
Al-Arif, M. Nur Rianto, Dasar-Dasar Ekonomi Islam, (Solo: Era Adicitra Intermedia, 2011).
Fauzi Arif Lubis,"Peranan BMT dalam Perberdayaan Ekonomi Nasabah Di Kecamatan Berastagi-Kabanjahe Kabupaten Karo (Studi Kasus BMT Mitra Simalem Al-Karomah)," Human Falah: No.2 Volume 3.( Juli-Desember, 2016).
Http://www.antaranews.com/berita/461826/bmt-alternatif-pemberdayaan-ekonomi-kerakyatan
Https://www.medcom.id/amp/5b2VgYvb-babak-baru-bmt-di-indonesia
Rodoni, Ahmad, Abdul Hamid, Lembaga Keuangan Syariah, (Jakarta; Zikrul Media Intelektual 2008).
Mashudi, Mashudi. "Perilaku Dan Budaya Konsumen Madura Dalam Dinamika Etika Bisnis Syariah." Al-Insyiroh: Jurnal Studi Keislaman 2.2 (2018): 133-149.
Nurul, Huda, & Heykal Mohammad, Lembaga Keuangan Islam Tinjauan Teoritis dan Praktis, (Jakarta: Prenadamedia Group, 2015).
Sagara, Yusar, Muharam Angga Pratama, Penguatan Ekonomi Kerakyatan Melalui Baitul Mal wat Tamwil (BMT) Sebagai Balai Usaha Mandiri Rakyat Terpadu, SOSIO DIDAKTIKA: Social Science Education Journal, 3 (1), 2016.
Sriyana, Jaka, Fitri Raya, Peran BMT dalam Mengatasi Kemiskinan di Kabupaten Bantul, INFERENSI, Jurnal Penelitian Sosial Keagamaan,Vol.7 No. 1, Juni 2013. 29.
Wiroso, Penghimpunan Dana dan Distribusi Hasil Usaha Bank Syariah, (Jakarta: Grasindo , 2005).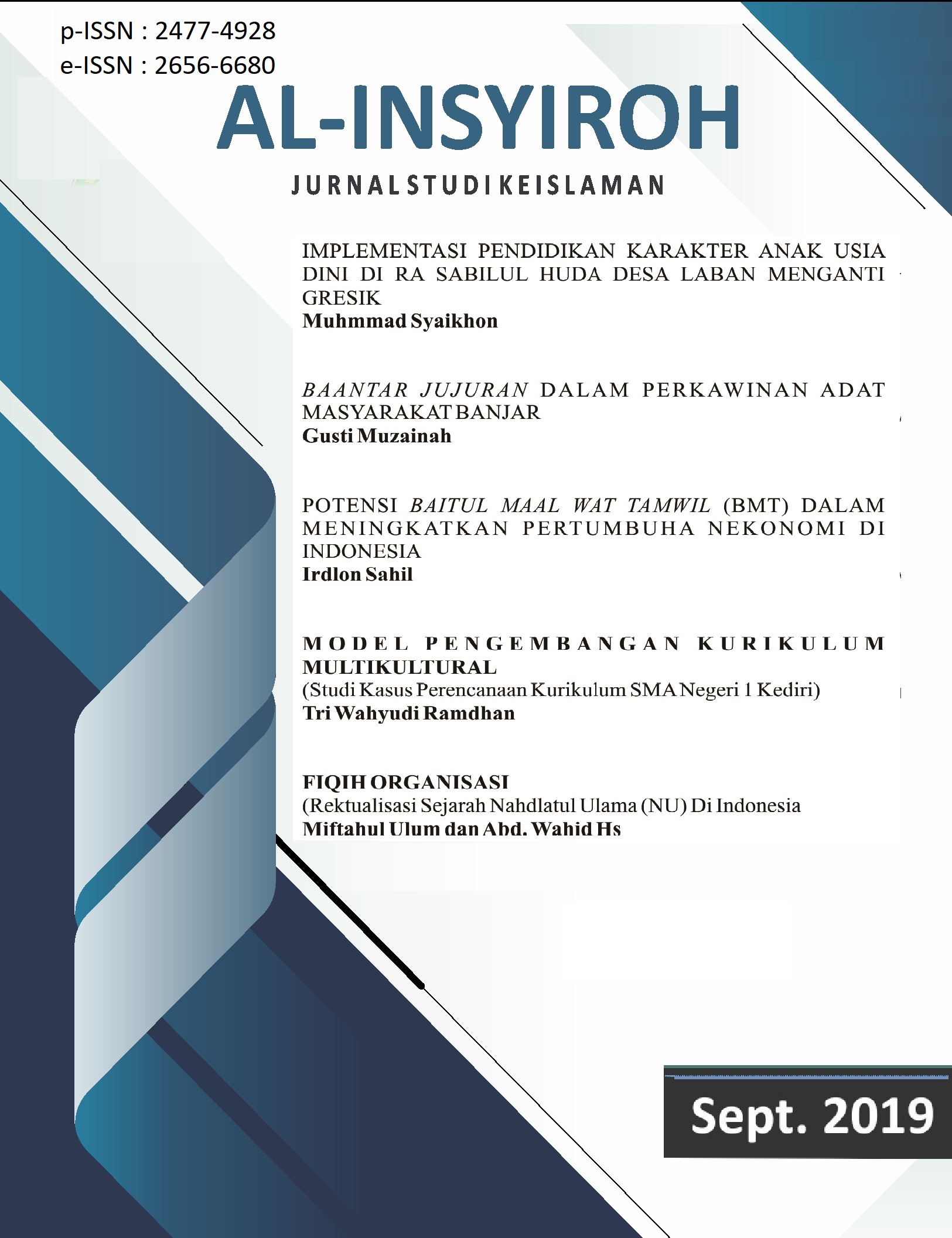 This work is licensed under a Creative Commons Attribution-ShareAlike 4.0 International License.