Filsafat Dinamis Integralistik Epistemologi Dalam Pemikiran Muhammad Iqbal
Ach. Maimun

Institut Ilmu Keislaman Annuqayah
Abstract
Abstract: This study focuses on the dynamic and integral aspects of Iqbal. The spirit of dynamism and integrality is a discussion of Iqbal which has received less attention in various studies. With this spirit, Iqbal concocted successfully to build an Islamic civilization that was built in chaos. For that purpose, Iqbal integrates the fundamental aspects, namely the source of knowledge consists of afak, anfus and history. There are three potentials, namely the senses, reason and intuition. All these devices are a unity towards continuous improvement until they reach their peak. To continue to move dynamically, the power of y 'isyq in the gathering mind is important so that all sources are maximized simultaneously to explore the object of knowledge which is the connection between the One Absolute Being. With this Iqbal succeeded in encouraging object integration (physical and metaphysical) which began with the integration of Sufism, philosophy and science. Iqbal also integrates classical and modern and challenges Islam and the West while remaining critical thinking. Knowledge gained from actions in the form of 'charity as a form of knowledge and action.   Keywords: source of knowledge, 'isyq, intuition, integration.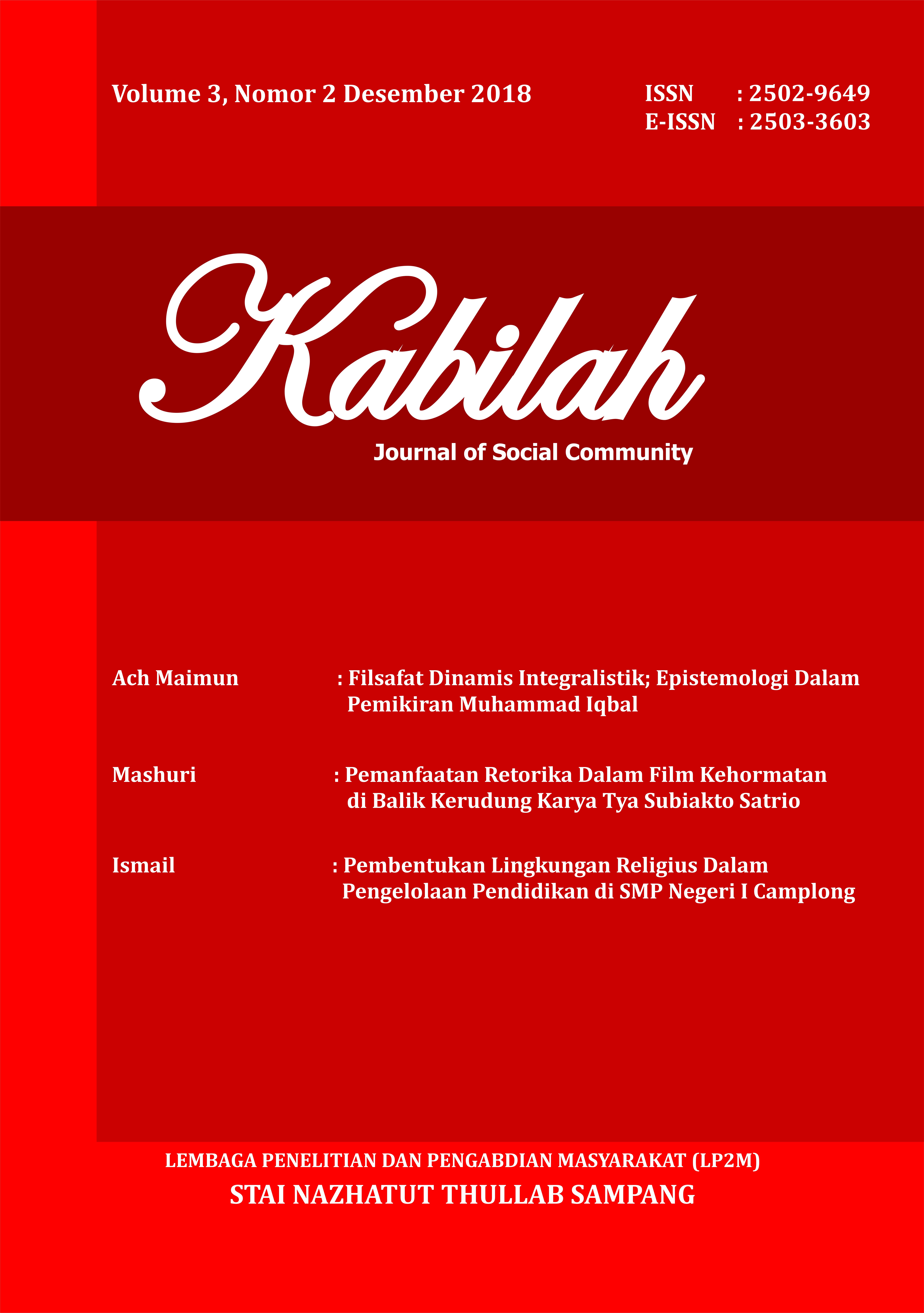 How to Cite
Maimun, Ach. KABILAH : Journal of Social Community 3, no. 2 (December 1, 2018): 142-156. Accessed February 18, 2020. http://ejournal.kopertais4.or.id/madura/index.php/kabilah/article/view/3402.
This work is licensed under a Creative Commons Attribution-ShareAlike 4.0 International License.