Sertifikasi Halal Dalam Persepsi Konsumen Pada Produk Pangan di Kabupaten Bangkalan
Galuh Widitya Qomaro

Universitas Trunojoyo Madura
Abstract
Abstrak Badan Penyelenggara Jaminan Produk halal (BPJPH) Kementrian Agama menargetkan semua produk yang tempat pemasarannya di Indonesia harus memiliki sertifikat halal di tahun 2019. Tujuan penelitian ini adalah (1). Mengetahui tingkat pemahaman konsumen terhadap sertifikasi halal; (2) Mengetahui persepsi konsumen; dan (3) Menganalisa hubungan tingkat pendidikan, pendapatan. Teknik penelitian yang digunakan dalam penelitian ini adalah survey yang mengambil sampel dari suatu populasi dan menggunakan kuisioner sebagai alat pengumpul data yang pokok. Analisis pengukuran terhadap perspektif konsumen terhadap sertifikasi halal dilakukan dengan metode statistic deskriptif. Analisis hubungan tingkat pendidikan dan tempat belanja konsumen dengan pemahaman tentang sertifikasi halal menggunakan analisa Pearson Correlation melalui program SPSS. Hasil pengolahan data menunjukkan bahwa mayoritas responden mengganggap produk pangan bersertifikat halal memiliki added value daripada produk pangan non label halal. Berdasarkan nilai korelasi dengan menggunakan Pearson Correlation, terdapat korelasi antara tingkat pendidikan dan pengetahuan responden terhadap pengetahuan mereka tentang sertifikasi halal.   Keyword: Persepsi Konsumen, Sertifikasi Halal, Produk Pangan.   Abstract The Ministry of Religion's Halal Product Guarantee Agency (BPJPH) targets all products that have marketing places in Indonesia to have halal certificates in 2019. The objectives of this study are (1). Knowing the level of consumer understanding of halal certification; (2) Knowing consumer perceptions; and (3) Analyzing the relationship between education level, monthly income. The research technique used in this study is a survey that takes samples from a population and uses questionnaires as a basic data collection tool. The measurement analysis of the consumer's perspective on halal certification is done by descriptive statistical methods. Analysis of the relationship between education level and consumer shopping place with an understanding of halal certification using Pearson Correlation analysis through the SPSS program. The results of data processing show that the majority of respondents consider halal-certified food products to have added value rather than non-label halal food products. Based on the correlation value using Pearson Correlation, there is a correlation between the level of education and the knowledge of respondents to their knowledge of halal certification.   Keyword: Consumer Perception, Halal Certification, Food Products.
Downloads
Download data is not yet available.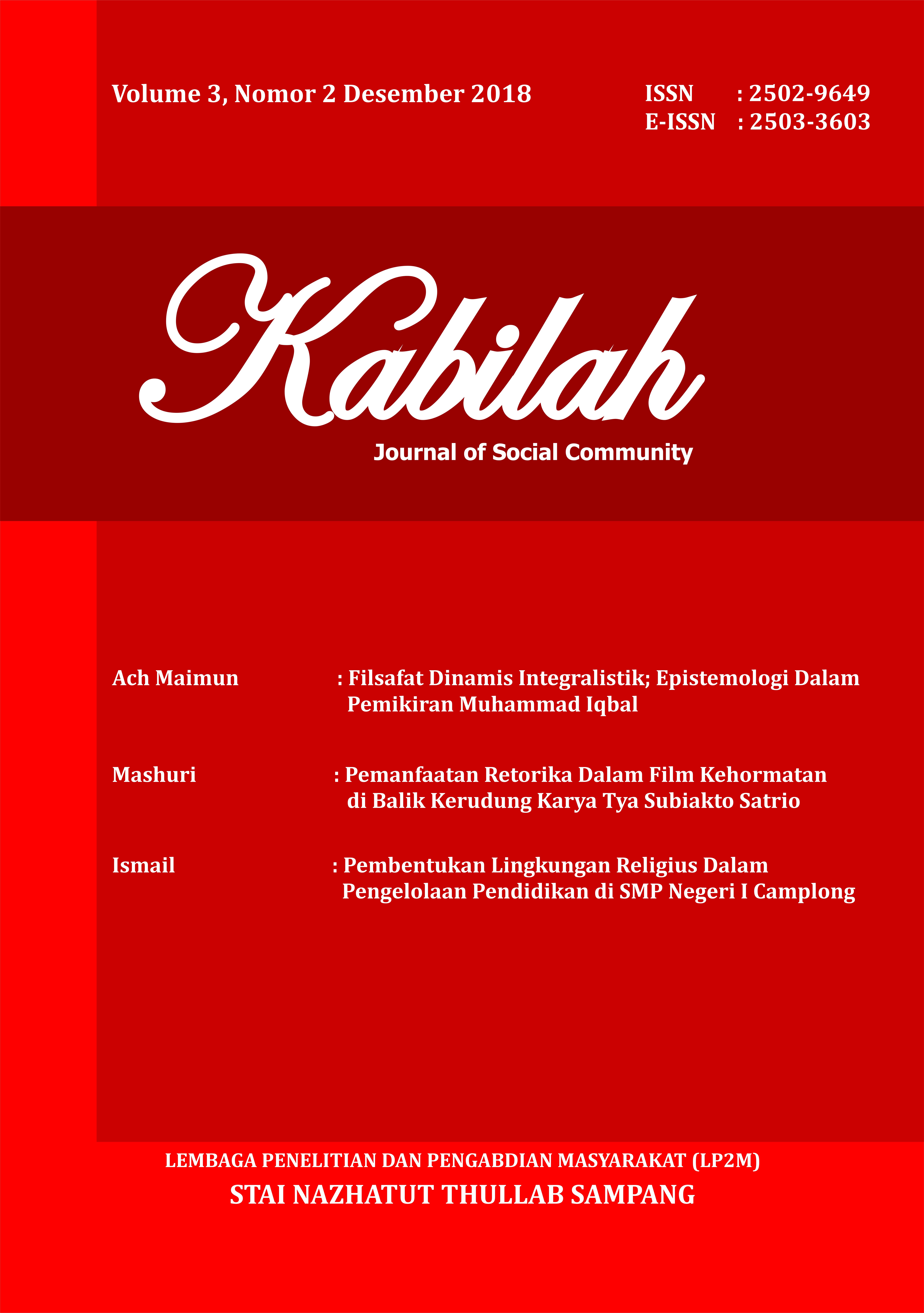 How to Cite
Qomaro, Galuh. KABILAH : Journal of Social Community 3, no. 2 (December 1, 2018): 241-251. Accessed May 30, 2020. http://ejournal.kopertais4.or.id/madura/index.php/kabilah/article/view/3412.
This work is licensed under a Creative Commons Attribution-ShareAlike 4.0 International License.