ORANG TUA DAN UPAYA MEMBANGUN MINAT BACA ANAK
Galuh Kartikasari

Sekolah Tinggi Agama Islam Miftahul 'Ula (STAIM) Nganjuk
Keywords:
Keywords, Parents, Reading, Children's Reading Interest.
Abstract
Reading is one of four language skills (listening, speaking, reading, and writing), so it can be said that reading is a part of education. Reading is the reader process in order to get a message from the author in print media. Children who have reading habit is easily to increase their knowledge because they can explore the world through reading. Children need a sense of love to read a book, so it can raise motivation and a willingness to read. Parents who contribute as the first person to educate the children had a big role to build the children's interest in reading. Nowadays, children's interest in reading did not appear in sudden. Parents should start thinking how to build children's interest in reading. Building children's interest in reading can be done by several methods which can become reading habit for children later.
References
DAFTAR PUSTAKA
Adzim, Fauzil. Membuat Anak Gila Membaca. Bandung: Mizania, 2007.
Fikri (el), Syahruddin. Menumbuhkan Minat Baca Masyarakat, (Online), http://www.republika.co.id, diakses 30 Agustus 2016.

Hernowo, Mengingat Makna: Kiat-Kiat Ampuh Untuk Melejitkan Kemauan Plus Kemampuan Membaca dan Menulis Buku. Bandung: Penerbit Kaifa, 2002.

Kamus Besar Bahasa Indonesia

Mildred, Dawson dan Henry A. Bamman. Fundamentals of Basic Reading Instruction. New York: Longman, Green and Co, 1960.

Musthafa. Agar Anak Anda Gemar Membaca. Bandung: Hikmah, 2005.

Nurhayati, et al. Modul Pembelajaran Membaca. Jakarta: Pusat Pengembangan Pendidikan dan Tenaga Kependidikan Bahasa, 2009.

Rahayu, Gilang Sri. "Pengaruh Minat Baca Terhadap Prestasi Belajar IPS Siswa Kelas V SD Se-Gugus II Kasihan Bantul Tahun Ajaran 2014/2015", dalam Jurnal Pendidikan. t.t.: t.p., 2015.

Sandjaja, Soejanto. Pengaruh Keterlibatan Orang Tua Terhadap Minat Membaca Anak Ditinjau Dari Pendekatan Stres Lingkungan, (Online), http://academia.edu, diakses 30 Agustus 2016.

Santoso, Hari. "Membangun Minat Baca Anak Usia Dini Melalui Penyediaan Buku Bergambar", dalam Jurnal Pustakawan, Vol. 2 No. 2. t.t.: t.p., 2011.

Susilowati, Emi. "Meningkatkan Minat Baca Anak Kelompok B Dengan Media Buku Cerita Bergambar di TK Fajar Surabaya", dalam Jurnal Pendidikan.

Uno, Hamzah B. Teori Motivasi dan Pengukuran: Analisis di Bidang Pendidikan. Jakarta: Bumi Aksara, 2007.

Yaqin, M. Zubad Nurul. Al-Qur'an Sebagai Media Pembelajaran Bahasa Indonesia: Upaya Mencetak Anak Didik Yang Islami. Malang: UIN Malang Press, 2009.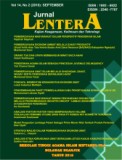 This work is licensed under a Creative Commons Attribution-NonCommercial-NoDerivatives 4.0 International License.