PEMBERDAYAAN UMAT ISLAM MELALUI SHADAQAH, ZAKAT, WAQAF SERTA PENDIDIKAN SEPANJANG HAYAT
Muhamad Umar Fauzi

Sekolah Tinggi Agama Islam Miftahul 'Ula (STAIM) Nganjuk
Keywords:
Keywords, Human Empowerment, Shadaqah, Zakat, Waqaf, Longlife Education
Abstract
ABSTRACTMuslims are the best people of all the groups of human being that Allah created. Among the aspects of the goodness of Muslims are the superior quality of human resources than non-Muslims. The superior quality of Muslims that is referred to in the Qur'an are normative nature, potential, not reality that adhere permanently. The reality of that norm depends on the ability of Muslims themselves to take the advantage of that norm or the potential that Allah has given. But in reality, the human resources of Muslims today have not been able to demonstrate the superior quality. Therefore, in the global arena, both in the political, economic, military, science and technology, have not been able to demonstrate the significant role. So, Muslims should continue their effort to change this situation. Many ways can be done, such as the ways that we can do through the principle of helping each other through activities of Shadaqah, Zakat and Waqaf. In addition, lifelong education should also be done through informal education, formal and non-formal education to improve the quality of Muslims' life.
References
DAFTAR PUSTAKA
Al-Qur'an.

Attas (al), Muhammad Naquib, Konsep Pendidikan dalam Islam, terj. Haidar Baqir. Bandung: Mizan, 1994.

Aziz, Abdul. Indahnya Islam. Surabaya: La Raiba Bima Amanta, 2006.

Fathurrosyid, et al. Studi Al-Qur'an. Yogyakarta: Kopertais IV Press, 2015.

Hasan, Tholhah Muhammad. Islam dan Masalah Sumber Daya Manusia. Jakarta: Lantabora Press, 2005.

Kodir, Koko Abdul. Metodologi Studi Islam. Bandung: Pustaka Setia, 2014.

Nurcholish, Madjid. Islam Agama Peradaban. Jakarta: PARAMADINA, 2008.

Rasjid, H. Sulaiman. Fiqh Islam: Hukum Fiqh Lengkap. Jakarta: Attahiriyah, 1954.

Subroto, Mardiatmaja Bernadus, Tantangan Dunia Pendidikan. Yogyakarta: Kanisius, 1986.

Sudjana, Djudju. Evaluasi Program Pendidikan Luar Sekolah. Bandung: PT Remaja Rosda Karya, 2006.

Suparta, et al. Fiqih 1. Jakarta: Departemen Agama RI, 1992.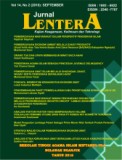 This work is licensed under a Creative Commons Attribution-NonCommercial-NoDerivatives 4.0 International License.