POSDAYA, MOMENTUM KEBANGKITAN EKONOMI UMAT
Luluk Indarinul Mufidah

Sekolah Tinggi Agama Islam Miftahul 'Ula (STAIM) Nganjuk
Keywords:
Keywords, POSDAYA, Development Economic
Abstract
ABSTRACTIndonesian population growth shows the rapid development, it's shown by the results of the projection that for twenty-five next years, increasing from 205.100.000 in 2000 into 273.200.000 in 2025 (URwww.datastatistik-indonesia.com). It will cause a lot of issues, such as unemployment, increasing levels of poverty, public health, namely the spread of infectious disease, malnutrition children, etc. this condition requires the presence of efforts at community empowerment through POSDAYA (Pos Pemberdayaan Keluarga). The establishment of quality family is not only the responsibility of government alone, but also required the active participation of the community, so it is needed a good cooperation among the community and government to create an independent community. POSDAYA is the one of excellent breakthrough in creating independent community.
References
DAFTAR PUSTAKA
Adi, Isbandi Rukminto. Intervensi Komunitas Pengembangan Masyarakat Sebagai Upaya Pemberdayaan Masyarakat. Jakarta: PT Raja Grafindo Persada, 2008.

Allmendinger, Philip. Towards a Post-Positivist Typology of Planning Theory, Planning Theory 1. t.t.: t.p., 2002.

Badan Perencanaan Pembangunan Nasional, (Online) (2016), http://bappenas.go.id/, diakses 3 Oktober 2016.

Badan Pusat Statistik. Statistik Indonesia. Jakarta: BPS, 2016.

Conyers, Diana. An Introducing to Social Planning in the Third World, terj. Susetiawan. New York: University of Nothingham, 1992.

D, Siti Irene A. Desentralisasi dan Partisipasi Masyarakat dalam Pendidikan. Yogyakarta: Pustaka Pelajar, 2011.

Friedman, John and Clyde Weaver. Territory and Function: The Evolution of Regional Planning. Berkeley: University of California Press, 1979.

Hikmat, Harry. Strategi Pemberdayaan Masyarakat. Bandung: Humaniora Utama Press, 2010.

Kartasasmita, G. Pembangunan Untuk Rakyat. Jakarta: Balai Pustaka, 1996.

Mikkelsen, Britha. Metode Penelitian Partisipatoris dan Upaya-Upaya Pemberdayaan, terj. Matheos Nalle. Jakarta: Yayasan Obor Indonesia, 1999.

Soetrisno, Loekman. Menuju Partisipasi Masyarakat. Yogyakarta: Kanisius, 1995.

Sunartiningsih, Agnes. Strategi Pemberdayaan Masyarakat. Yogyakarta: Aditya Media Yogyakarta, 2013.

Suparjan dan Hempri Suyatno. Pengembangan Masyarakat Dari Pembangunan Sampai Pemberdayaan. Yogyakarta: Aditya Media, 2003.

Supriatna, T. Strategi Pembangunan dan Kemiskinan. Jakarta: PT Asdi Mahasatya, 2000.
Suyono, Haryono dan Rohadi Haryanto. Buku Pedoman Pembentukan dan Pengembangan Pos Pemberdayaan Keluarga (POSDAYA). Jakarta: Balai Pustaka, 2009.

Winarni, Tri. Memahami Pemberdayaan Masyarakat Desa Partisipatif dalam Orientasi Pembangunan Masyarakat Desa Menyongsong Abad 21: Menuju Pemberdayaan Pelayanan Masyarakat. Yogyakarta: Aditya Media, 2012.

Yatim, Usman. "Pengembangan Posdaya Sebagai Upaya Membangun Kemandirian Masyarakat dalam Rangka Mengatasi Kemiskinan (Studi POSDAYA di Kelurahan Pasir Mulya, Kota Bogor, Jawa Barat)", Thesis. Yogyakarta: Program Studi Ketahanan Nasional, Sekolah Pascasarjana Universitas Gadjah Mada, 2010.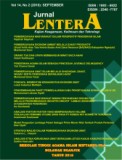 This work is licensed under a Creative Commons Attribution-NonCommercial-NoDerivatives 4.0 International License.