PENGEMBANGAN PAKET PEMBELAJARAN ILMU PENGETAHUAN SOSIAL KELAS IV SD
Muhammad Lukman Syafii

IAIN Ponorogo
Keywords:
Keywords, Development, Instructional Package, Social Science for Elementary School, Dick and Carey Model.
Abstract
ABSTRACTThe textbook is designed to serve the basic principles or aspects containing in the medium of instruction. At SDN Kwagean II Loceret Nganjuk, the textbook becomes the most dominant medium in the instructional process. Another problem in the utilization of the textbook, the textbook has not met the feasibility aspect due to the theory, model, students' need and the improvement of the students' motivation. Therefore, the developer aims at developing a product of Social Science (IPS) instructional package for IV graders of Elementary School to solve the existing problem concerning the textbook at SDN Kwagean II Loceret Nganjuk. Regarding the problems, the developer considers the importance for reorganizing the social science material for the fourth graders of elementary school by designing, trying out and producing it in the form of complete instructional package. The conclusion of the field test done after going through expert analysis, individual and small group tests can be said that the textbook has fulfilled the students' need even though there are some matters to be revised. It is expected that IPS Textbook for IV graders is able to solve the problems concerning the instructional package development that comply with the theory and learning model, so it can generate a learning source that is proper with the students' characteristics, assist the students' learning and create such learning condition that may improve the students' motivation.
References
DAFTAR PUSTAKA
Dick W. and L. Carey. The Systematic Design of Instruction (3rd Ed). London, England: Scott, Foresman and Co. Publishers, 1990.

___________________. The Systematic Design of Instruction (5th Ed). London, England: Scott, Foresman and Co. Publishers. 2001.

Januszewski, Alan and Michael Molenda. Educational Technology: A definition with Commentary. New York, London: Taylor & Francis Gorup Lawrence Erlbaum Association, 2008.

Smaldino, Sharon E., et al. Instructional Technology and Media for Learning. Columbus, Ohio: Merril Prentice Hall, 2008.

Sulthon. "Desain Pesan Buku Teks IPS SD di Wilayah Kota Malang: Suatu Kajian Terhadap Buku Teks IPS Kelas III, IV, dan V SD". Disertasi. Malang: PPS TEP UM, 2003.

Toenlioe, A.J.E. "Profil Buku Teks IPS SD". Tesis. Malang: PPS IKIP Malang, 1999.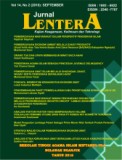 This work is licensed under a Creative Commons Attribution-NonCommercial-NoDerivatives 4.0 International License.