Model Penguatan Lembaga Petani Sebagai Prime Mover Nilai Tambah Produk Pertanian
Bisri Djalil

STAIN Kediri
Keywords:
Keywords, Agriculture, Farmers, Farmer Organizations, Value-Added of Agricultural Products
Abstract
ABSTRACTIn this study, the author wanted to see how the role of agriculture in development generally, As well as the farmer organizations model which can be the prime mover value-added of agricultural products. Agricultural organizations have gotten attention from academics and government since a long time ago, but the existence of the organizations have not been able to act as they should. this proved from the development of the agricultural sector has not been optimal yet, and in particular, the farmers in East Java are still constrained by the sale value of rice that low. The model of organizations strengthening farmers can be the prime mover value-added agricultural products, if they fulfill the following criteria: the farmer organizations should be able to access the products of financial institutions, synergy with the local program, as forum for promotion and development of farmers, access of experts, Information providers, and as media of management services and marketing of agricultural products.
References
DAFTAR PUSTAKA
Cahyono, Sandy dan Tjokropandojo, Dewi Sawitri. Peran Kelembagaan Petani Dalam Mendukung Keberlanjutan Pertanian Sebagai Basis Pengembangan Ekonomi Lokal, Jurnal Perencanaan Wilayah dan Kota B SAPPK V2N1

Hadad, Muliaman D, Peran Sektor Jasa Keuangan dalam Pembiayaan Sektor Pertanian, Peternakan dan Perikanan. Seminar Jakarta Food Security Summit 3. Jakarta, 13 Februari 2015. http://www.ojk.go.id/Files/201502/MDHPembiayaanSektorPeternakanPertaniandanPerikananCetak_1423815844.pdf.

Hutomo, Mardi Yatmo, Pemberdayaan Masyarakat dalam Bidang Ekonomi: Tinjauan Teoritik dan Implementasi , Naskah No. 20, Juni-Juli 2000.

Kementerian Koordinator Bidang Perekonomian, Revitalisasi Pertanian, Perikanan dan Kehutanan Indonesia 2005, Jakarta, 2005.

Kuncoro, Mudrajat. Ekonomika Pembangunan: Teori, Masalah dan Kebijakan, Edisi Keempat, Yogyakarta: Unit Penerbitan dan Percetakan (UPP) STIM YKPN, 2006.

Parma, Putu Gede. Pengembangan Model Penguatan Lembaga Pertanian Sebagai Prime Mover Pembangunan Kawasan Daerah Penyangga Pembangunan (DPP) Destinasi Wisata Kintamani – Bali. Jurnal Ilmu Sosial dan Humaniora, Vol. 3, No. 1, April 2014.

Warsana, Pemantapan Kelembagaan Pada Gapoktan, http://www.litbang.pertanian.go.id/artikel/one/249/pdf/Pemantapan%20Kelembagaan%20Pada%20Gapoktan.pdf. diakses tgl 20 Agustus 2016.

Wahyuni, Sri. Kinerja kelompok Petani Dalam Sistem Usaha Petani Padi dan Metode Pemberdayaannya. Jurnal Litbang Pertanian, 22(1). Jakarta: Pusat Penelitian dan Pengembangan Sosial Ekonomi Pertanian, Kementerian Pertanian Republik Indonesia. 2003.

Yunita, dkk. Meningkatkan Penguatan Kelembagaan dan Permodalan Petani Lahan Lebak Sumatera Selatan. Prosiding Seminar Nasional Lahan Suboptimal 2014, Palembang 26-27 September 2014.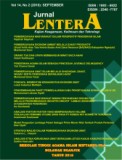 This work is licensed under a Creative Commons Attribution-NonCommercial-NoDerivatives 4.0 International License.