Komitmen Beragama dalam Pendidikan Islam Berbasis Masyarakat Mahasiswa STIT Islamiyah Karya Pembangunan Paron, Ngawi, Jawa Timur
Dian Febrianingsih

STIT Islamiyah Karya Pembangunan Paron, Ngawi

Arih Merdekasari

STIT Islamiyah Karya Pembangunan Paron, Ngawi
Keywords:
Religious Commitment, College Student, Community-Based Islamic Education
Abstract
Abstract : This study aims to describe and analyze 5 things, 1) factors that influence the religious commitment of students in implementing community-based Islamic education, 2) forms of community-based Islamic education by students, 3) the impact of community-based Islamic education for students, and 4 ) psychological dynamics of religious commitment of STIT Islamiyah student KP Paron Ngawi in implementing community-based Islamic education. To answer the above problem, the researcher uses qualitative method with case study. Data were collected by in-depth interviews, participatory observation and documentation. The next data is analyzed with Miles & Hubberman concept which include data reduction, data exposure and conclusion. The form of community-based Islamic education conducted by the students is education diniyah non-formal path that is TPA and / or boarding. Implementation of TPA and pesantren have a positive impact on personal and social life on the whole subject. On the other hand, there is no negative impact of the activity on students. The dimensions of religious commitment consisting of dimensions of belief, ritual, knowledge, experience and belief; have varying degrees of influence on the subjects. Based on this there is a unique dynamics of religious commitment to each subject in the implementation of community-based Islamic education
Downloads
Download data is not yet available.
References
A.Hicks, Joshua & A. King, Laura. Religious Commitmenr And Positive Mood as Information About Meaning Of Life. Journal of Research In Personality. 42. 2008
Amran, Ali. Peranan Agama Dalam Perubahan Sosial Masyarakat. Hikmah Vol. II, No. 01 Januari – Juni 2015
Ali, Mohammad Daud. 2006. Pendidikan Agama Islam. Jakarta: PT RajaGrafindo Persada
Aminuddin dkk. 2014. Pendidikan Agama Islam Untuk Perguruan Tinggi Umum. Bogor: Ghalia Indonesia.
Ancok, Djamaluddin Ancok & Abdullah, Fuad Nashori Psikologi Islam. (Yogyakarta: Pustaka Pelajar, 2008)
Badan Pusat Statistik. 2009. Penyajian Data Informasi Kementrian Pemuda dan Olahraga Tahun 2009. Jakarta: Biro Perencanaan Sekretariat Kementerian Pemuda dan Olahraga
Badan Pusat Statistik. 2010. Kewarganegaraan, Suku Bangsa, Agama, dan Bahasa sehari-hari Penduduk Indonesia Hasil Sensus Penduduk 2010. Jakarta:Badan Pusat Statistik
Basri, Hasan. 2009. Filsafat Pendidikan Islam. Bandung: Pustaka Setia
Chaer, Moh. Toriqul. "542-1568-3-PB.Pdf." FENOMENA: Jurnal Penelitian Volume 8, No. No. 1 (2016): 91–100.
Chaer, Moh Toriqul. "Peran Madrasah Dalam Menghadapi Era Globalisasi Dan Budaya." Muaddib: Studi Kependidikan dan Keislaman 6, no. 2 (2016): 182–201.
Darwis, Djamaluddin. 2006. Dinamika Pendidikan Islam; Sejarah, Ragam dan Kelembagaan. Semarang: Rasail.
Fani Reza, Iredho. Hubungan Antara Religiusitas Dengan Moralitas Pada Remaja Madrasah Aliyah (MA). Humanitas. Vol. X. No. 02 Agustus 2013
Faridah, Durrotul, Metamorfosis Ibadah Kurban Dalam Al Qur'an. Qaf, Vol I No. 01 (September 2016)
Ishardino Satries, Wahyu. Peran Serta Pemuda Dalam Pembangunan Masyarakat. Jurnal Madani. Edisi I/ Mei 2009
Fakhruddin, A.U. 2006. Peran Generasi Muda dalam Keberlangsungan Pendidikan Islam. Jurnal Pemikiran Alternatif Kependidikan. Vol. 11 No. 2 Jan-April 2006
Hakiki, Titian & Cahyono, Rudi. Komitmen Beragama Pada Muallaf (Studi Kasus Pada Muallaf Usia Dewasa. Jurnal Psikologi Klinis dan Kesehatan Mental. Vol.4 No. 1 April 2015.
Hereck, G.M. Religious orientation and prejudice; A comparison of racial and Sexual Attitudes. Personality and Social Psychology Buletin, 13(1) (1987).
Hurlock, E, B. Psikologi Perkembangan; Suatu Pendekatan Sepanjang Rentang Kehidupan. Alih bahasa: Istiwidayanti & Sijabat, Max R. Jakarta: Penerbit Erlangga, 2004
Jess Feist & Gregory J. Feist. 2008. Theoriest of Personality. Terj. Yudi Santoso. Yogyakarta: Pustaka Pelajar
Khan, M.S dan Anwaar, M. Symbolic Important Of Ritualof Sacrifice On Eid Ul Adha (Research Based Study On Satellite Town Rawalpind). International Journal Of Research In Appliednatural And Social Science (IMPACT:IJRANS)2013, 1(3)
Layton, Emily, C. Dollahite, David & A. Hardy, Sam. Anchors of Religious Commitment in Adolescents. Journal of Adolescent Research (3) 2011
Mardia. Peran Pendidikan Islam Berbasis Kompetensi Dalam Peningkatan Mutu Pendidikan Di PTAI. Lentera Pendidikan. Vol. 17 No. 2 Desember 2014
Rahman, A. 2012. Pendidikan Agama Islam dan Pendidikan Islam Tinjauan Epistemologi Isi dan Materi. Jurnal Eksis. Vol. 8 No. 1 Maret 2012
Rakhmat, J. 2013. Psikologi Agama sebuah Pengantar. Bandung: Mizan
Stark, Rodney Stark & Glock, Y Clark. American Piety: The Nature of Religious Commitment.California: University of California Press
Subandi. Psikologi Dzikir: Studi Fenomenologi Pengalaman Transformasi Religius. (Yogyakarta: Pustaka Pelajar, 2009)
Suharto, Toto. 2015. Pendidikan Berbasis Masyarakat: Relasi Negara dan Masyarakat dalam Pendidikan. LKIS Pelangi Aksara
Takamizawa, Eiko. 1999. Religious Commitment: Theory A Model for Japanese Christians. Torch Trinity Journal. Vol 2 No 1164-82
Veysel, Sonmez. 2017. Associationof Cognitive, Affective, Psychomotor and Intuitive Domains in Education, Sonmez Model. Universal Journal of Educational Research 5 (3):347-356
Worthington, E., Wade, N., Hight, T., Ripley, J., McCullough, M., Berry,J., Bursley, K., & O'Connor, L. (2003). The Religious Commitment Inventory 10: Development, refinement, and validation of a brief scale for research and
counseling. Journal of Counseling Psychology, 50 (1), 84-96

Website
www.nasional.kompas.com "Bintang Mesum" Ngawi Digelandang Polisi. 2008. (online)
www.cnnindonesia.com Ratnasari, D.E. Cyber Crime, Kasus Kejahatan Terbanyak di 2016.
www.siaganngawi.com Gaya Hidup Pelajar Ngawi Disoroti FPG.
www.siagangawi.com Delapan Bulan Menjadi Buron, Pembacok Tiga Remaja Pitu Akhirnya Menyerahkan Diri.
www.kominfo.jatimprov.go.id Kontras: Ujaran Kebencian Penyebab Terjadinya Radikalisme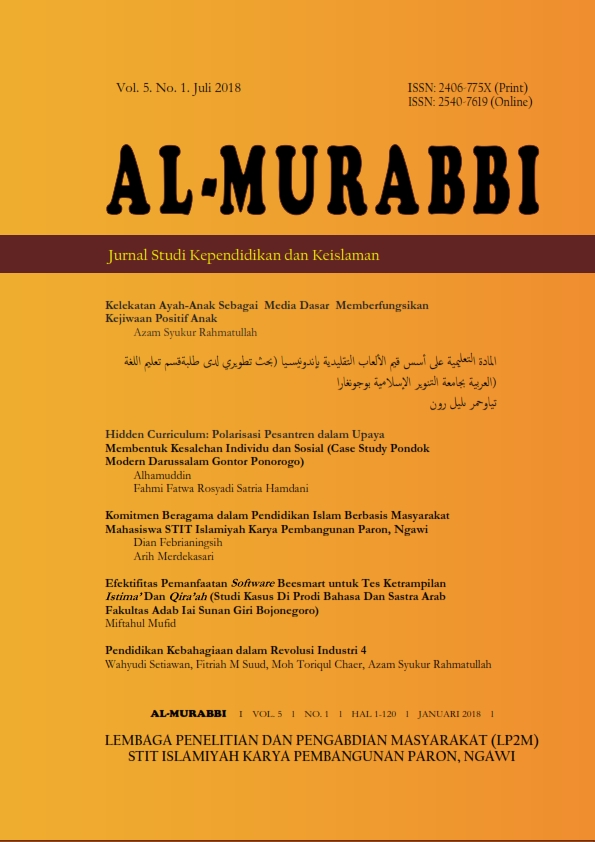 Copyright (c) 2018 AL-MURABBI: Jurnal Studi Kependidikan dan Keislaman
This work is licensed under a Creative Commons Attribution-ShareAlike 4.0 International License.