Model Manajemen Pendidikan Adab Anak Usia Pendidikan Dasar DI MIN Demangan Madiun Jawa Timur Indonesia
Katni Katni

Universitas Muhammadiyah Ponorogo

Sigit Dwi Laksana

Universtas Muhammadiyah Ponorogo
Keywords:
Adab, Model Manajemen, Pendidikan Adab, Pendidikan Dasar
Abstract
This article discusses the model of adab education management in MIN Demangan, Madiun City with research findings that the management model of adab education strategy for children of basic education is as follows: 1) Using stages of planning and setting adab; 2) The implementation begins with organizing, coordinating activities so that integration and support by all school stakeholders. (3) The stage of strengthening madrasa culture in adab education is control and evaluation. 4) At the follow-up stage an inventory of advantages and obstacles is carried out in the implementation and also analyzes the cultural form of madrasas in adab education that has been well implemented or that is difficult to realize.
Downloads
Download data is not yet available.
References
Acetylena, Sita. "Analisis Implementasi Kebijakan Pendidikan Karakter Di Perguruan Taman Siswa Kecamatan Turen Kabupaten Malang." Jurnal Kebijakan dan Pengembangan Pendidikan 1, no. 1 (2013): 56.
Acikgence, Apparslan. Islamic Science Towards A Definition. Kuala Lumpur: ISTAC, 2003.
Ann McLachlan, D. "The Impact of Globalization on Internationally Mobile Families: A Grounded Theory Analysis." Journal of Theory Construction & Testing 9, no. 1 (t.t.).
Attas, S.M.N. al-. "Risalah Untuk Kaum Muslimin (Message to Muslims)." A long manuscript dictated to his secretary. Para, Maret 1973.
Baharuddin, Baharuddin. Pendidikan dan Psikologi Perkembangan. Yogyakarta: Ar-Ruzz Media, 2014.
Hartini, Sri. "Pendidikan Karakter Disiplin Siswa di Era Modern Sinergi Orang Tua dan Guru di MTS Negeri Kabupaten Klaten." AL-ASASIYYA: Journal Of Basic Education 2, no. 1 (2017): 38–59.
Karo-Karo, D. E. M. M. U. "Membangun Karakter Anak dengan Mensinergikan Pendidikan Informal dengan Pendidikan Formal." Elementary School Journal PGSD FIP UNIMED 1, no. 2 (2014): 1–3.
Katni, Katni. "Jilbab Dalam Al-Qur'an Dan Al-Hadits Serta Aplikasinnya Pada Pendidikan Islam Perspektif Teori Habitus Pierre Bourdieu." Al-ASASIYYA: Journal Of Basic Education 01, no. 01 (2016): 58.
Laksana, Sigit Dwi. "Urgensi Pendidikan Karakter Bangsa di Sekolah." Jurnal Muaddib 05, no. 01 (2015): 137.
Machmud, Muslimin. Tuntunan Penulisan Tugas Akhir Berdasarkan Prinsip Dasar Penelitian Ilmiah. Malang: Selaras, 2016.
Mustofa, Imam. "Keluarga Sakinah dan Tantangan Globalisasi." Al-Mawarid Journal of Islamic Law XVIII (2008): 227–48.
Rianto, Hadi. "Implementasi Nilai Kemanusiaan Yang Adil Dan Beradab Di Lingkungan Sekolah." Sosial Horizon: Jurnal Pendidikan Sosial 3, no. 1 (2016): 80–91.
Roshonah, Adiyati Fathu. "Urgensi Program Pelatihan Parenting dalam Meningkatkan Kemampuan Komunikasi Orangtua dengan Anak." Jurnal Al Murabbi 5, no. 2 (2019): 25.
Undang-Undang Republik Indonesia No. 20 Tahun 2003 Tentang Sistem Pendidikan Nasional. Bandung: Citra Umbara, 2003.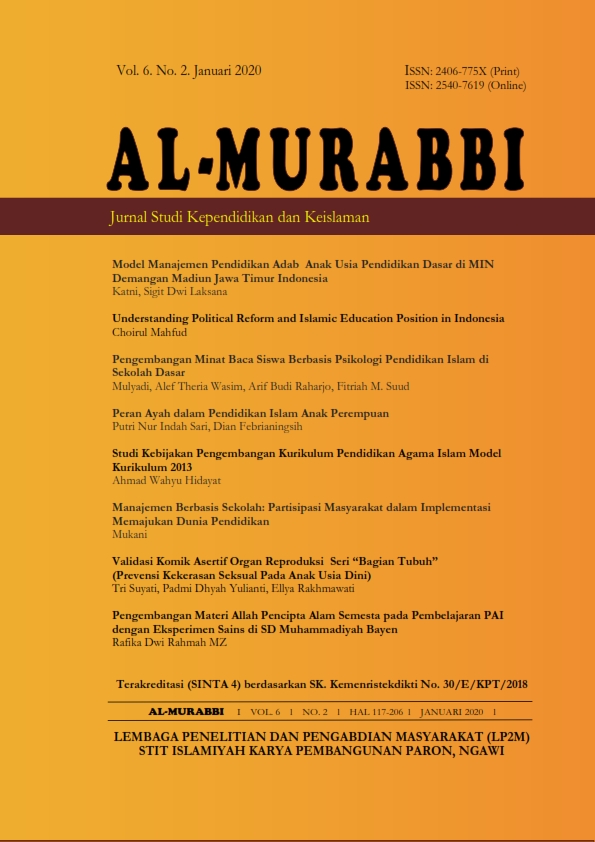 Copyright (c) 2020 AL-MURABBI: Jurnal Studi Kependidikan dan Keislaman
This work is licensed under a Creative Commons Attribution-ShareAlike 4.0 International License.