HAK PEREMPUAN UNTUK PENDIDIKAN DAN PENGAJARAN DALAM PERSPEKTIF ISLAM
Sadari Sadari

IAI Shalahuddin Al-Ayyubi, Tambun, Bekasi
Keywords:
Women Rights, Education, Teaching of Islam
Abstract
Women and men are always ditimpangkan on the right to education. The form of inequality is, a man free to choose in reaching any high education. While the woman was very difficult and even squeezed to achieve their right to education even in the process of belajarpun must be separated. Difficulty in obtaining educational opportunities, because there are many factors among which are the factors of history, culture and religion (doctrine). Whatever the factors women must find new momentum that, a wanitapun have equal contribution in building the nation, so we need to get right both in education and teaching. In Islamic teaching both men and women have egalitarian relationships and man's most noble before God are those who fear both men and women. Therefore, this article explains the importance of gender mainstreaming (gender mainstreaming) in education and teaching.
References
Al-Bukhari, Shahihul, Kitabul-Libas, 1/339
Al-Jashshadah, Ahkamiil Qur'an, juz. I/117,
Al-Jauziyyah, Ibn al-Qayyim, I'lamuul Muwaqqi'in, Juz.IV
Arikunto, Suharsimi, Prosedur Penelitian : Suatu Pendekatan Praktek, Jakarta : PT.Rineka Cipta, 1993.
Ash-Shabuni, Tafsir Ayatil Ahkam. juz I/150.
Brown, Harold I, Perception, Theory and Commitment : The New Philosophy of Science, Chicago : The University of Chicago Press, 1979.
Engineer, Asghar Ali, Hak-hak Perempuan dalam Islam, Cet.II, Jakarta : LSPPA, Yayasan Perkasa, 1994.
Fachrurrazi, Tafsir Al-Kabir, juz, lV/115.
Fanani, Muhyar, Metode Studi Islam : Aplikasi Sosiologi Pengetahuan sebagai Cara Pandang, cet.ke-1, Yogyakarta : Pustaka Pelajar, 2008.
Fauzia, Amelia, Lisa Noor Humaidah, et.al, Realitas dan Cita Kesetaraan Gender di UIN Jakarta : Baseline dan Analisis Institusional Pengarusutamaan Gender pada UIN Syarif Hidayatullah Jakarta Tahun 1999-2003, cet. ke-1, Ciputat : McGill IAIN-Indonesia Social Equity Project, 2004
Fayumi, Badriyah, Mursyidah Thahir, Anik faridah, Nefisra Viviani, Keadilan dan Kesetaraan Jender : Perspektif Islam, cet. ke-1, Jakarta : Tim Pemberdayaan Perempuan Bidang Agama RI, 2001.
Garisah, Ali, Metode Pemikiran Islam, Jakarta : Gema Insani Press, 1989.
Hasyim, Syafiq, hal-hal yang tak Terpikirkan tentang Isu-isu Keperempuanan dalam Islam, Bandung : Mizan, 2001.
Mernissi, Fatimah, Wanita dalam Islam, terj. Yaziar Radianti, Bandung : Pustaka, 1994.
Musa, Kamil, al-Bintu fil Islam : Ri'ayah wa Mas'uliyah, terj. Amir Hamzah Fachrudin : "Anak Perempuan dalam Konsep Islam", cet. ke-1, Jakarta : CV.Firdaus, 1994
Nye, F.Ivan, Role Structure and Analysis of the Family, California & London : Sage of Social Research, 1976.
S.Kuhn, Thomas, The Structure of Scientific Revolutions, Herndon : The University os Chicago Press, 1970.
Shahrour, Muhammad, " Islam dan Konferensi Dunia tentang Perempuan di Beijing Tahun 1995" dalam Wacana Islam Liberal : Pemikiran Islam Kontemporer tentang Isu-isu, Global, ed. Charles Kurzman; Penerjemah, Bahrul Ulum..et.al; Penyunting E.Kusnadiningrat, Jakarta : Paramadina, 2001.
Tavris, Carol, Mismeasure of Women, New York : Touchstone, 1992.
Umar, Nasarudin, Argumen Kesetaraan Jender Perspektif al-Qur'an, cet. ke-2, Jakarta : Paramadina, 2001
Yanggo Huzaemah Tahido, Fikih Perempuan Kontemporer, cet.ke-1, Bogor : Ghalia Indonesia, 2010.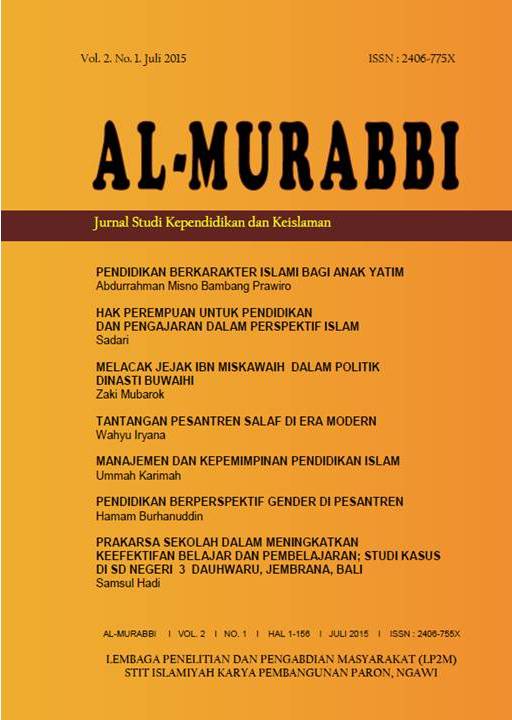 This work is licensed under a Creative Commons Attribution-ShareAlike 4.0 International License.