Strategi Kepala Sekolah dalam Mempertahankan Mutu Pendidikan pada Masa Pandemi Covid-19 di SMA Ar-Rahmah Malang
Burhana Rizky Pratama

Universitas Islam Negeri Maulana Malik Ibrahim

Rodiyatin Puput T

Universitas Maulana Malik Ibrahim Malang

Iffah Af'idah

Universitas Maulana Malik Ibrahim Malang
Keywords:
Strategy Headmaster, Quality of Education
Abstract
Scholl is one of the aspects affected by the Covid-19 pandemic, therefore the importance of the strategy of educational institution leaders in maintaining the quality of their education so that they can always maintain their existance to the wider community, therefore this study has the aim to knowing the strategies applied by the head master of SMA Ar-Rahmah in maintaining the wuality of education during the Covid-19 pandemic. The methode used in this research is kualitative descriptive explanatory, information retrieval using structured interview with the principal as a resource. The information analysis that is tried in problem research is reduction, presentation, and the drawing of conclusions. The result found in this study are as follow: 1) the headmaster maintains the quality of this education by improving teacher professionalism by providing coaching and training such as saqofiyah coaching which aims to maintain the faith of teachers to carry out learning well, 2) during this pandemic the headmaster pas attention to the immunity of school residents by giving eclia test, using strict health protocols, both when the teacher enters the school environment and in the learning process, 3) the headmaster keeps the teaching and learning process going well by maintaining the health of students by providing additional foot to increase the immunity of participants students, besides providing additional activities to reduce the boredom of students in the teaching and learning process.


Downloads
Download data is not yet available.
References
Ali, Sahid, and Enung Hasanah. "Kepemimpinan Kepala Sekolah Dalam Menjamin Mutu Pendidikan Pada Masa Pandemi Covid-19 Di SMA Muhammadiyah 3 Yogyakarta" 7, no. 1 (2021): 264–272.
C. Markides. "What Is Strategy And How Do You Know If You Have One?" Bussines Strategy Review Summer 15, no. 2 (n.d.): 5–12.
David, Fred R. Manajemen Strategi. Jakarta: Salemba Empat, 2009.
J. H. Makawimbang. Supervisi Dan Peningkatan Mutu Pendidikan. Bandung: Alfabeta, 2011.
M. Abdullah. "Manajemen Mutu Pendidikan Sekolah." Jurnal Penelitian Pendidikan 17, no. 03 (n.d.): 190.
Maarif, Moh Ibnul, Ni Ketut Arismayanti, Agus Muriawan Putra, Jl R Goris, and No Denpasar. "Strategi Perencanaan Manajemen Sumber Daya Manusia Di Hotel the Patra Resort and Villas Bali Kabupaten Badung Bali." Kepariwisataan Dan Hospitalitas 3, no. 1 (2019): 211–225.
Mubarak, Faisal. "Faktor Dan Indikator Mutu Pendidikan Islam." Management of Education 1, no. 1 (2004): 10–18.
Nur Zazin. Gerakan Menata Mutu Pendidikan: Teori Dan Aplikasi. Yogyakarta: Ar-Ruzz Media, 2011.
Porter. Strategi Bersaing (Competitive Strategy): Teknik Menganalisis Industri Dan Pesaing. Tangerang: Karisma Pyblishing Group, 2007.
Sadikin, Ali, and Afreni Hamidah. "Pembelajaran Daring Di Tengah Wabah Covid-19." Biodik 6, no. 2 (2020): 109–119.
Saleh, Ahmad Muzawir. "Problematika Kebijakan Pendidikan Di Tengah Pandemi Dan Dampaknya Terhadap Proses Pembelajaran Di Indonesia" (n.d.).
Solehan. "Strategi Peningkatan Mutu Pendidikan Di Madrasah Aliah Negeri Muara Enim." Raden Fattah 14 (2014): 1–15.
Stephen J. Bagnato. Intervention, Authentics Assessment For Early Childhood. New York, 2007.
Sudrajat, Cucu Jajat, Mubiar Agustin, Leli Kurniati, and Dede Karsa. "Jurnal Obsesi : Jurnal Pendidikan Anak Usia Dini Strategi Kepala TK Dalam Meningkatkan Mutu Pendidikan Pada Masa Pandemi Covid 19 Abstrak" 5, no. 1 (2021): 508–520.
Suhendar, Soedjarwo, Ismet Basuki. "Analisis Pengaruh Kepemimpinan Kyai, Budaya Pesantren, Dan Motivasi Kerja Guru Terhadap Mutu Pendidikan Pesantren Di Provinsi Banten" 34 (2017): 161–172.
Supriadi, Oding. "Pengaruh Gaya Kepemimpinan Dan Kualitas Layanan Terhadap Mutu Pendidikan Di Kabupaten Pandeglang Provinsi Banten." Tabularasa PPS UNIMED 6, no. 2 (2009): 98–111.
Susanto, Budi. "The Influence Of Headmaster Leadership , School Climate And Teacher Competence Toward Education Quality In Mts Jeneponto Regency" 1, no. 2 (2018): 23–39.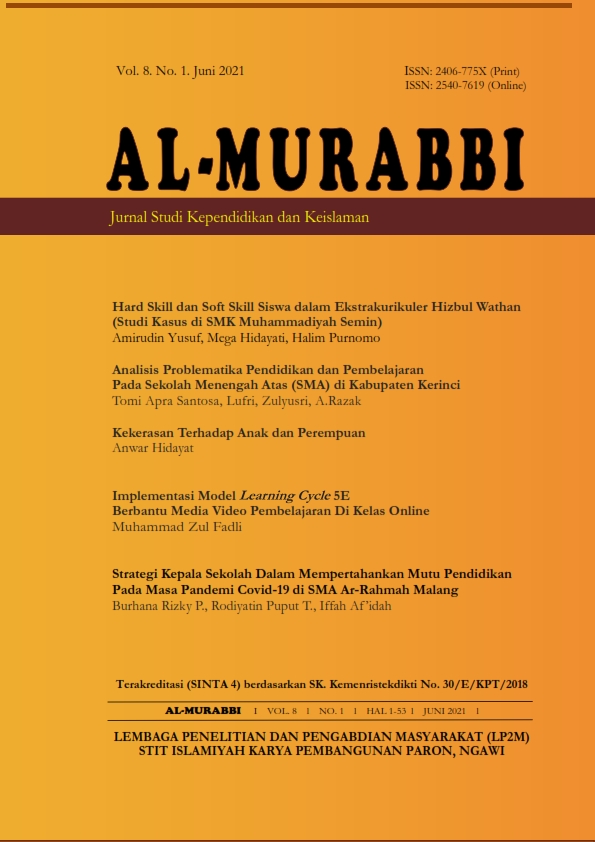 Copyright (c) 2021 AL-MURABBI: Jurnal Studi Kependidikan dan Keislaman
This work is licensed under a Creative Commons Attribution-ShareAlike 4.0 International License.