Konsep Asuransi Dalam Konstruksi Bisnis Islam (Kajian Reflektif Perspektif Fikih Muamalah)
Moh Nafih

Sekolah Tinggi Agama Islam At-Tahdzib Jombang
Abstract
Application of equilibrium principal in Islam very is suggested, to be comprehended as life
balance in world and eternity which must be carried by entrepreneur of moslem in this bearing
( Insurance). Hence this balance concept, inviting to all entrepreneur of moslem to be able
to realize actions in business which can place x'self a others and moslem prosperity of life
safety and world eternity.Other side, in have business to oblige the existence of business ethics
Islamly which is put down above values of normatifias religion. Ethics is ideal moral values
which must be applied in Islam business as business identity which have Islam bases. Business
of Islam is the way of have business which clear of manipulation actions, exploitation, and
from goods of lap. But most principal in characteristic have business of Islam conducted on
the basis of is voluntary (antaradhin) and accepting each other between one another. So that
from conducting business transaction it in an optimal fashion.In this " concerning insurance",
representing new problem to Islam, and have the character of ijtihad, which must be tilled by
moslem intelectuals to be able to know law status, operational procedure, and elementary
principle of Islam, and also can be applied by society.
References
Ali Muhyiddin al-Qarahdagy, al-Ta'min al-Islam: Dirasah Fiqhiyah Ta'shiliyah,
muqaranah bit-Ta'min al-Tijari ma'a al-Tathbiqat al-Amaliyah, Beirut,
Libanon: Sirkah Daar al-Basyair al-Islamiyah, 1983.
Ali, Hasan, Asuransi dalam Perspektif Hukum Islam: Suatu Tinjauan Analisis Historis,
Teoritis, dan Praktis, Jakarta: Kencana, 2004.
Anwar, Syamsul, Hukum Perjanjian Syari'ah; Studi Tentang Teori Akad dalam Fikih
Muamalah, Jakarta: Raja Grafido, 2007.
Konsep Asuransi Dalam Konstruksi Bisnis Islam
At-Tahdzib Vol.1 Nomor 2 Tahun 2013
152
A partanto, Pius, dan al-Barry, M. Dahlan, Kamus Ilmiah Populer Surabaya:
Arkola, 1994.
al-Asqalani, Ahmad Ibnu Hajar, Fathul Bari. Vol. 12. Lahore Pakistan: Nashrul
Kutub Islamiyah, 1981.
Badroen, Faisal dkk, Etika Bisnis Dalam Islam, Jakarta: Fajar Interpratama
Offset, 2006.
Billah, Moh Ma'sum, Islamic Insurance (takaful), Selangor: Ilmiah Publisher,
2003.
Briefcase Edukasi Profesional Syari'ah, Fatwa-Fatwa Ekonomi Syari'ah Kontemporer,
disuting oleh Muhammad Firdaus DN. dkk., Jakarta: Renaisan,
2005.
Depdikbud, Kamus Besar Bahasa Indonesia, Jakarta: Balai Pustaka, 1996
Darmawi, Herman, Manajemen Asuransi, cet ke-3., Jakarta: Bumi Aksara,
2001.
Fuady, Munir, Pengantar Hukum Bisnis: Menata Bisnis Modern di Era Global,
Bandung: PT. Citra Aditya Bakti, 2005.
Januari, Yadi, Asuransi Syari'ah, Bandung: Pustaka Bani Quraisyi, 2005.
KA Fallasufa (STP Sabda), Asuransi dalam Perspektif Syari'ah, Judul Asli: Nudzum
at-Ta'min al-Mu'ashirah f Mizan Asy-Syari'ah al-Islamiyah, Karya
Husain Husain Syahatah, Jakarta: AMZAH, 2006.
al-Mishri, Abdul Sami', Pilar-Pilar Ekonomi Islam, terj. Yogyakarta: Pustaka
Pelajar, 2006.
M. Echols, John dan Syadilly, Hassan, Kamus-Inggris Indonesia, Jakarta: Gramedia, 1990.
Muslehuddin, Muhammad, Insurance and Islamic Law, penerj: Burhan Wirasubrata,
Menggugat Asuransi Modern: Mengajukan Suatu Alternatif Baru dalam
Perspektif Hukum Islam, cet ke-1., Jakarta: Lentera, 1999.
Muthahhari, Murtadha, Pandangan Islam Tentang Asuransi dan Riba, terj., Iwan
Kurniawan, Bandung: Pustaka Hidayah, 1995.
Nasution, Harun, Islam Ditinjau dari Berbagai Aspek, Jakarta: UI-PERS, 1974.
Prodjodikoro, Wirjono, Hukum Asuransi di Indonesia, Jakarta: Pembimbing,
1958.
Perwataatmadja, Karnaen dkk, Bank dan Asuransi Islam di Indonsia Jakarta:
Prenada Media, 2005.
Pasaribu, Khairuman dan K. Lubis, Suhrawardi, Hukum Perjanjian Dalam Islam,
Jakarata: Sinar Grafia, 2004.
R. Subekti dan R. Tjitrosudibio, Kitab Undang-Undang Hukum Dagang dan UndangUndang Kepailitan, Jakarta: PT. Pradnya Paramita, 2006.
Soimin, Soedharyo, Kitab Undang-Undang Hukum Perdata, Jakarta: Sinar Grafia,
2007.
Sulla, Muhammad Syakir, Asuransi Syari'ah, Jakarta: Gema Insani Press, 2004.
Sumitro, Warkum, Asas-Asas Perbankan Islam dan Lembaga-Lembaga Terkait di
Indonesia, Jakarta: Raja Grafido Persada, 1996.
Sudarsono, Heri, dan Prabowo, Heri Yogi, Istilah-Istilah Bank dan Lembaga
Keuangan Syari'ah, Yogyakarta, UII-Perrs, 2006.
Bey Sapta Utama, Esensi Asuransi Islam., http:/asuransi-syari'ah. Blogspot.com/
download tanggal 14/11/2007.
Muhammad Syakir Sulla, Asuransi Syari'ah, Jakarta: Gema Insani Press, 2004.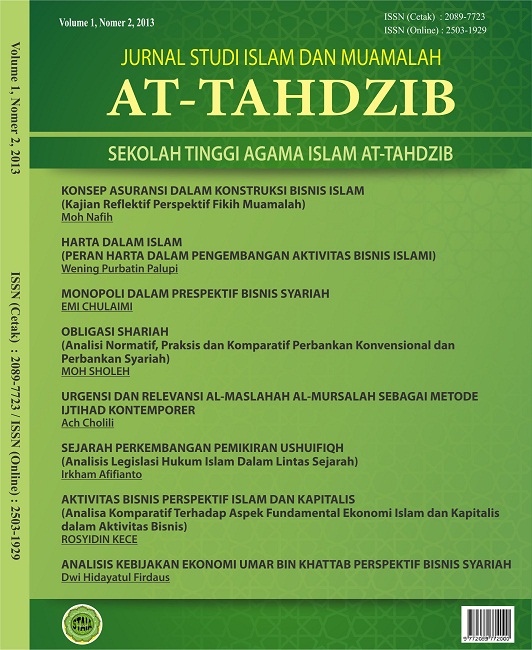 How to Cite
Nafih, M. (2016). Konsep Asuransi Dalam Konstruksi Bisnis Islam (Kajian Reflektif Perspektif Fikih Muamalah). At-Tahdzib: Jurnal Studi Islam Dan Muamalah, 1(2), 133-153. Retrieved from http://ejournal.kopertais4.or.id/mataraman/index.php/tahdzib/article/view/1165
Copyright (c) 2015 AT-Tahdzib: Jurnal Studi Islam
This work is licensed under a Creative Commons Attribution 4.0 International License.

Jurnal Studi Islam by At-Tahdzib is licensed under a Creative Commons Attribution 4.0 International License.
Based on a work at http://ejournal.kopertais4.or.id/mataraman/index.php/tahdzib