Arabic Learning Skill
Muh Barid Nizaruddin Wajdi

Sekolah Tinggi Agama Islam Miftahul Ula. Nganjuk Jawa Timur
Keywords:
teaching method, Arabic learning skill
Abstract
There are some factors influencing teaching and learning of foreign language. In teaching Arabic, for example, linguistic factors, such as Phonology, Grammatical rules, Morphology, and Vocabulary. Non linguistic factor also influences teaching and learning Arabic, for example, teaching aids, teaching method, age and environment. Teaching method in Arabic is one of the important factor. This article discusses about the Arabic learning skills, and how influenced Arabic teaching
References
Chaer, Abdul. Psikolinguistik Kajian Teoretik, Jakarta: Rineka Cipta, 2003.
Effendy, Ahmad Fuad, Metodologi Pengajaran Bahasa Arab, Malang: Misykat, 2005.
Fahrurrozi, Aziz dan Erta Mahyudin, Pembelajaran Bahasa Asing, Jakarta: Bania Publishing, 2010
, Teknik Pembelajaran Kemahiran Bahasa, Jakarta: Bania Publishing, 2011.
Ibrahim, Hamadah, Al-Ittijâhât al-Muʻâshirah fî Tadrîs al-Lughah al-ʻArabiyyah wa al-Lughah al-Hayyah al-Ukhrâ li Ghair al-Nâthiqîna bihâ, Kairo: Dar al-Fikr al-Arabi, 1987.
al-Ghalayaini, Musthafa, Jâmiʻ al-Durûs al-ʻArabiyyah, Beirut: al-Maktabah al-asyriyah, 2003.
al-Khuli, Muhammad 'Ali, Asâlîb Tadrîs al-Lughah al-ʻArabiyyah, al-Riyadh: Maktabah al- Farazdaq, 1989.
Mackey, W. F., Language Teaching Analysis, London: Longman, 1965.
Purwo, Bambang Kaswanti, Pragmatik dan Pengajaran Bahasa: Menyibak Kurikulum 1984, Yogyakarta: Kanisius, 1990.
Richards, Jack C. dan Theodore S. Rodgers, Approaches and Methods in Language Teaching, Cambridge: Cambridge University Press, 2001.
Thuwaimah, Rusydî Ahmad, Taʻlîm al-ʻArabiyah li Ghair al-Nâthiqîna Bihâ, Manâhijuhâ wa asâlîbuhâ, Rabath: Isesco, 1989.
Wright, Tony, Role of Teacher and Learner, Oxford: Oxford University Press, 1987.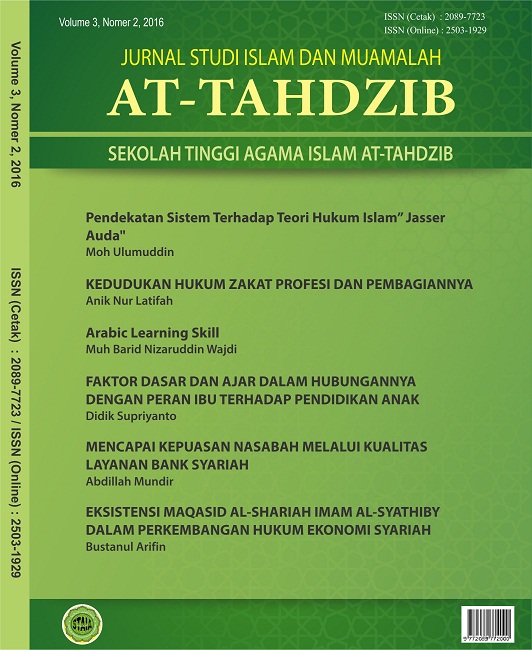 How to Cite
Wajdi, M. B. N. (2016). Arabic Learning Skill. At-Tahdzib: Jurnal Studi Islam Dan Muamalah, 3(2), 32-47. Retrieved from http://ejournal.kopertais4.or.id/mataraman/index.php/tahdzib/article/view/1864
Copyright (c) 2016 AT-Tahdzib: Jurnal Studi Islam dan Muamalah
This work is licensed under a Creative Commons Attribution 4.0 International License.

Jurnal Studi Islam by At-Tahdzib is licensed under a Creative Commons Attribution 4.0 International License.
Based on a work at http://ejournal.kopertais4.or.id/mataraman/index.php/tahdzib