Perdagangan Ala Nabi Muhammad SAW Gambaran Tauladan Yang Hilang Di Perdagangan Global
Abstract
Kajian sejarah mengenai perdagangan dan etika bisnis Muhammad sebelum ditunjuk sebagai nabi merupakan kajian yang menarik, karena perilaku dan etika bisnis yang diterapkan oleh Muhammad didasarkan pada kajian ayat-ayat al-Qur'an. Setelah ditunjuk sebagai nabi, kehidupan Nabi Muhammad lebih dibimbing oleh wahyu-wahyu al-Qur'an. Beberapa prinsip yang diterapkan oleh Muhammad adalah jujur, amanah, timbangan yang tepat, menghindari gharar, tidak menimbun barang, tidak melakukan al-ghalb dan tadlis di antara penjual dengan pembeli.  
References
Alma Buchari, 2014, Manajemen bisnis syari'ah: menanamkan nilai dan praktik syari'ah dalam bisnis komtemporer, Bandung: Alfabeta.
Cholil Moenawar, 2006, Kelengkapan Tarikh Nabi Muhammad, Jakarta: Gema Insani Press.
Hadits riwayat Ibnu Majah.
Hadits riwayat Bukhari.
Hadits riwayat Muslim.
Hadits riwayat Ahmad.
Hadits riwayat Abu Daud.
Jaribah bin Ahmad al-Haritsi, 2006, al-Fiqh al-Iqtiṣādi li Amīr al-Mu'minīn, (Fiqih Ekonomi Umar bin al Khathab), Jakarta: Califa.
Karim Abdul, , 2007, History of the Muslim Thought and Civillization, Yogyakarta: Pustaka Book Publisher.
Malik al-Muwatta' Imam, 1999, al-Sirah al-Nabawiyyah, Jakarta: Rajagrafindo Persada.
Muhammad bin Yasar, 2002, Kelengkapan Tarikh Nabi Muhammad, Surakarta: Muhammadiyah University Press.
Muhammad bin Alwi al-Maliky, 1994, al-Bushrā fī Manāqib al-Sayyidah Khadījah al-Kubrā, Surabaya: Barar al-Tsaqaf.
P3EI, Ekonomi Islam, 2014, Jakarta: PT Raja Grafindo.
Rus'an H, 1981, Lintasan Sejarah Islam di Zaman Rasulullah SAW, Semarang: Wicaksana.
Rizqullah Ahmad Mahdi, 2006, al-Sirah al-Nabawiyyah fi Dhauq'i al-Maṣādir al-Aṣliyyah: Dirasah Tahlīliyyah, Jakarta: Qisthi Press.
Suyanto M, 1982 Muhammad Business Strategy and Ethics, Bandung: Alfabeta.
Van Hoeve Ichtiar, 2001, Ensiklopedi Hukum Islam, Jakarta: Ichtiar.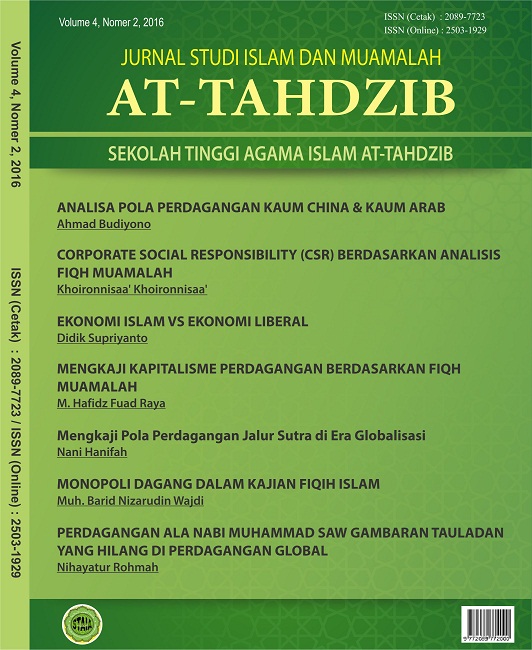 How to Cite
Rohmah, N. (2016, October 31). Perdagangan Ala Nabi Muhammad SAW Gambaran Tauladan Yang Hilang Di Perdagangan Global. At-Tahdzib: Jurnal Studi Islam Dan Muamalah, 4(2), 100-131. Retrieved from http://ejournal.kopertais4.or.id/mataraman/index.php/tahdzib/article/view/2371
This work is licensed under a Creative Commons Attribution 4.0 International License.

Jurnal Studi Islam by At-Tahdzib is licensed under a Creative Commons Attribution 4.0 International License.
Based on a work at http://ejournal.kopertais4.or.id/mataraman/index.php/tahdzib