Fikih Inklusif Dalam Konteks Multikulturalisme Sosial Keagamaan Masyarakat Indonesia (Studi Pemikiran KH. Abdul Qodir AF)
Nilna Fauza

Institut Agama Islam Negeri (IAIN) Kediri
Abstract
As a discourse that is often considered hegemonic in Islamic studies, Fiqh often contributes to the emergence of various perspectives, including exclusive perspectives. As a matter of fact, Fiqh which once offered an abundance of thoughts and perspectives is now often used as a tool of truth legitimacy (truth claim). That means the truth (piety) of a person is often attributed to how pious s/he is in applying Islamic laws. Furthermore, Fiqh which was initially nothing but merely a person's understanding of God's will, is often positioned as an ideology of which others must obey its truth. On the basis of this ideologization, certain understanding often legitimizes itself as the only understanding to generalize a truth or reality. Meanwhile, other understandings are considered to have no authority. Therefore, they must be rejected even though establishing only one religious understanding in the midst of a multicultural society like in Indonesia, is very prone to cause conflicts. Considering the case previously mentioned, establishing Fiqh from a figure who is inclusive and sensitive to multiculturalism becomes important for Muslims in Indonesia in order to have a variety of perspectives in social life and to be able to show the public that Islamic laws can be a social integration instead of a trigger for social disintegration.
References
Abdullah, M.H. Said, Membangun Masyarakat Multikultural, Surabaya: Taman Pustaka, 2011.
al-Banna, Jamal, Manifesto Fiqih Baru 3 Memahami Paradigma Fiqih Moderat, Jakarta: Erlangga, 2008
Arifin, Syamsul, Studi Islam Kontemporer: Arus Radikalisasi dan Multikulturalisme di Indonesia, Malang: Intrans Publishing, 2015.
Dhofier, Zamakhsyari, Tradisi Pesantren: Studi tentang Pandangan Kyai, cet. 6 Jakarta: LP3ES, 1994.
Hanafi, Hassan, al-Turas| wa al-Tajdi>d Muqifuna> Min al-Turats al-Qadim dan al-Turas| wa al-Tajdi>d Muqifuna> Min al-Turats al-Gharbi Muqaddimah fi> 'lmi al-Istighrab¸ t.tp.: Daar al-Faniyyah, t.t.
Hermansyah (Ed)., Damai antara Cita dan Fakta, Pontianak: STAIN Pontianak Press, 2009.
Hilmy, Masdar, Jalan Demokrasi Kita, Etika Politik, Rasionalitas dan Kesalehan Publik, Malang: Intrans Publishing Malang, 2017.
Ibrahim, Ruslan, "Pendidikan Multikultural: Upaya Meminimalisir Konflik dalam Era Pluralitas Agama, Jurnal El Tarbawi , Vol.1 No. 1 2008.
Mahfud, Choirul, Pendidikan Multikultural, Yogyakarta: Pustaka Pelajar, 2010.
Mahfud, Sahal, Nuansa Fikih Sosial, Yogyakarta: LkiS, 2004.
Mughits, Abdul, Kritik Nalar Fiqh Pesantren, Jakarta: Kencana, 2008.
Musthafa, Nasip, "Multikulturalisme dalam Islam" dalam Jurnal Pnelitian Keislaman, Vol. 10., No. 2, Januari 2014.
Nugroho, Sasmito, "Sikap Inklusif", http://www.kompasiana.com/ dalam Google.com, diakses tanggal 4 April 2017 pukul 10.25.
Rofiq, Ahmad, "Kritik Metodologi Fiqh Indonesia", dalam Noor Ahmad (et. al), Epistemologi Syara', Yogyakarta: Walisongo Press bekerja sama dengan Pustaka Pelajar, 2009.
Saridjo, Marwan dkk, Sejarah Pondok Pesantren di Indonesia, Jakarta: Dharma Bhakti, 1980.
Sirry, Mun'im A, "Agama, Demokrasi, dan Multikulturalisme", dalam Kompas, 1 Mei 2003.
Subagyo, Agus, "Multikulturalisme di Tengah Kultur Monolitik dan Uniformitas Global", dalam Kompas, 28 Desember 2001.
Sumartana, Th., "Kemanusiaan, Titik Temu Agama-agama" dalam Martin L. Sinaga (sd.) Agama- agama Memasuki Milenium Ketiga, Jakarta: Gramedia Pustaka, 2000.
Sunaryo, Agus, "Fikih Tasamuh: membangun Kembali Wajah Islam yang Toleran", dalam Jurnal Akademika: Jurnal Pemikiran Islam, Vol. XVIII, No. 02, Juli-Desember, 2013
Suparta, Mundzier, Islamic Multicultural Education: Sebuah Refleksi atas Pendidikan Agama Islam di Indonesia, cet. ke-1, Jakarta: Al-Ghazali Center, 2008.
Woodward, Mark R. (ed.), Jalan Baru Islam: Memetakan Paradigma Mutakhir Islam Indonesia, terj. Ihsan Ali Fauzi, Bandung: Mizan, 1999.
Yakin, M. Ainul, Pendidikan Multikultural: Cross Cultural Understanding Untuk Demokrasi dan Keadilan, Yogyakarta: Pilar Media, 2005.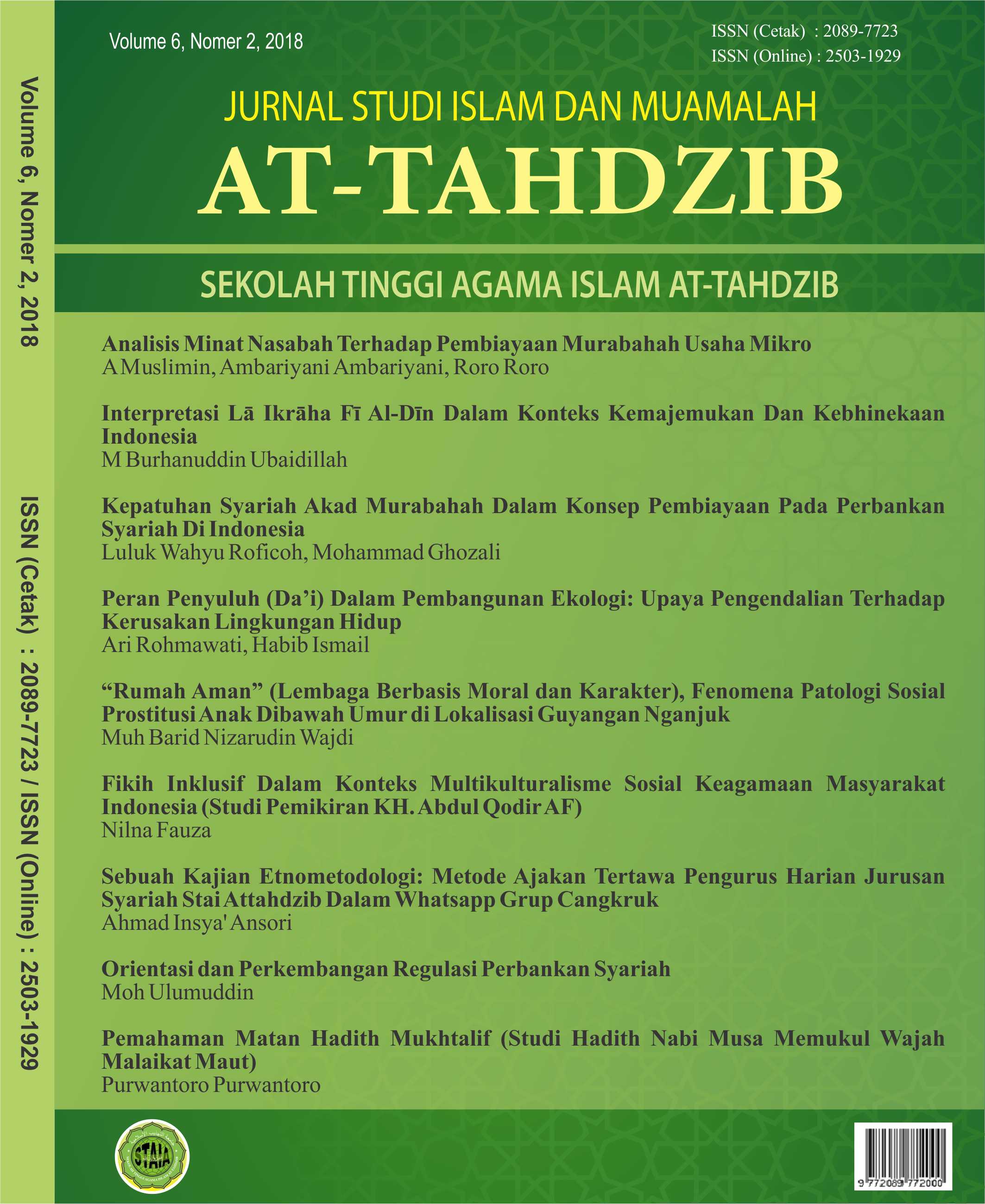 How to Cite
Fauza, N. (2019, April 11). Fikih Inklusif Dalam Konteks Multikulturalisme Sosial Keagamaan Masyarakat Indonesia (Studi Pemikiran KH. Abdul Qodir AF). At-Tahdzib: Jurnal Studi Islam Dan Muamalah, 6(2), 94 - 114. Retrieved from http://ejournal.kopertais4.or.id/mataraman/index.php/tahdzib/article/view/3575
This work is licensed under a Creative Commons Attribution 4.0 International License.

Jurnal Studi Islam by At-Tahdzib is licensed under a Creative Commons Attribution 4.0 International License.
Based on a work at http://ejournal.kopertais4.or.id/mataraman/index.php/tahdzib