Kapitalisme Dan Islam Dalam Pergulatan Ekonomi
Yoyok Rimbawan

Universitas Islam Negeri Sunan Ampel Surabaya
Keywords:
Economy, Capitalist, Islam
Abstract
The unpreparedness of human resources in the development of the state, especially the economy, has resulted in the choice of many Islamic countries being oriented and oriented towards these two main ideologies, namely the capitalist model developed by Western countries or the socialists adopted by Russia and China. As well as adopting the totality of these two ideologies as a foothold in managing human resources, natural resources in economic activities. Although both of them have principles that are not in accordance with Islamic teachings.
References
A.A Islahi, Konsep Ekonomi :Ibn Taimiyah, ter.H. Anshari Thayib , Surabaya : Bina Ilmu, 1997
Abdullah Abdul Husain at Tariqi, Ekonomi Islam; Prinsip, Dasar, dan Tujuan, terj M. Irfan Syofani, Yogyakarta, Megistra Insania Press, 2004
Deliarnov, Perkembangan Pemikiran Ekonomi, Raja Grafindo Perkasa, Jakarta, 1997
Didik J Rachbini, Republika 27 Juni 2001
Dwi Condro Triono, Makalah Seminar Setengah Hari dengan tema "Dilema Pembangunan Bidang Keteknikan Dalam Krisis Perekonomian Indonesia" Fakultas Teknik Universitas Janabadra Yogyakarta. Tanggal 15 Agustus 2001
Dwi Condro Triono, Makalah Seminar dengan tema "Islam dan Tantangan Ekonomi Global" Jurusan Ekonomi Islam STAIN Surakarta. Tanggal 22 Mei 2007
Ibrahim Lubis, Ekonomi Islam Suatu Pengcmlar , Jakarta: Kalam Mulia, 1994
Khurshid Ahmad, Studies in Islamic Economics, Leicester, UK: The Islamic Foundation, 1980
Khursid Ahmad, Etika Ekonomi Politik, Ed. Ainur R Shophian, Surabaya, Risalah Gusti, 1997
M. Karebet Widjayakusuma dan M. Ismail Yusanto, Pengantar Managemen Syari 'at, Jakarta- Khairul Bayan, 2003
M. Umar Chapra, Etika Ekonomi Politik, Ed. Air.r R. Shophian, Surabaya, Risalah Gusti, 1997
M. Umar Chapra, Islam and Economic Challange, Leicester, The Islamic Foundation and The International of Islamic Thought, 1992
M. Umar Chapra, Islam dan Tantangan Ekonomi, Surabaya, Risalah Gusti, 1999
Marshal Green, The Economic Theory, terj. Ariswanto, Buku Pintar Teori Ekonomi, Jakarta : Penerbit Aribu Matra Mandiri, 1997
Muhammad dan Alimin, Etika dan Perlindungan Konsumen dalam Ekonomi Islam, Yogyakarta : BPFE, 2004
Muhammad Najatullah Siddiqi, Moslem Economics Thinking, United Kingdom: The Islamic Foundation, 1988
Muhammad Syauqi al Fanjari, al Madzab al Iqtishadi al Islamiy, Jeddah : Syirkah Maktabah 'Ukkaz, 1981
Paul Heinz Koesters, Tokoh-tokoh Ekonomi Mengubah Dunia Pemikiran - pemikiran yang Mempengaruhi Hidup Kita, Gramedia, Jakarta 1987
Samuelson, Paul A. & Nordhaus, William D., Mikroekonomi, Alih Bahasa: Haris Munandar dkk., Erlangga, Jakarta, 1999.
Taqiyyudin Ahmad ibnu Taimiyyah, al Hisbah fi al Islam, di tahkik oleh Said Muhammad ibn Abi Sa'dah, Kuwait : Maktabah Dar al Arqam, 1983
Tulus Tambunan, Krisis Ekonomi dan Masa Depan Reformasi, Lembaga Penerbit Fakultas Ekonomi Universitas Indonesia, Jakarta. 1998.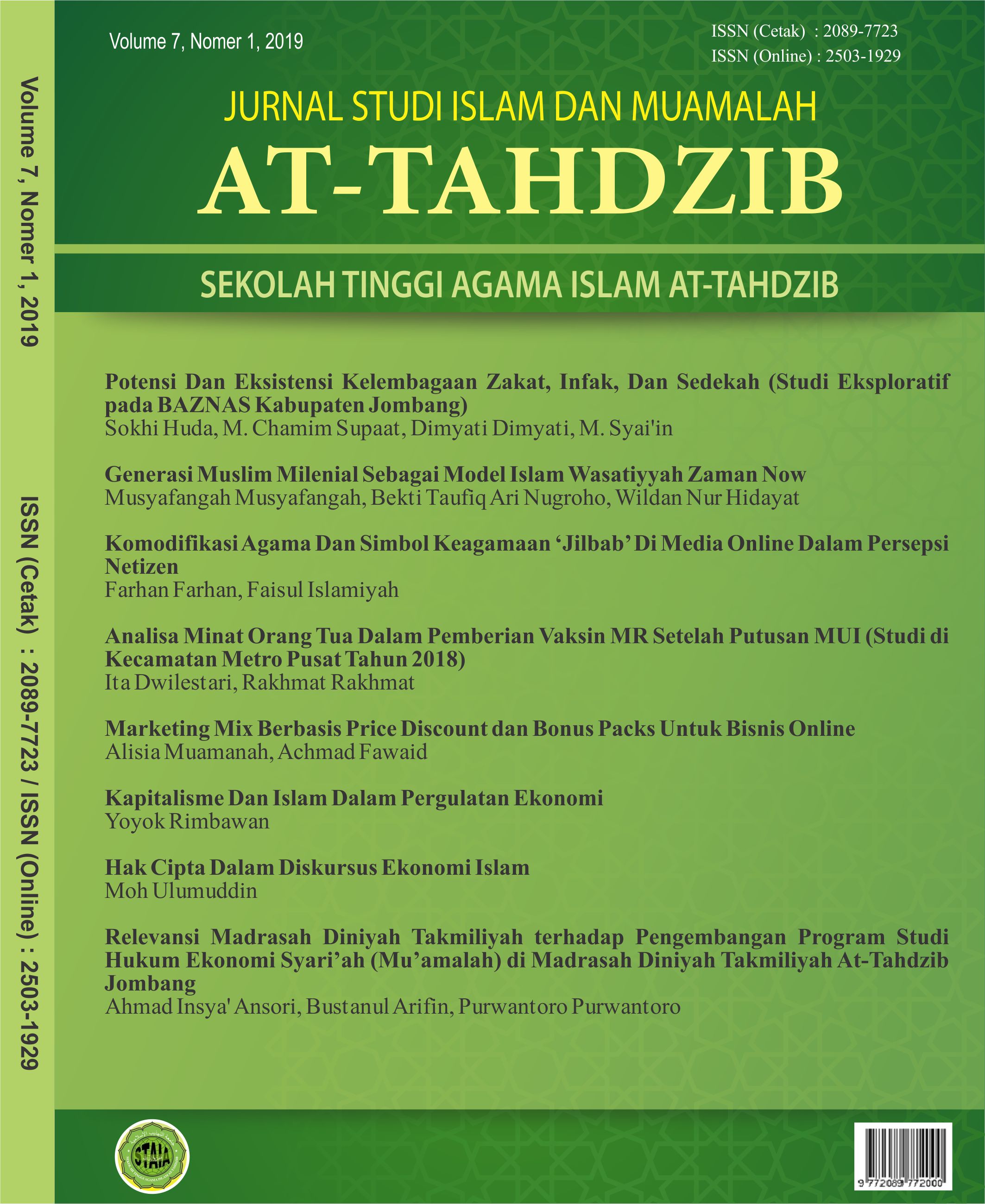 How to Cite
Rimbawan, Y. (2019). Kapitalisme Dan Islam Dalam Pergulatan Ekonomi. At-Tahdzib: Jurnal Studi Islam Dan Muamalah, 7(1), 101 - 113. Retrieved from http://ejournal.kopertais4.or.id/mataraman/index.php/tahdzib/article/view/3594
Copyright (c) 2019 At-Tahdzib: Jurnal Studi Islam dan Muamalah
This work is licensed under a Creative Commons Attribution 4.0 International License.

Jurnal Studi Islam by At-Tahdzib is licensed under a Creative Commons Attribution 4.0 International License.
Based on a work at http://ejournal.kopertais4.or.id/mataraman/index.php/tahdzib