Implementasi Mu'āmalah Māliyah Mazhab Yayasan Nurul Hayat
Imron Mustofa

Universitas Islam Negeri Sunan Ampel Surabaya
Keywords:
mu'āmalah māliyah, Nurul Hayat, budaya 5R.
Abstract
Indonesia with majority Islam as its majority religion, with their obligation to give zakat, donations and alms, needs role model. The Nurul Hayat Foundation with all its business units is one of the institutions in mu'āmalah māliyah which should be considered as the role model. This article is field research. The results of this study indicate that the Nurul Hayat Foundation is implementing what they call the four commitments (independent, trustworthy, professional (ISO 9001: 2015), and implementing the 5R culture (mandiri/concise, amanah/neat, resik/clean, rawat/caring and rajin/diligent), and empowering).  In institutional governance, Nurul Hayat applies four stages: the planning, organizing, implementing and supervising.
References
"Profil aqiqah nurul hayat" http://www.aqiqahnurulhayat.com/harga-aqiqah-sidoarjo
Ali, Muhammad Daud. Sistem Ekonomi Islam Zakat dan Wakaf. Jakarta: Universitas Indonesia, 1988.
Efendi, M. Nur (Zakat Advisor). Wawancara. Sidoarjo, 10 Oktober 2019.
Firdaus, Danial (Zakat Advisor). Wawancara. 9 Oktober 2019.
Huda, Nurul et al. Lembaga Keuangan Islam. T.t.: Kencana, 2010.
Lailiyati, Dewi Ayu (Admin Aqiqah). Wawancara. Sidoarjo, 09 Oktober 2019.
Nawawi, Ismail. Zakat dalam Prespektif Fiqh, Sosial & Ekonomi. Surabaya: CV Putra Media Nusantara, 2010.
News, Tim Redaksi Nurul Hayat. "Majalah Nurul Hayat Sidoarjo". Sidoarjo: Nusa Hikmah Grafika, 2019.
Nimas (Customer service). Wawancara. Sidoarjo, 09 Oktober 2019.
Nisa, Chirun. "Sejarah, Dasar Hukum, dan Macam-Macam Wakaf". Tazkiyah, vol. 18, no. 2. Juli-Desember, 2017.
Nurhidayani et al., "Pengelolaan dan Pemanfaatan Wakaf Tanah dan Bangunan". Maqdis: Jurnal Kajian Ekonomi Islam, vol. 2, no. 2. Juli-Desember, 2017.
Prasetyo, Yoyok. Ekonomi Syariah. Bandung: Aira Mandiri Group, 2018.
Rahima, Ridha (Admin ZIS). Wawancara. 9 Oktober 2019.
Ramadhan, M. (Fundraiser). Wawancara. Sidoarjo, 10 Oktober 2019.
Rasyid, Hamdan et al., Panduan Muslim Sehari-hari. Jakarta Selatan: WahyuQolbu, 2016.
Setyowati, Reni Diah. "Strategi Social Entrepreneurship dalam Mewujudkan Kemandirian Lembaga Sosial dan Dakwah Islam: Studi Kasus Yayasan Nurul Hayat Surabaya". Skripsi—UIN Sunan Ampel Surabaya, 2016.
Thoriquddin, Moh. Pengelolaan Zakat Produktif Prespektif Maqasid Al-Syariah Ibnu 'Asyur (Malang: UIN Maliki Press, 2015.
Yazid, Muhammad. Fiqh Muamalah Ekonomi Islam. Surabaya: Imtiyaz, 2017.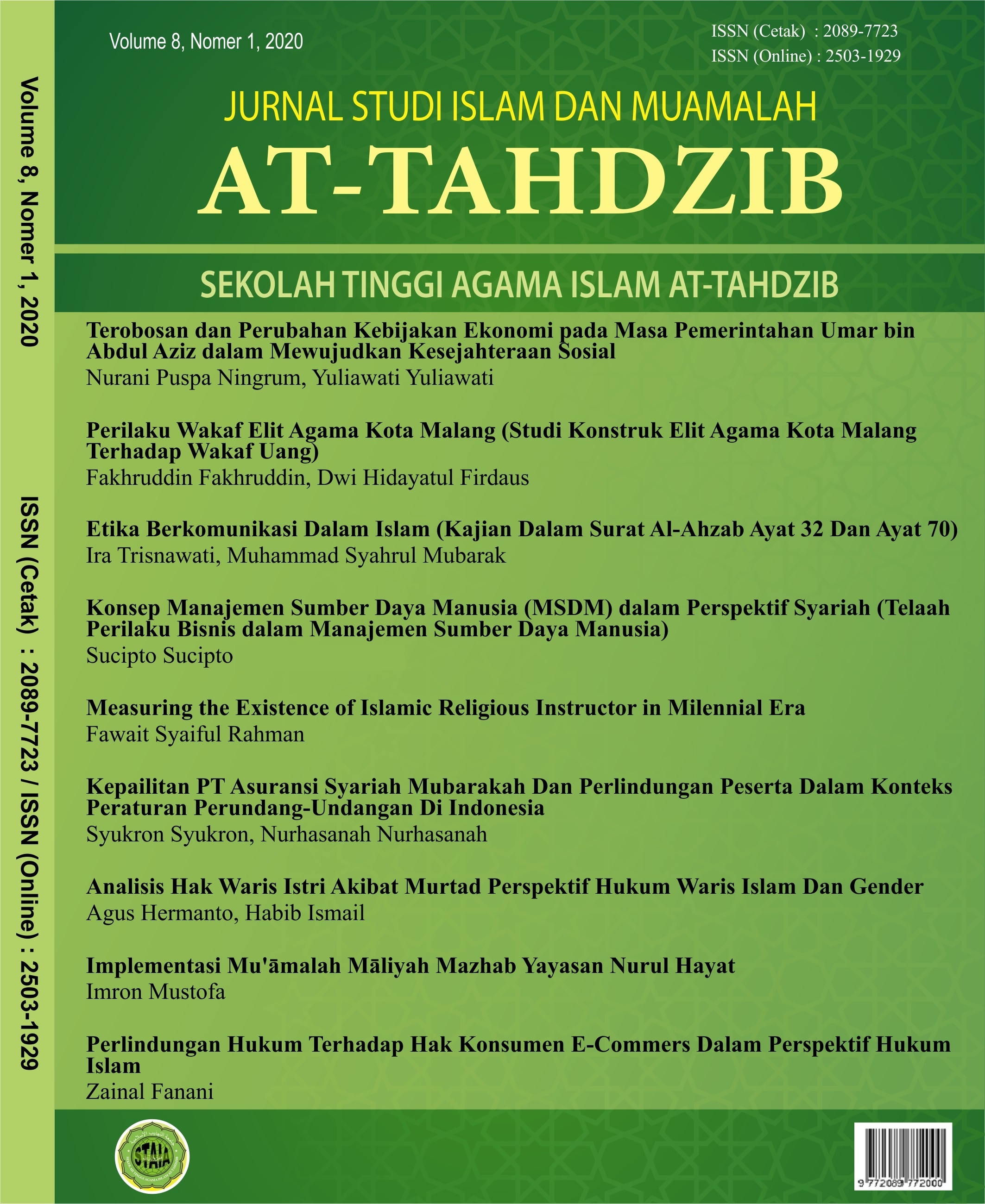 How to Cite
Mustofa, I. (2020). Implementasi Mu'āmalah Māliyah Mazhab Yayasan Nurul Hayat. At-Tahdzib: Jurnal Studi Islam Dan Muamalah, 8(1), 144-174. Retrieved from http://ejournal.kopertais4.or.id/mataraman/index.php/tahdzib/article/view/4064
Copyright (c) 2020 At-Tahdzib: Jurnal Studi Islam dan Muamalah
This work is licensed under a Creative Commons Attribution 4.0 International License.

Jurnal Studi Islam by At-Tahdzib is licensed under a Creative Commons Attribution 4.0 International License.
Based on a work at http://ejournal.kopertais4.or.id/mataraman/index.php/tahdzib