Implementation Of Entrepreneurship Education At Pondok Pesantren At-Tahdzib Jombang East Java Indonesia
Imam Turmudzi

STIE Kesumanegara Blitar
Keywords:
implementasi, kewirausahaan, pendidikan
Abstract
Latar Belakang. Di tengah persaingan ekonomi dunia, lembaga pendidikan seperti Pesantren perlu menerapkan pendidikan kewirausahaan agar lulusannya mandiri dan memiliki wawasan kewirausahaan, serta dapat bersaing dan berdakwah melalui wirausaha di masyarakat. Selanjutnya peneliti merumuskan bagaimana proses pelaksanaannya, apa saja faktor pendukung dan penghambat dalam penerapannya dan apa implikasi penerapan pendidikan kewirausahaan dalam membina kemandirian di Pondok Pesantren At Tahdzib Jombang Jawa Timur Indonesia.
Tujuan. Penelitian ini dilatarbelakangi oleh ketertarikan peneliti dalam pelaksanaan pendidikan kewirausahaan di pondok pesantren. Pendidikan kewirausahaan di pondok pesantren dianggap sebagai bagian penting dari proses pembangunan nasional yang turut menentukan kemajuan bangsa.
Metode. Penelitian ini merupakan penelitian deskriptif kualitatif dengan latar belakang Pondok Pesantren At Tahdzib. Peneliti menggunakan teknik pengumpulan data dengan menggunakan observasi, wawancara, dan dokumentasi sebagai bahan utama, dan teknik analisis data dengan mereduksi data, menampilkan data, dan menarik kesimpulan. Pengecekan keabsahan data menggunakan teknik triangulasi.
Hasil. Hasil penelitian menunjukkan bahwa dalam pelaksanaan pendidikan kewirausahaan dilakukan (a) melaksanakan visi, misi, dan program berdasarkan manfaat bagi semua elemen yang terlibat, santri, pesantren dan mitra atau klien (b) menggunakan metode peer tutorial, menjadikan siswa senior sebagai mentor pendidikan. kewirausahaan (c) menumbuhkan kepedulian dan pemberdayaan bawahan secara adil dengan memperhatikan kebutuhan bawahan baik yang berkaitan dengan aspek materil maupun psikologis tugas dan keikhlasan.
References
A. Maicel Huberman and B Miles Mathew, 1992, Qualitative data Analisis, Edisi Bahasa Indonesia, (Jakarta: UII Press
Anshori, 2014 "Model Pengembangan Kewirausahaan Santri Melalui Pondok Pesantren Berbasis Budaya Agribisnis Tanaman Palawija", Jurnal Didaktik STKIP Siliwangi Bandung, Vol. 8, No. 1, Maret 2014
Bosma, N.; Hessels, J.; Schutjens, V.; van Praag, M.; Verheul, I. 2012, Entrepreneurship and Role Models. J. Econ. Psychol. 33, 410–424.
Bungin, Burhan, 2014, Penelitian Kualitatif: Komunikasi, Ekonomi, Kebijakan Publik, dan llmu Sosial Lainnya, Jakarta: Kencana,
Bygrave, 1996, The Portable MBA: Entrepreneurship, Jakarta: Binarupa Aksara,
Chairul Anwar, 2010, Lihat juga: M. Suardi, Pengantar Pendidikan Teori dan Aplikasi, Jakarta: PT. Indeks,
Dedy Takdir, Mahmudin, 2015, Kewirausahaan, Jogyakarta: Wijana Mahadi Karya, .
Departemen Agama, 2006, Al Qur'an dan Terjemahan, Kudus: PT. Menara Kudus
Endang Mulyani, 2013, Lihat Juga, Marchella Pramadhana, Penerapan Pendidikan Kewirausahaan yang Berkarakter Sebagai Pendidikan Dasar,
Fry, F.L.; Van Auken, 2003, H. The Influence of Role Models in Entrepreneurial Intentions. J. Dev. Enterp., 11, 157–167.
Gibb, A.A.1998, Entrepreneurial core capacities, competitiveness and management development in the 21st century. In Proceedings of the IntEnt98-Conference, European Business School, Schloß Reichartshausen, Frankfurt, Germany, 27–29 July
Viramgami, H.S. 2007, Fundamentals of entrepreneurship; A.P.H. Publishing Corporation: New Delhi, India,.
Lafuente, E.M.; Rialp, J.; Vaillant, Y. 2007, Regional differences in the influence of Role-Models: Comparing the Entrepreneurial Process of Rural Catalonia. Reg. Stud, 41, 779–795.
Margono, 2004, Metodologi Penelitian Pendidikan, jakarta: Rineka Cipta,
Minniti, M dan William, B, 2010, "A Dynamical model of entrepreneurial Learning. Entrepreneurship theory & Practice. Vol. 25 No. 3.
Minniti, M dan William, B, 2010. "A Dynamical model of entrepreneurial Learning. Entrepreneurship theory & Practice. Vol. 25 No. 3. P.16
Muhammad Anwar, 2014, Pengantar Kewirausahaan Teori Dan Aplikasi, Jakarta; Prenada Media Group
Muhammad Saroni, 2012, Mendidik dan Melatih Entrepreneur Muda (Yogyakarta: Ar-Ruzz Media
Nabi, G.; Liñán, F.; Fayolle, A.; Krueger, N.; Walmsley, 2017. The Impact of Entrepreneurship Education in Higher Education: A Systematic Review and Research Agenda. Acad. Manag. Learn. Educ, 16, 277–299.
Nurdin Usman, 2002, Konteks Implementasi Berbasis Kurikulum Jakarta: Grasindo,
Rae, D, 2013, "Understanding entrepreneurial learning: A question of how?" International Journal of Entrepreneurial Behaviour and Research 6(3)
S. Anwar, 1999, Metode Penelitian, Yogyakarta: Pustaka Pelajar,
Schumpeter, J.A. 1982, The Crisis in Economics-Fifty Years Ago. J. Econ. Lit. 20, 1049–1059.
Shapero, A.; Sokol, L. 2020, The Social Dimensions of Entrepreneurship. Encycl. Entrep. 1982, 72–90.Available
Sugiyono, 2008, Metode Penelitian Pendidikan, Bandung : Alfabeta, .
Uci Sanusi, 2012, "Pendidikan Kemandirian Di Pondok Pesantren"-"Studi Mengenai Realitas Kemandirian Santri Di Pondok Pesantren Bahrul Ilham Tasikmalaya", Ta"lim, Jurnal Pendidikan Agama Islam Vol. 10 No. 2, Bandung: UPI,
Urbano, D.; Aparicio, S.; Guerrero, M.; Noguera, M.; Torrent-Sellens, J. 2017, Institutional determinants of student employer entrepreneurs at Catalan universities. Technol. Forecast. Soc, 123, 271–282.
Venkataraman, S. 2004, Regional transformation through technological entrepreneurship. J. Bus. Ventur, 19, 153–167.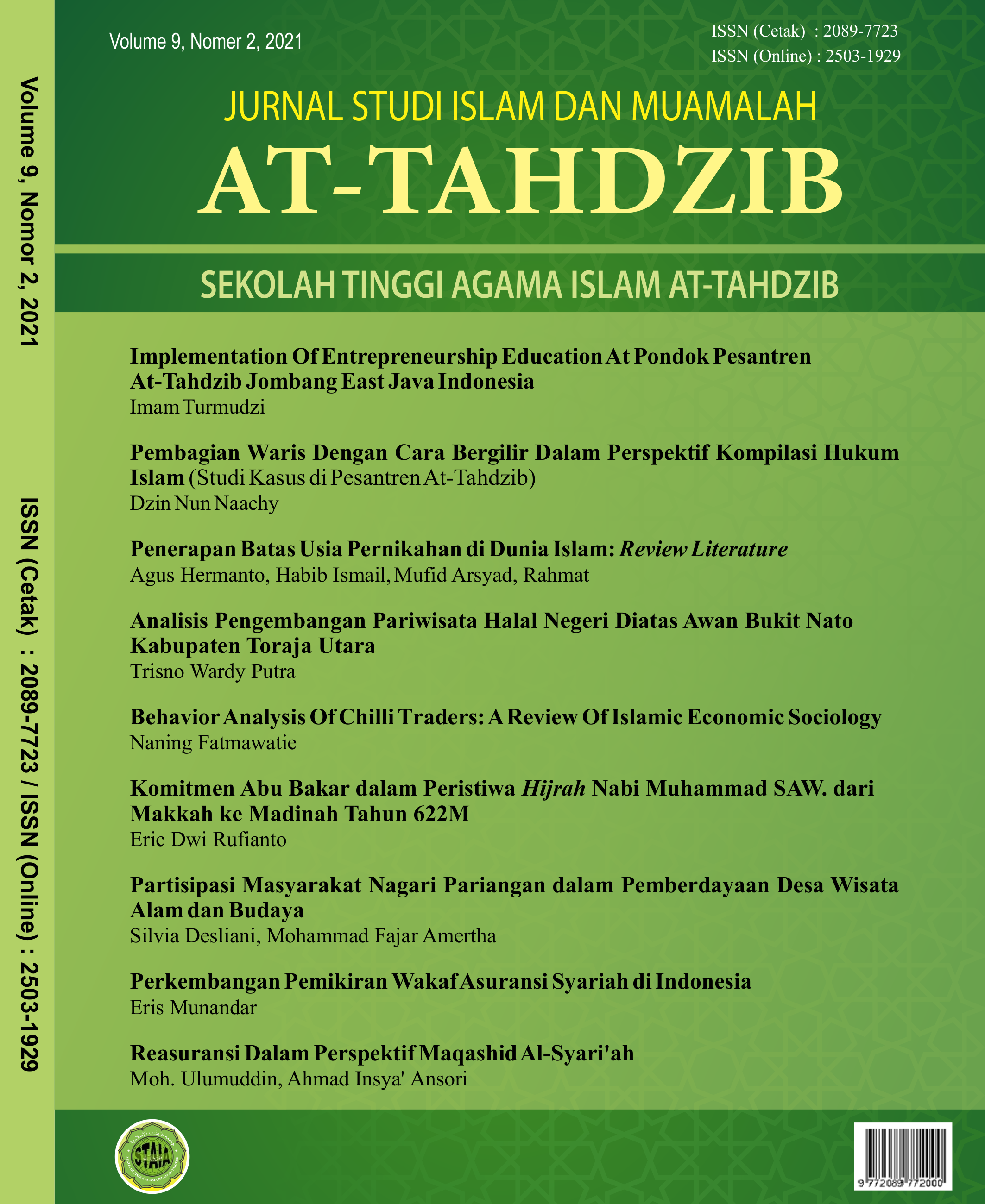 How to Cite
Turmudzi, I. (2021). Implementation Of Entrepreneurship Education At Pondok Pesantren At-Tahdzib Jombang East Java Indonesia. At-Tahdzib: Jurnal Studi Islam Dan Muamalah, 9(2), 1-10. Retrieved from http://ejournal.kopertais4.or.id/mataraman/index.php/tahdzib/article/view/4455
Copyright (c) 2021 At-Tahdzib: Jurnal Studi Islam dan Muamalah
This work is licensed under a Creative Commons Attribution 4.0 International License.

Jurnal Studi Islam by At-Tahdzib is licensed under a Creative Commons Attribution 4.0 International License.
Based on a work at http://ejournal.kopertais4.or.id/mataraman/index.php/tahdzib