Pembagian Waris Dengan Cara Bergilir Dalam Perspektif Kompilasi Hukum Islam
(Studi Kasus Di Pesantren At-Tahdzib)
Dzin Nun Naachy

STAI At-Tahdzib Jombang
Keywords:
Division of inheritance, Rotation, Compilation of Islamic Law
Abstract
Background. There is division of inheritance by way of rotation. The
procedures for the implementation of inheritance by rotation need to
examining from the Compilation of Islamic Law.
Aim. This study aims to the provisions of the Compilation of Islamic
Law in regulating the problems of inheritance and it implementation.
Methods. The method used in this research is field research with a
qualitative approach.
Results. The procedure for implementing inheritance at the Attahdzib
Islamic Boarding School is done by dividing the proceeds from the
inheritance in rotation between one heir and another. Implementation in
this way is in accordance with the Compilation of Islamic Law article
183, namely the distribution of the inheritance based on the agreement
of the heirs after the heirs know their respective shares.
References
Ad-Din, Syams. Fath al-Qarib. Rembang: Maktabah Al-Anwariyah, tt.
Anwar, Muhammad. Fara'id Hukum Waris dalam Islam dan Masalah-Masalahnya. Surabaya: AlIkhlas, 1981.
Bukhārī, Muḥammad ibn Ismāʻīl. Shahih Bukhari. Klang, Selangor: Klang Book Centre, 1988.
Hikmatullah, "Selayang Pandang Sejarah Penyusunan Kompilasi Hukum Islam Di Indonesia."
Ajudikasi : Jurnal Ilmu Hukum 1, no. 2 (2017). https://doi.org/10.30656/ajudikasi.v1i2.496.
Indonesia, ed. Tafsir ringkas. Cetakan kedua. Jakarta: Lajnah Pentashihan Mushaf Al-Qur'an, Badan
Litbang dan Diklat, Kementerian Agama, Republik Indonesia, 2016.
Muszdalifi, Wahyu. "Praktik Pembagian Waris Berdasarkan Adat Sapikulan Rong Gendongan
Ditinjau Dari Perspektif Fazlur Rahman Dan Muhammad Syahrur : Studi Kasus Desa Karangmalang Kec. Ketanggungan Kab. Brebes." Undergraduate, Universitas Islam Negeri
Walisongo Semarang, 2018. http://eprints.walisongo.ac.id/8891/.
Saiin, Asrizal. "MENELAAH HUKUM WARIS PRA-ISLAM DAN AWAL ISLAM SERTA
PELETAKAN DASAR-DASAR HUKUM KEWARISAN ISLAM." Al-Ahwal: Jurnal Hukum
Keluarga Islam 9, no. 1 (1 Maret 2017): 125–38. https://doi.org/10.14421/ahwal.2016.09108.
Shaʻbūnī, Muḥammad. Pembagian waris menurut Islam. Jakarta: Gema Insani Press, 1995.
Sufyan, Muhammad Suhaili. Fiqh mawaris praktis: perbandingan empat mazhab dan kompilasi
hukum Islam Indonesia. Bandung: Citapustaka Media Perintis, 2012.
Taimiyah, Ibnu. Al-Fatawa Al-Kubro, cet. 1, jilid 4. Beirut: Daar Al-Kutub al-Islamiyyah, 1987.
Tamsir, Zainuddin. Miftah An-Nahidh Fi Ilm Al-Fara'idh. Madiun: Maktabah Attahdziby, tt.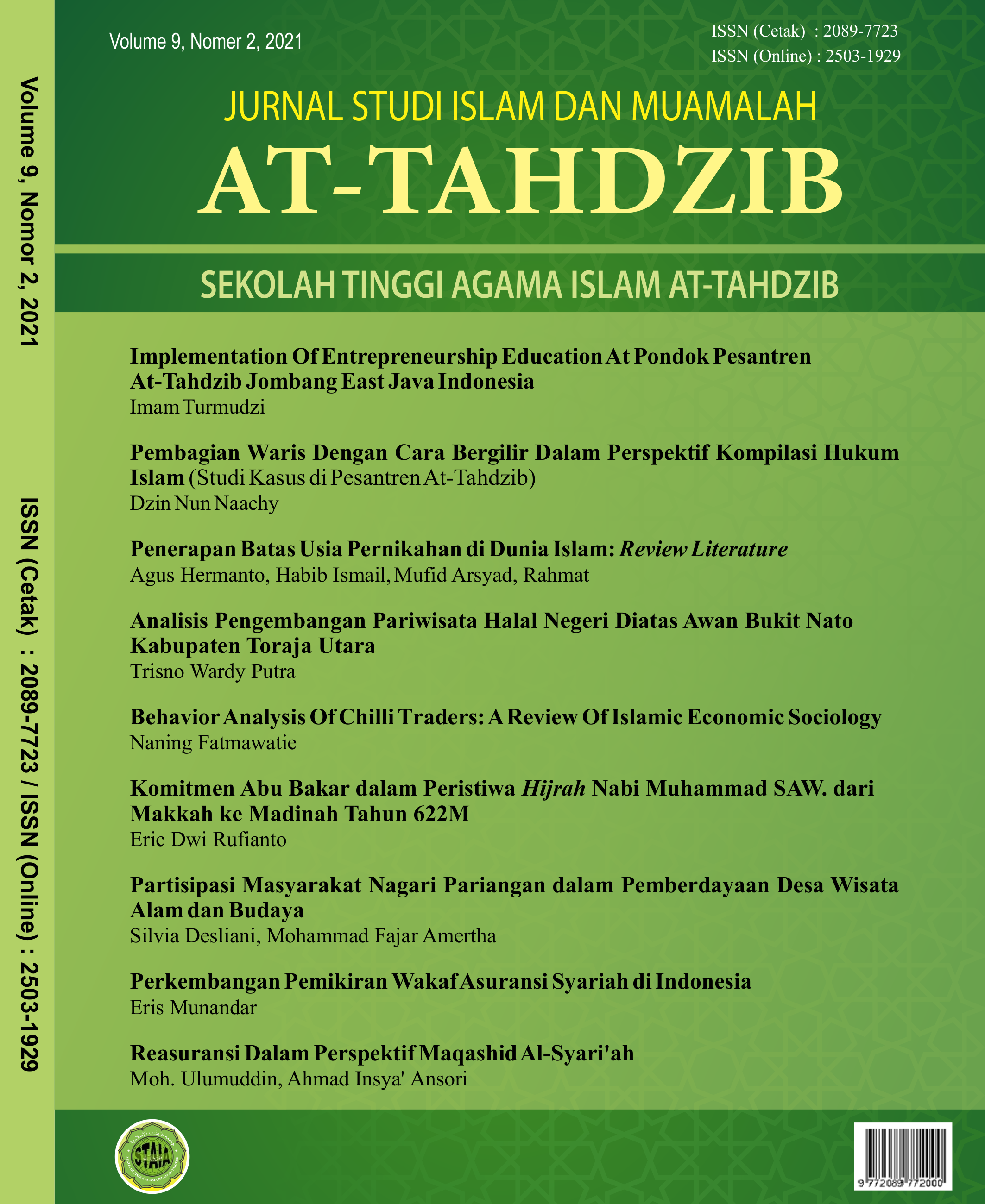 How to Cite
Naachy, D. N. (2021). Pembagian Waris Dengan Cara Bergilir Dalam Perspektif Kompilasi Hukum Islam : (Studi Kasus Di Pesantren At-Tahdzib). At-Tahdzib: Jurnal Studi Islam Dan Muamalah, 9(2), 11-22. Retrieved from http://ejournal.kopertais4.or.id/mataraman/index.php/tahdzib/article/view/4494
Copyright (c) 2021 At-Tahdzib: Jurnal Studi Islam dan Muamalah
This work is licensed under a Creative Commons Attribution 4.0 International License.

Jurnal Studi Islam by At-Tahdzib is licensed under a Creative Commons Attribution 4.0 International License.
Based on a work at http://ejournal.kopertais4.or.id/mataraman/index.php/tahdzib