Metode Ijtihad Dan Dinamika Persoalan Di Kalangan Imam Madzhab
Mohammad Yasir Fauzi

Raden Intan State Islamic University Lampung

Agus Hermanto

Raden Intan State Islamic University Lampung

Habib Ismail

Maarif Institute of Islamic Religion NU Metro Lampung

Mufid Arsyad

Maarif Institute of Islamic Religion NU Metro Lampung
Keywords:
ijtihad method, imam madzhab, problems
Abstract
Background. There is no corner of space that is not touched by Islamic law, the difference in legal products from the results of ijtihad scholars is a blessing for the people. The problem is; Why do scholars differ on a religious issue?
Aim. This study aims to explore the ijtihad method of madhhab scholars used as a tool to analyze all phenomena that occur, so that the roots of these differences are known.
Methods. This research is a type of qualitative research in the form of library research, by exploring the arguments and methods used by scholars who then make legal products that are different from one another.
Results. The results of this study indicate that differences are mercy, as long as these differences do not cause division, and always bring benefit with logical arguments and can be accepted by common sense, even though there are two types of differences, namely differences in reason (ikhtilaf al-aql), and differences in morals. (ikhtilaf al-akhlak), differences occur due to unequal contextualization, thus requiring different arguments and methods of ijtihad, resulting in unequal products from one another.
References
A. Djazuli, Ilmu Fiqh (sebuah pengantar), Bandung: Orba Sakti, 1991, cet. Ke-1
Abdul Aziz al-Syinawi, Biografi Imam Malik, Solo: Aqwam, 2013
Abdul Rozaq, Ilmu Kalam, Bandung: Pustaka Setia, 2011
Abdul Sami' Ahmad Imam, Kitabul Mujaz fi Fiqh Muqarran, Kairo: Darul Sabah, tt.
Abdurrahman, Perbandingan Madzhab, Jakarta: Sinar Baru Algensindo, 2000
Abu Ameenah Bilal Philips, Sejarah Evolusi Fiqh Aliran-Aliran Pemikiran Hukum Islam, Bandung: Nuansa Cendikia, 2015
Abu Yasid, Aspek-Aspek Penelitian Hukum, Yogyakarta: Pustaka Pelajar, 2010
Al-Ab Luwis Ma'luf, AL-Munjid fi al-Lughah wa al-'Alam, Bairut: Dar al-Masyriq, 1986
Al-Syahrastani, Al-Milal wa Al-Nihal, Bairut: Dar Al-Fikri, tt.
Cik Hasan Basri, Model Penelitian Fiqh Jilid I: Paradikma Penelitian Fiqh dan Fiqh Penelitian, Jakarta: Pranada Media, 2003
Dedi Supriyadi, Perbandingan Madzhab dengan Pengekatan Baru, Bandung: Pustaka Setia, 2008
E. Abdurrahman, Perbandingan Madzhab, Bandung: Sinar Baru, 1991
Edy A Efendi (editor), Dekonstruksi Islam: Madzhab Ciputat, Bandung: Zaman Wacana Media, 1999
Huzaimah Tahido Yanggo, Pengantar Perbandingan Madzhab, Jakarta: Logos, 1997
Imam Pamungkas, Fiqh Empat Madzhab, Jakarta: Al-Makmur, 2015
Jaya S. Praja, Perbandingan Madzhab dengan Pendekatan Baru, Bandung: Pustaka Setia, 2008
Moenawar Cholid, Kembali Kepada al-Qur'an dan Al-Sunnah, Jakarta: Bulan Bintang, 1956
Muhammad Dahlan Al Barry, Kamus Ilmiah Populer, Surabaya: Penerbit Arkola, 1994
Mun'im Ahmad Sirry, Sejarah Fiqh Islam, Surabaya: Risalah Gusti, 1995
Muslim Ibrahim, Pengantar Fiqh Muqarran, Jakarta: Penerbit Erlangga, 19991
Musthafa Dib al-Bugha, Atsar al-Adillah al-Mukhtalifah fiha fi al-Fiq al-Islami, Damaskus: Dar al-Iman al-Bukhari, tt.
Qodri Azizy, Reformasi Bermadzhab, Teraju: Mizan, 2004
Romli SA., Muqarran Madzahib fi Ushul, Jakarta: Gaya Media Pratama, 1999
Said Ramadhan, Islamic Law: Its Schope and Equity, terj. Badri Saleh, Jakarta: CV. Firdaus, 1986
Syaik Muhammad Syaltout, Perbandingan Madzhab dalam Masalah Fiqh, Jakarta: Bulan Bintang, 1996
Syaikh Salman al-Audah, Jejak Teladan Bersama Emat Imam Madzhan, Jakarta: Pustaka al-Kautsar, 2016
Syaikhu, Perbandingan Madzhab Fiqh (Perbedaan Pendapat di Kalangan Madzhab), Yogyakarta: CV. Aswaja Pressindo, 2013
Thablawy Mahmud Sa'ad, Al-Tasawwuf fi Turats Ibnu Taimiyyah, Mesir: Al Ha'I Al Hadits Al Mishriyyah Al Ammah li Al Kitab, 1984
Wahbah Zuhaily, al-Fiq al-Islamy wa Adillatuhu, Bairut Dar Al-Fiqr, 1989, juz ke-1
Zainuddin Ali, Hukum Islam Jakarta: Sinar grafika, 2006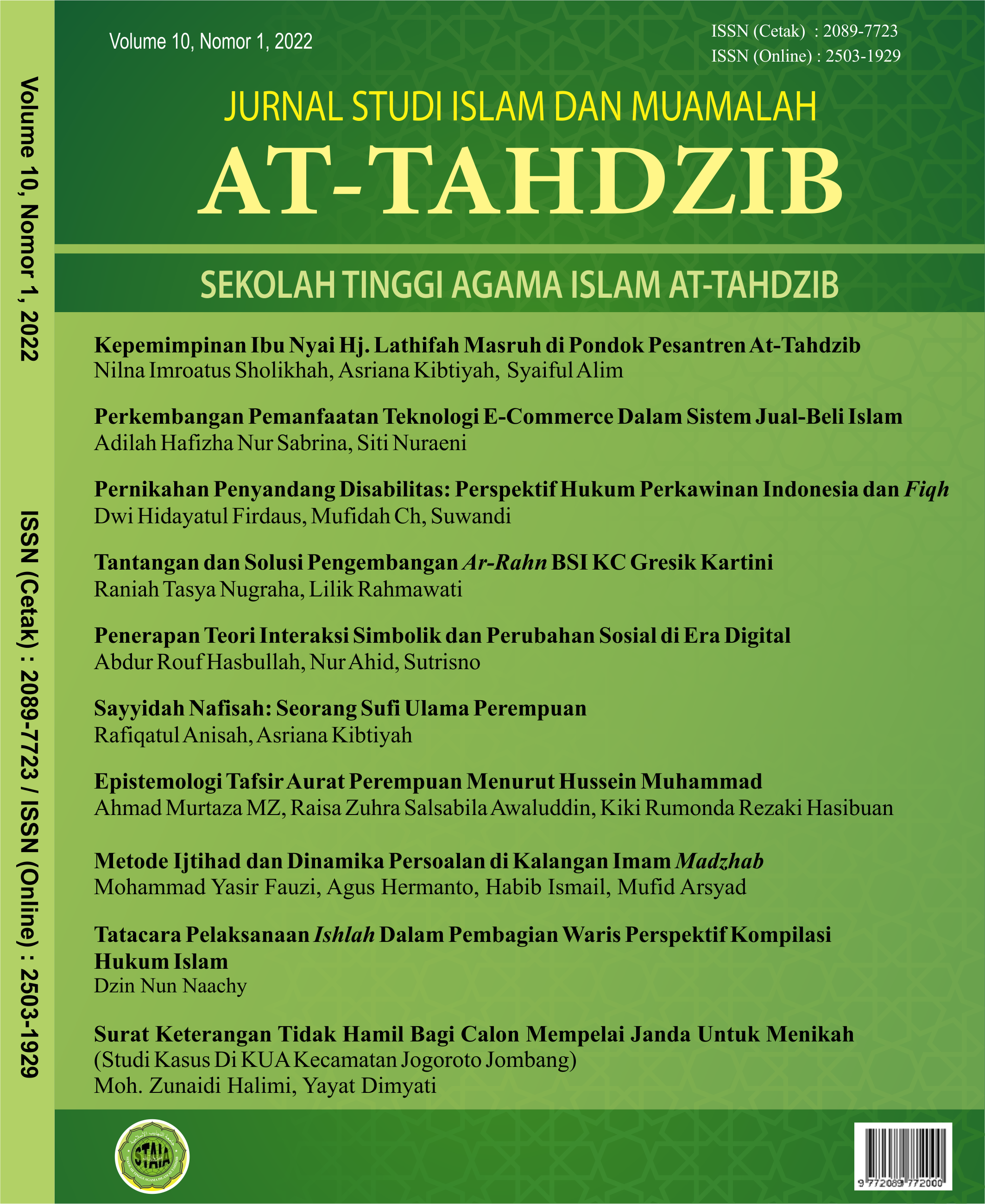 How to Cite
Mohammad Yasir Fauzi, Agus Hermanto, Ismail, H., & Mufid Arsyad. (2022). Metode Ijtihad Dan Dinamika Persoalan Di Kalangan Imam Madzhab. At-Tahdzib: Jurnal Studi Islam Dan Muamalah, 10(1), 67-79. Retrieved from http://ejournal.kopertais4.or.id/mataraman/index.php/tahdzib/article/view/4763
Copyright (c) 2022 At-Tahdzib: Jurnal Studi Islam dan Muamalah
This work is licensed under a Creative Commons Attribution 4.0 International License.

Jurnal Studi Islam by At-Tahdzib is licensed under a Creative Commons Attribution 4.0 International License.
Based on a work at http://ejournal.kopertais4.or.id/mataraman/index.php/tahdzib