Sistem Dropshipping Mu'amalah Menurut Perspektif Ekonomi Islam
Aldian Alfrillianda

Institut Agama Islam Negeri Curup

Andriko

Institut Agama Islam Negeri Curup
Abstract
Abstract
Background. Human life today is not far from buying activities, both locally and domestically or internationally, humans practice trade in various ways and models that grow according to the conditions of the times. At first, buying and selling only met with sellers and buyers directly at the store with transaction facilities and products being traded.
Aim. The research is intended to explain the muamalah dropshipping system from the point of view of Islamic economics.
Methods. This research uses library research procedures or library research where the information obtained comes from authoritative sources, such as books and journals that are still relevant to the focus and review of the research.
Results. The results of the research conclude that it is permissible for transactions that continue to grow in the economic process as long as they do not violate and do not conflict with Islamic principles, dropshipping transactions which have now become a citizen's routine can be carried out as long as the perpetrators understand. The transaction method, because the system is vulnerable and leads to the cancellation of the contract, is to sell objects that do not belong to him, and the development of technology greatly affects the growth of pressured fatwas issued. But on many sides, with the legal norms that have been summarized by previous scholars by looking at the equality of the illat law, a quick and appropriate legal answer can be found to determine the law in every legal event for which there are no clear legal requirements in the Qur'an and as - Sunnah.
Keywords: Dropshipping, Islamic Economics, Muamalah, Sharia
References
Abdullah, Muhammad Wahyuddin and Asniati. "Islamic Maqashid Approach On Dropshipping Practices." International Journal of Research -Granthaalayah 9, No. 1 (January 31, 2021): 150–57. https://doi.org/10.29121/granthaalayah.v9.i1.2021.2892.
Akbar, Aly. "Analisis Transaksi Akad Salam dalam Jual-beli Online." Eksisbank: Ekonomi Syariah dan Bisnis Perbankan 2, No. 2 (December 25, 2018): 11–17. https://doi.org/10.37726/ee.v2i2.47.
Apipudin, Apipudin. "Konsep Jual-beli dalam Islam (Analisis Pemikiran Abdu al-Rahman al-Jaziri dalam Kitab al-Fiqh 'Ala AlMadahib al-Arba'Ah)." Islaminomics: Journal of Islamic Economics, Business and Finance 5, No. 2 (November 28, 2018). https://doi.org/10.47903/ji.v5i2.33.
Damayanti, Trie, and Ilham Gemiharto. "Kajian Dampak Negatif Aplikasi Berbagi Video bagi Anak-anak di Bawah Umur di Indonesia." Communication 10, No. 1 (April 26, 2019): 1. https://doi.org/10.36080/comm.v10i1.809.
Cahyo, EN., and Nashuha RH. "Mekanisme Penjualan Dropship dalam Pandangan Islam." Hukum Ekonomi Al-Mu'amalat: Jurnal Hukum Ekonomi Islam 1, No. 1 (2018): 7.
Fauzia, Ika Yunia. "Akad Wakâlah dan Samsarah Sebagai Solusi Atas Klaim Keharaman Dropship dalam Jual-beli Online." Islamica: Jurnal Studi KeIslaman 9, No. 2 (March 15, 2016): 323. https://doi.org/10.15642/Islamica.2015.9.2.323-343.
Fikri, Muhammad Khoirul. "Perspektif Etika Bisnis Islam pada Sistem Konsinyasi dalam Strategi Reseller." BISNIS : Jurnal Bisnis dan Manajemen Islam 7, No. 2 (October 23, 2019): 161. https://doi.org/10.21043/bisnis.v7i2.5731.
Fitria, Tira Nur. "Bisnis Jual-beli Online (Online Shop) dalam Hukum Islam dan Hukum Negara." Jurnal Ilmiah Ekonomi Islam 3, No. 01 (March 31, 2017): 52. https://doi.org/10.29040/jiei.v3i01.99.
Habiburrahman, Arahman, Lamusiah, and R. "Transaksi yang Mengandung Riba, Maysir, dan Gharar dalam Kajian Tindak Tutur." Jurnal Ilmiah Telaah 5 (2020): 2.
Huda, Rahmatul. "Konstruksi Akad pada Produk Kartu Kredit (Analisis Hukum Ekonomi Syariah)." Syariah: Jurnal Hukum dan Pemikiran 19, No. 1 (June 4, 2019): 119. https://doi.org/10.18592/sjhp.v19i1.2041.
Imaniyati, NS, N, and Tohir. "Konsep Kontrak dalam Keuangan Era Teknologi yang Berhubungan Dengan Prinsip Syariah," 2019, 35.
Imanudi, Rouf. "Jual-beli Online Menggunakan Sistem Dropshipping Menurut Perspektif Hukum Islam." Indonesian Journal of Strategic Management 2, No. 1 (July 9, 2019). https://doi.org/10.25134/ijsm.v2i1.1857.
Khulwah, Juhrotul. "Jual-beli Dropship dalam Prespektif Hukum Islam." Al-Mashlahah Jurnal Hukum Islam dan Pranata Sosial 7, No. 01 (September 1, 2019): 101. https://doi.org/10.30868/am.v7i01.548.
Kurniawaty, Y, Hendrawati, and H. "Jual-beli Dropship dalam Perspektif Hukum Islam." Jurnal Informasi dan Pengembangan Iptek 11 (2015): 1.
M, Bahrudin. "Ilmu Ushul Fiqh." Journal of Chemical Information and Modeling 53, No. 9 (2019).
Madinah, Siti Hasnaa, Putri Karunia Sari, and Isnaini Rofiqoh. "Analisis Akad Wakalah Bil Ujrah pada Jasa Titip Beli Online dalam Prespektif Kaidah Fikih Ekonomi (Studi Kasus pada Akun Instagram @jastiperopa777)." El-Qist : Journal of Islamic Economics and Business (JIEB) 9, No. 2 (October 1, 2019): 196–214. https://doi.org/10.15642/elqist.2019.9.2.196-214.
Maryati, Wiwik, and Ida Masriani. "Peluang Bisnis di Era Digital bagi Generasi Muda dalam Berwirausaha: Strategi Menguatkan Perekonomian." Jurnal Manajemen dan Bisnis 4, No. 2 (December 31, 2019): 125–30. https://doi.org/10.33005/mebis.v4i2.62.
Masrina, Masrina. "Analisis Dalil-dalil Hukum yang Digunakan dalam Fatwa Dewan Syariah Nasional Nomor 40/DSN-MUI/X/2003 Tentang Pasar Modal Syariah." Jurnal Hukum Ekonomi Syariah, No. 1 (November 10, 2020): 117. https://doi.org/10.30595/jhes.v0i1.8929.
Nurlaila, Alfa Rizka. "Sistem Manajemen Pemasaran Dropshipping Perspektif Ekonomi Syariah (Studi Kasus di Toko We Skincare Online Purwokerto)." International Conference of Moslem Society 3 (April 12, 2019): 162–77. https://doi.org/10.24090/icms.2019.2510.
Pitriani, Elpina, and Deni Purnama. "Dropshipping dalam Perspektif Konsep Jual-beli Islam." Jurnal Ekonomi dan Perbankan Syariah 3, No. 2 (June 23, 2020): 87–104. https://doi.org/10.46899/jeps.v3i2.162.
Putra, Muhammad Deni. "Jual-beli On-line Berbasis Media Sosial dalam Perspektif Ekonomi Islam." Iltizam: Journal of Shariah Economic Research 3, No. 1 (June 4, 2019): 83. https://doi.org/10.30631/iltizam.v3i1.288.
Rahmayanti, Rima, Rizal Ramdan Padmakusumah, Neneng Susanti, and Susanto R. "Menjaga Kepercayaan Bisnis Online Trading dari Perspektif Islam" 24, No. 02 (February 12, 2020): 3067–73. https://doi.org/10.37200/IJPR/V24I2/PR200610.
Sahil, Irdlon. "Dropshipping dalam Perspektif Ekonomi Islam." Syaikhuna: Jurnal Pendidikan dan Pranata Islam 10, No. 1 (March 15, 2019): 67–75. https://doi.org/10.36835/syaikhuna.v10i1.3472.
Saprida, Saprida. "Akad Salam dalam Transaksi Jual-beli." Mizan: Journal of Islamic Law 4, No. 1 (June 13, 2018). https://doi.org/10.32507/mizan.v4i1.177.
Triyawan, Andri, and Suthorik Nugraha Eri. "Sistem Dropshipping Menurut Ekonomi Islam." Falah Manusia 5(2) (2019): 230.
Tsabit. "Etika Pertukaran dalam Islam Menurut Imam Al-Ghazali." Jurnal Pemikiran dan Ilmu KeIslaman 1, No. 1 (2018): 16.
Wahhab, Muhammad Abdul, and Mujahidin Mujahidin. "Dropship dalam Perpektif Ekonomi Islam." Al-Kharaj: Journal of Islamic Economic and Business 1, No. 2 (February 8, 2020): 140–49. https://doi.org/10.24256/kharaj.v1i2.1060.
Wulandari, Cahya, and Koiriyah Azzahra Zulqah. "Tinjauan Islam Terhadap Mekanisme Pasar dan Penanganan Distorsinya." Journal of Islamic Economics and Finance Studies 1, No. 1 (August 8, 2020): 82. https://doi.org/10.47700/jiefes.v1i1.1923.
Z, Ghulam. "Relasi Fiqh Muamalat Dengan Ekonomi Islam." Iqtishhoduna, 2016.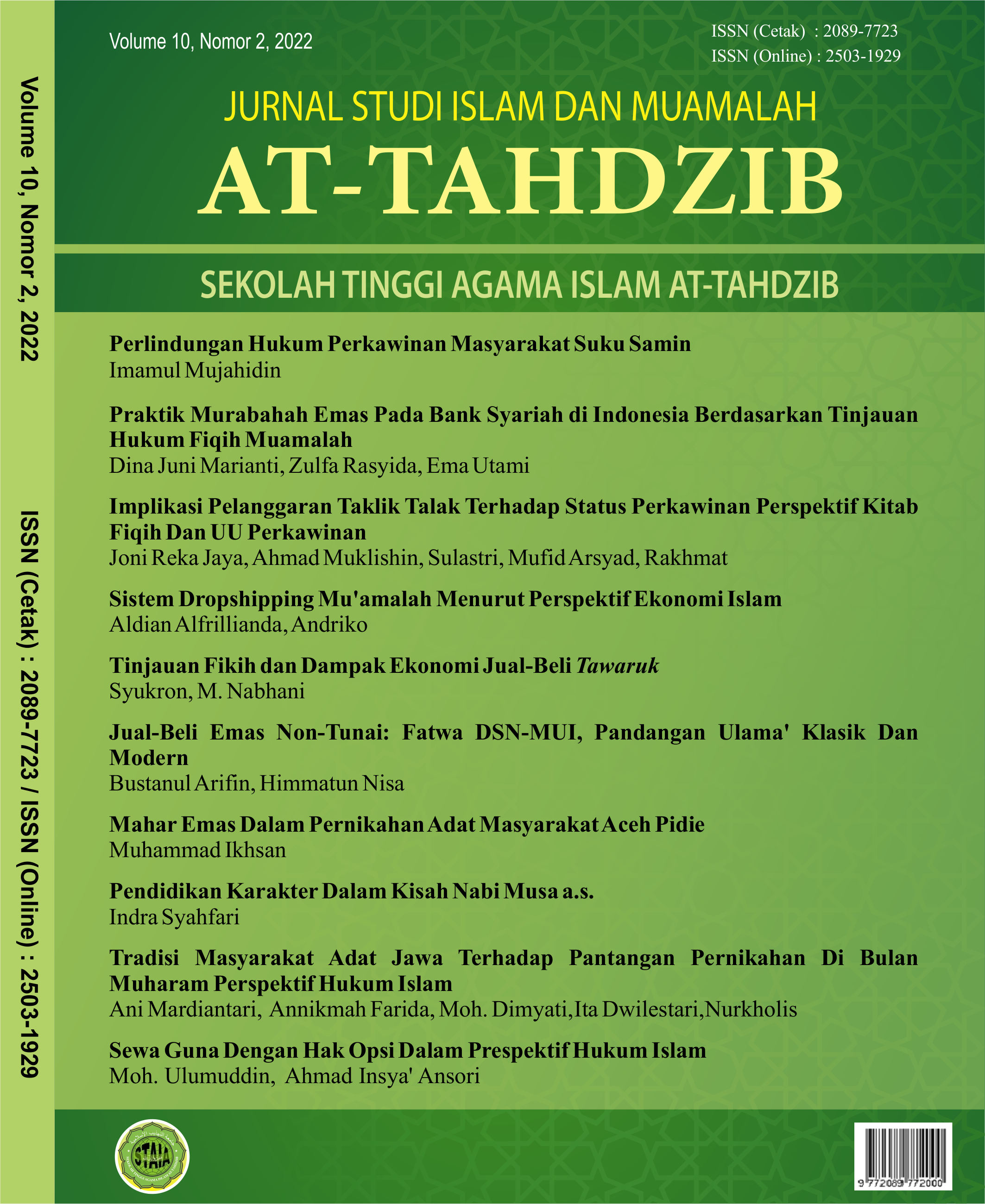 How to Cite
Alfrillianda, A., & Andriko. (2022). Sistem Dropshipping Mu'amalah Menurut Perspektif Ekonomi Islam. At-Tahdzib: Jurnal Studi Islam Dan Muamalah, 10(2), 30-37. Retrieved from http://ejournal.kopertais4.or.id/mataraman/index.php/tahdzib/article/view/4906
Copyright (c) 2022 At-Tahdzib: Jurnal Studi Islam dan Muamalah
This work is licensed under a Creative Commons Attribution 4.0 International License.

Jurnal Studi Islam by At-Tahdzib is licensed under a Creative Commons Attribution 4.0 International License.
Based on a work at http://ejournal.kopertais4.or.id/mataraman/index.php/tahdzib