Perencanaan Manajemen Sumber Daya Manusia Lembaga Pendidikan
Keywords:
Human Resources, Human Resources Management Planning, Institutional Education
Abstract
In today's dynamic and competitive organization environment, institutions face competition, not only in physical evidence but also human resources. Humans have become a strategic factor that determines the success of an educational institution. This condition leads the importance of planning activities in the management of human resources in the institutions of education. This article aims to discuss the basic concepts of human resource planning and implementation in the institutions of education. Conceptually, human resource planning is meant as a process that involves a series of activities of forecasting and estimation in the fulfillment of the needs of the workforce, as well as a strategy for human resource development in order to achieve success. Implementation in the institution including the activities of the analysis and forecasting of projection or educators and educational needs, such as human resources inventory, projected enrollment of new learners, review goals or objectives educational institutions and ending with human resource forecasting.
References
Baharuddin & Moh. Makin. (2010). Manajemen Pendidikan Islam: Transformasi Menuju Sekolah/Madrasah Unggul. (Malang: UIN-Maliki Press)

Christopher, Edwin & Jain, Rekha. (2010). How effective is Man Power Planning in reducing Labour Turnover in Information Technology Enabled Services Organization, "Asian Journal of Management Research", 473 - 494.

Hafidhudin, Didin & Hendri Tanjung. (2002). Shariah Principles On Management In Practice. Jakarta: Gema Insani.

Herawan, Endang & Nani Hartini. (2011). "Manajemen Tenaga Pendidik dan Kependidikan", dalam Tim Dosen Administrasi Pendidikan Universitas Pendidikan Indonesia (Ed,), Manajemen Pendidikan. Bandung: Alfabeta.

Jusmaliani. (2011). Pengelolaan Sumber Daya Insani. Jakarta: Bumi Aksara.

Mangkuprawira, Sjafri. (2004). Manajemen Sumber Daya Mannusia Strategik. Jakarta: Ghalia Indonesia.

Mondy, R. Wayne. (2008). Human Resource Management, edisi 10, jilid 1. New Jersey: Pearson Education.

Nata, Abuddin. (2003). Manajemen Pendidikan:Mengatasi Kelemahan Pendidikan Islam di Indonesia. Edisi I. Rawamangun: Prenada Media.

Nawawi, Hadari. (2005). Manajemen Sumber Daya Manusia: untuk Bisnis yang Kompetitif. Yogyakarta: Gadjah Mada university Press.

Pidarta, Made. (1988). Manajemen Pendidikan Indonesia. Jakarta: Bina Aksara.

Rebore, Ronald W. (2004). Human resources Administration in Education: A Management Approach. 7th Edition,.Boston: Pearson.

Sedarmayanti. (2001). Sumber Daya manusia dan produktifitas kerja. Bandung: Mandar Maju.

Senen, Syamsul H. & Masharyono, "Strategi Manajemen Sumber Daya manusia Melalui Pendekatan Balance Score Card Sebagai Alat untuk Mencapai Keunggulan Bersaing pada Perguruan Tinggi," dalam Buchari Alma & Ratih Hurriyati (Eds), Manajemen Corporate& Strategi Pemasaran Jasa Pendidikan: Fokus pada Mutu dan Layanan Prima (Bandung: Alfabeta, 2008).

Shihab, M. Quraish. (2003). Tafsir Al-Mishbah: Pesan, Kesan dan keserasian Al-Qur'an , Vol. 4. Jakarta: Lentera hati.

Shihab, M. Quraish. (2003). Tafsir Al-Mishbah: Pesan, Kesan dan keserasian Al-Qur'an , Vol. 14. Jakarta: Lentera hati.

Siagian, Sondang P. (2011), Manajemen Sumber Daya Manusia. Jakarta: Bumi Aksara.

Usman, Husaini. (2006). Manajemen: Teori, Praktik, dan Riset Pendidikan. Jakarta: Bumi Aksara.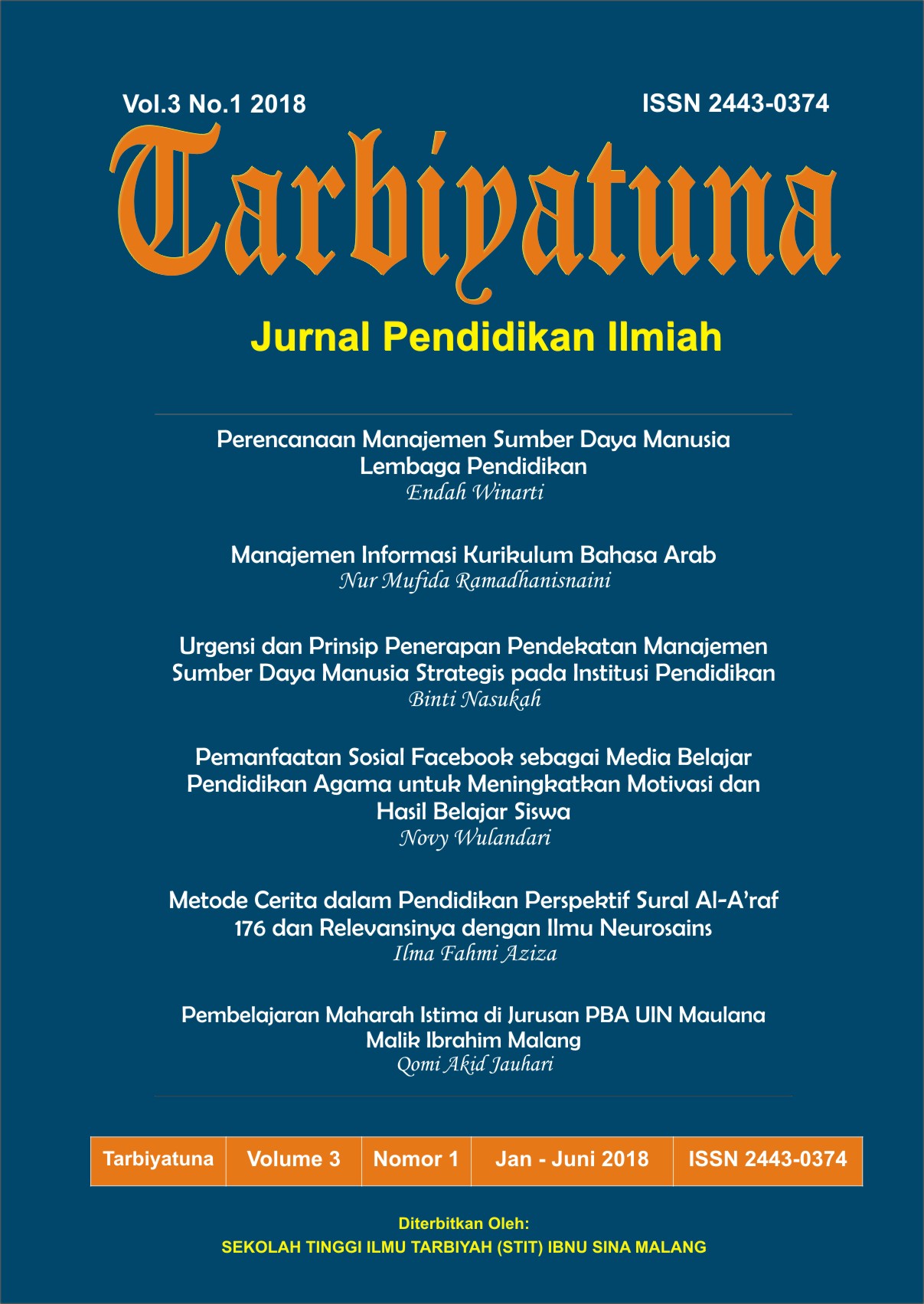 How to Cite
Winarti, E. (2018). Perencanaan Manajemen Sumber Daya Manusia Lembaga Pendidikan. Tarbiyatuna: Jurnal Pendidikan Ilmiah, 3(1), 1-26. Retrieved from http://ejournal.kopertais4.or.id/mataraman/index.php/tarbiyatuna/article/view/3434