Sistem Rekrutmen Tenaga Pendidik Di Madrasah Swasta
Zakiyah Kholidah

Sekolah Tinggi Agama Islam Al-Hikmah Tuban
Abstract
Abstract, the dynamics of the state of human resources working within the madrasa
from time to time continue to change. Madrasah educator resources can work for a
long time and some only last a few years. Many reasons behind it are those who get
new assignments in other places, move areas because of family factors, and can also
because they have to resign for the recovery of their health. Of course, such
conditions in the madrasa occur when there is a vacant position that must find a
replacement. Employment in the madrasa becomes a necessity for recruitment by
considering the need for additional human resources in the madrasa. Through
recruitment activities, a search process can be carried out, getting prospective
applicants, selecting and placing new selected educators who have the ability and
expertise as required to fill the vacancy in the madrasa. The recruitment process in
many madrasas is not carried out by the steps according to the management function
but there are many practices using roads that are not in accordance with the concept
of implementing recruitment. From an ineffective way of making madrassas get new
educators who do not meet the criteria needed by madrasas. New educators who do
not have expertise result in low work motivation and madrasa performance is also
difficult to increase. Recruitment practices through nepotism, appointment of young
workers who do not have experience, appointment due to pity factors often occur by
private madrasas. The practice is in the view of the community that madrasas have no
attempt to seriously improve the performance of madrasas to assist students in
learning science and the formation of noble character.

Keywords: recruitment, educators, private madrassas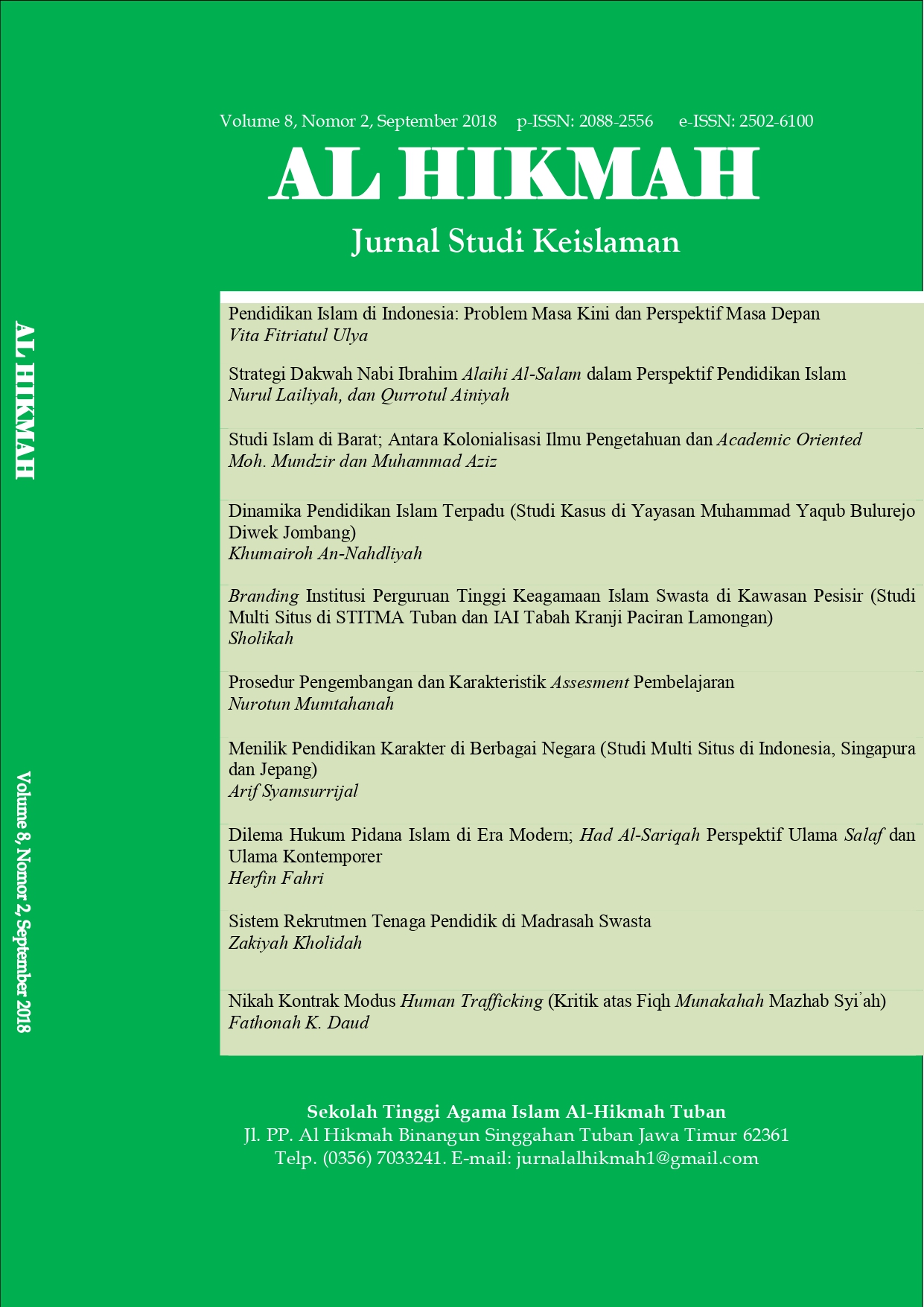 How to Cite
Kholidah, Z. (2019). Sistem Rekrutmen Tenaga Pendidik Di Madrasah Swasta. Al Hikmah: Jurnal Studi Keislaman, 8(2), 237-251. https://doi.org/10.36835/hjsk.v8i2.3387
Copyright (c) 2018 Al Hikmah: Jurnal Studi Keislaman
This work is licensed under a Creative Commons Attribution 4.0 International License.
Hak Cipta dari artikel yang diterima oleh Al Hikmah: Jurnal Studi Keislaman bisa disebarkan untuk publik