PRINSIP-PRINSIP DASAR KEUANGAN ISLAM
Nur Fadhilah

Universitas Qomaruddin Gresik
Keywords:
Keuangan, Syariah, Keuntungan dan Risiko
Abstract
Abstrak
Keuangan Islam tumbuh dengan pesat dan saat ini telah memiliki kontribusi penting dalam perekonomian nasional tidak hanya di negara-negara Muslim, namun juga di berbagai negara di seluruh dunia. Keuangan Islam telah membuat terobosan yang signifikan dalam lingkungan global dengan memfasilitasi diversifikasi risiko dan berkontribusi dalam stabilitas keuangan global. Kini keuangan Islam telah menjadi bagian integral dalam sistem keuangan internasional.
Keuangan Islam adalah bentuk keuangan yang didasarkan pada syariah atau hukum Islam. Sistem keuangan Islam melarang adanya praktik bunga (riba), larangan perilaku gharar (ketidakpastian) dan spekulatif (Maysir) dalam transaksi. Sedangkan Prinsip dasar dalam sistem keuangan Islam adalah berbagi risiko dan keuntungan (profit and loss sharing) bagi pihak-pihak yang melakukan transaksi keuangan. Sistem ekonomi Islam berpendapat bahwa profit and loss sharing didasarkan pada dua model pembiayaan yaitu mudharabah dan musyarakah. Imbalan bagi hasil yang diperoleh terkait pembagian risiko antara pihak mitra usaha dengan pemilik modal.
Kata kunci: Keuangan, Syariah, Keuntungan dan Risiko
Abstract:
Islamic finance is growing rapidly and currently has an important contribution to the national economy not only in Muslim countries, but also in various countries around the world. Islamic finance has made significant approach in the global environment by facilitating risk diversification and contributing to global financial stability. Now Islamic finance has become an integral part of the international financial system.
Islamic finance is a form of finance that is based on sharia or Islamic law. The Islamic financial system prohibits the practice of interest (usury), prohibits gharar (uncertainty) and speculative (Maysir) behavior in transactions. Meanwhile, the basic principle in the Islamic financial system is sharing risks and profits (profit and loss sharing) for parties conducting financial transactions. The Islamic economic system argues that profit and loss sharing is based on two financing models, namely mudharabah and musyarakah. Profit-sharing benefits obtained are related to risk sharing between business partners and capital owners.
Keywords: Finance, Syariah, Profit and Loss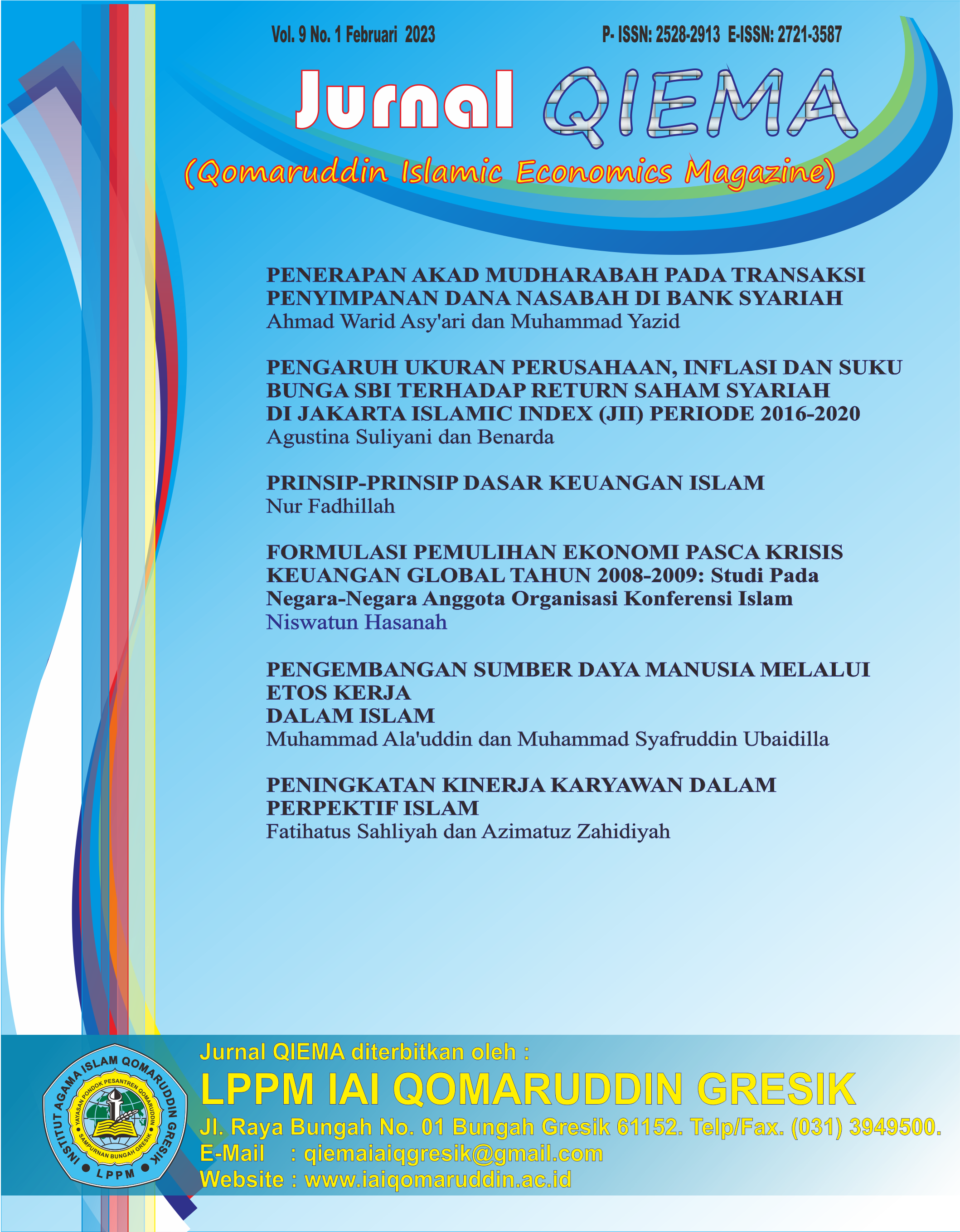 How to Cite
Fadhilah, N. (2023). PRINSIP-PRINSIP DASAR KEUANGAN ISLAM. Jurnal Qiema (Qomaruddin Islamic Economics Magazine), 9(1), 30-45. https://doi.org/10.36835/qiema.v9i1.4013
Copyright (c) 2023 Jurnal Qiema (Qomaruddin Islamic Economics Magazine)
This work is licensed under a Creative Commons Attribution 4.0 International License.