URGENSI KONSEP DISTRIBUSI PENDAPATAN DALAM KEBIJAKAN PUBLIK SEBAGAI STRATEGI MEWUJUDKAN SUSTAINABILITY PASAR TRADISIONAL
Lia Istifhama

Sekolah Tinggi Agama Islam Ihyaul Ulum Gresik
Keywords:
Traditional Market Trader, Modern Market, Public Policy, and Distribution of Wealth.
Abstract
The traditional market is a seller and buyer meet which marked with the directly transaction directly. Traditional traders has competition with the
growing number of mall around the market. In addition to the rivalry with fellow traders in traditional markets. The traders of vegetables, fruit
and goods have a rational strategy as a way of facing competition with modern market. Actually, the government must maintain suistanability of
traditional market with they public policy. Impelementation public policy should refers to Islamic economic, especially concept of distribution of
wealth. The distribution of wealth is one of the most important and most controversial subjects concerning the economic life of man, which have
given birth to global revolutions in the world of today, and have affected every sphere of human activity from international politics down to the
private life of the individual. Then, this paper raised the issue of: condition traditional  traders  recently,  while  growth  modern  market  increase  so
fast; function and role from public policy for supporting suistanability
traditional market; and urgency distribution of wealth as been strategy on public policy for suistanability traditional trades.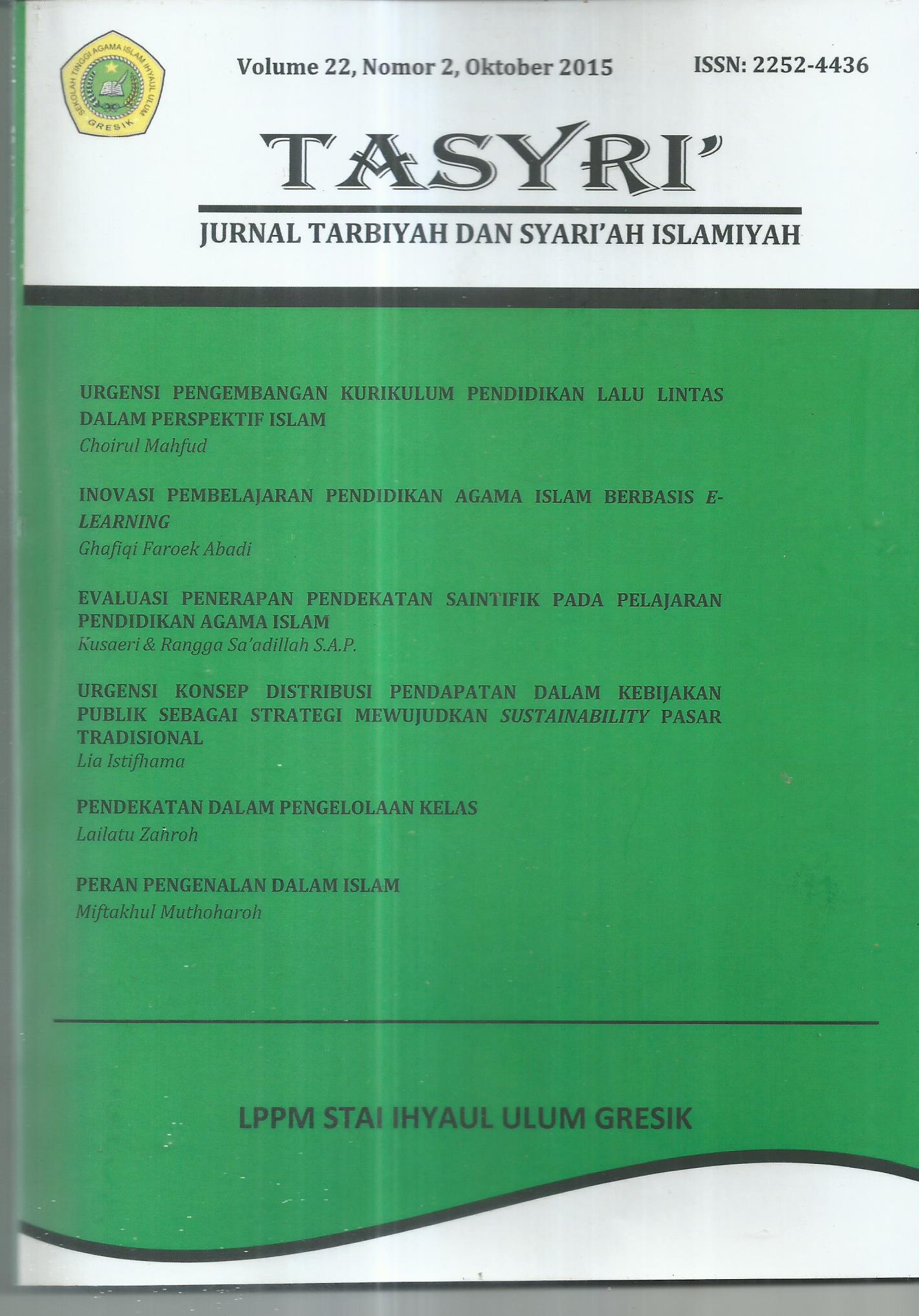 How to Cite
Istifhama, L. (2015). URGENSI KONSEP DISTRIBUSI PENDAPATAN DALAM KEBIJAKAN PUBLIK SEBAGAI STRATEGI MEWUJUDKAN SUSTAINABILITY PASAR TRADISIONAL. TASYRI': JURNAL TARBIYAH-SYARI'AH ISLAMIYAH, 22(2), 155-173. Retrieved from http://ejournal.kopertais4.or.id/pantura/index.php/tasyri/article/view/1551
Copyright (c) 2016 Tasyri'
This work is licensed under a Creative Commons Attribution-NoDerivatives 4.0 International License.