the THE IMPACT OF THE DEVELOPMENT OF SPECIAL ECONOMIC ZONE ON THE PROSPERITY OF THE COMMUNITY IN KUTA VILLAGE, CENTRAL LOMBOK
Edo Firman

Universitas Islam Negeri Sunan Kalijaga
Keywords:
Impact, Development, Prosperity
Abstract
Abstract Kuta village has natural wealth and beautiful scenery  because of it located that has a lot of hills and beautiful sea view, therefore Kuta be appointed as the Special Economic Zone (KEK) which is called Mandalika tourism zone. KEK Mandalika give the impact of the growth or increasing and prosperity for the citizens arround it. But, in the process of development of this program, has a lot of problem such as the people did not have  vast expansion of thought arround Mandalika zone did not support it relate to common well-being. By exploring the variety of beuatiful scenery of nature and establishment in Kuta zone to get interest of domestic tourists and even international tourists, whereas the strategy that people lack of Human Resources Development only used utilization of establishment to create their own job to reach common well-being. Keywords: Impact, Development, Prosperity
References
Creswell, John, W. 2015. Penelitian Kualitatif dan Desain Riset: Memilih di antara Lima Pendekatan, terj. Lazuardi, Ahmad LintangYogyakarta: Pustaka Pelajar

Deddy, Tikson, T. 2005. Administrasi Pembangunan. Bandung: Alfabeta.

Fahrudin, Adi. 2015. Pengantar Kesejahtraan Sosial, Bandung: PT Refika Aditama.

Fiatiano, Edwin. 2007. "Tata Cara Mengemas Produk Pariwisata pada Derah Tujuan Wisata", Jurnal Masyarakat, Kebudayaan dan Politik, vol 2: 3, Juli-September.

Geruh, Mayazitha, Reggina. 2013. "Penerapan Akuntansi Terhadap Pajak Pertambahan Nilai Pada Pengusaha Kena Pajak", Jurnal EMBA, vol. 1: 3, Juni

Nugroho & Dahuri, Rochimin. 2004. Pembangunan Wilayah: Perspektif Ekonomi, Sosial, dan Lingkungan, Jakarta: LP3S.

Pattinam, Marcos, J, "Pengentasan kemiskinan dengan kearifan lokal", vol. 13: 1 (Juli, 2009), hlm. 1-12.

Prasetya, Joko, Tri. dkk, 2011. Ilmu Budaya Dasar, Jakarta: Rineka Cipta, Cet. 4, November.
Salim, Agus. 2002. Perubahan Sosial Sketsa Teori dan Refleksi Metedologi Kasus Indonesia, Yogyakarta: PT Tiara Wacana Yogya.

Siagian, P, Sondang. 2008. Administrasi Pembangunan: Konsep, Dimensi, dan Strateginya, Jakarta: Bumi Aksara

Suharto, Edi. 2014. Membangun Masyarakat Memberdayakan Rakyat, Bandung: Refika Aditama, Februari.

Suratmo, Gunawan. 2009. Analisis Mengenai Dampak Lingkungan, Yogyakarta: Gadjah Mada University Press, Cetakan Ke-12
Suseno, Fran, Magnes. 2000. Pemikiran Karl Mark: dari Sosialisme Utopis ke Perselisihan Revisionesme, Jakarta: Gramedia.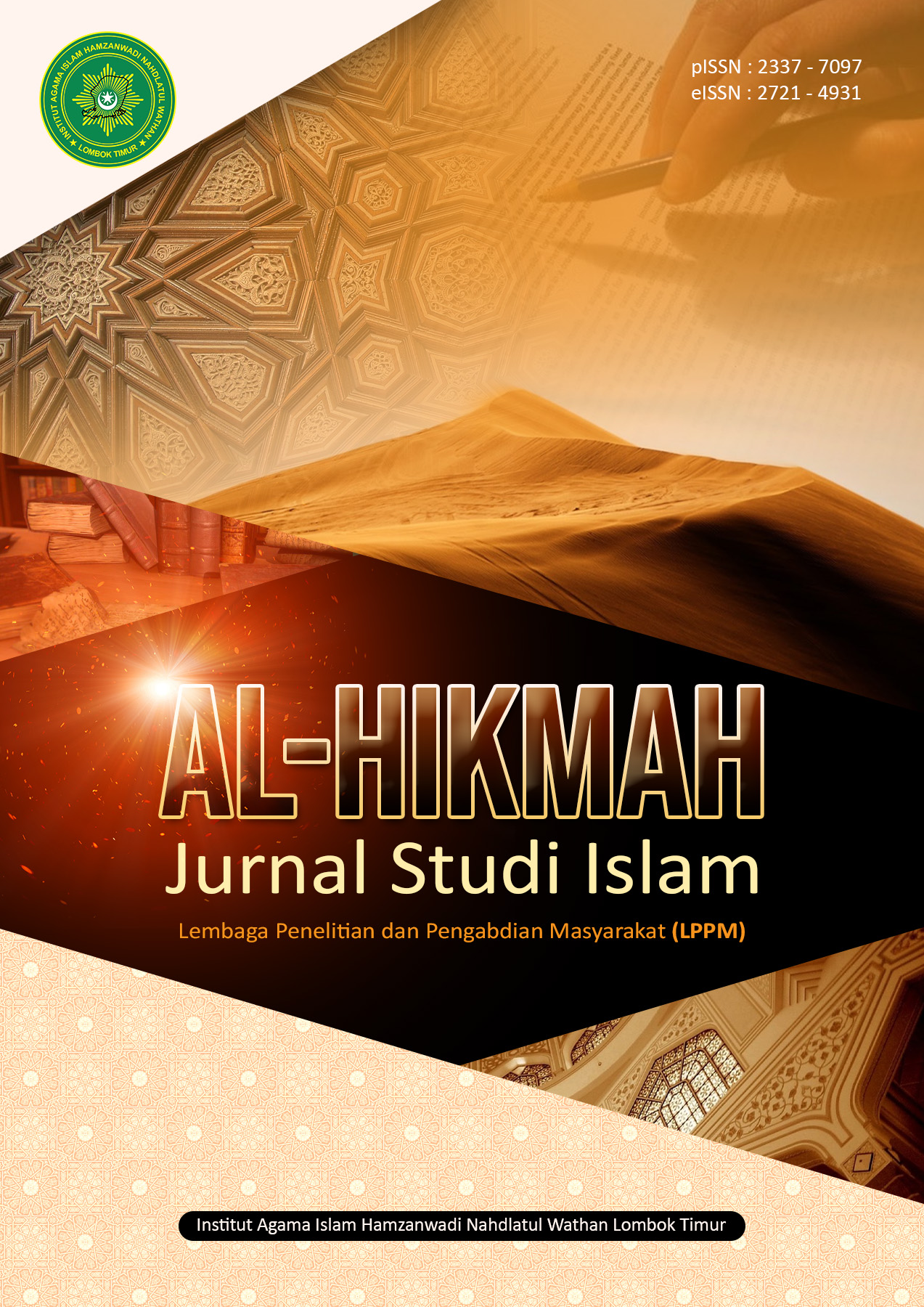 How to Cite
Firman, E. (2021). the THE IMPACT OF THE DEVELOPMENT OF SPECIAL ECONOMIC ZONE ON THE PROSPERITY OF THE COMMUNITY IN KUTA VILLAGE, CENTRAL LOMBOK. Al-Hikmah : Jurnal Studi Islam, 1(4), 71-86. https://doi.org/10.51806/al-hikmah.v1i4.4296
Copyright (c) 2021 al-Hikmah : Jurnal Studi Islam
This work is licensed under a Creative Commons Attribution-NonCommercial-NoDerivatives 4.0 International License.