Bentuk Citraan Dalam Kumpulan Puisi Penangkar Bekisar Karya Kiki Sulistyo: Kajian Stilistika
Eva Nurmayani dan Roqyak Aini

Universitas Hamzanwadi
Abstract
This study aims to describe the form of imagery in a collection of Bekisar Poetry by Kiki Sulistyo. The method used in this study is descriptive qualitative interpretation. The data in this study are in the form of words, phrases, arrays and verses containing images in a collection of works by the Bekisar Breeder of Poetry by Kiki Sulistyo. Data collection techniques are library techniques and note, Data analysis techniques use qualitative descriptive techniques with steps of data collection, data reduction, data presentation, and conclusions. Based on the results of data analysis and discussion of the results of the research that has been carried out, the researchers concluded that the form of the images in Kiki Sulistyo's Bekisar Breeders poetry collection was visual images, motion images, auditory images, olfactory imagery, taste images, and temperature images. Therefore a careful form of imagery by poets is very influential and enhances aesthetics in poetry.
References
Al-Ma'ruf, Ali Imron. 2010. Kajian Stilistika Perspektif Kritik Holistik. Surakarta: UPT Penertiban dan Pencetakan UNS (UNS Press).
Keraf, Gorys. 2010. Diksi dan Gaya Bahasa. Jakarta: PT Gramedia Pustaka Utama.
Moleong, Lexy J. 2013. Metododologi Penelitian Kualitatif. Bandung: PT Remaja Rosdakarya.
Pradopo, Djoko Rachmat. 2012. Pengkajian Puisi. Yogyakarta: Gadjah Mada University Press.
Pradopo, Djoko Rachmat. 1997. Buku Materi Pokok Puisi. Jakarta: Universitas Terbuka.
Sulistyo, Kiki. 2015. Penangkar Bekisar. Bandung: Nuansa Cendekia.
Wiyatmi. 2006. Pengantar Kajian Sastra. Yogyakarta: Pustaka.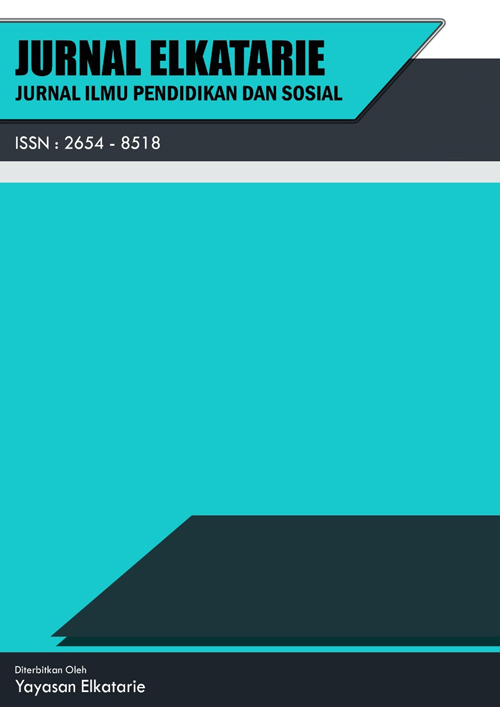 How to Cite
Roqyak Aini, E. N. (2019). Bentuk Citraan Dalam Kumpulan Puisi Penangkar Bekisar Karya Kiki Sulistyo: Kajian Stilistika. Jurnal Elkatarie : Jurnal Ilmu Pendidikan Dan Sosial, 1(02), 17-27. https://doi.org/https://doi.org/10.1234/elkatarie.v1i02.3491
This work is licensed under a Creative Commons Attribution-NonCommercial 4.0 International License.