ANALYSIS OF ONLINE BUSINESS DEVELOPMENT IN THE MODERN ERA ACCORDING TO ISLAMIC VIEW
fardian firmansyah

Universitas Islam Negeri Sunan Ampel Surabaya
Keywords:
Business, Islamic Business. Online business
Abstract
This scientific research was made using qualitative developmental research methods. This qualitative research method is defined as a research method based on the philosophy of postpositivism, where the researcher is used as the key instrument, the data processing technique is carried out in a combined way. Data analysis is deductive in nature, in this case the author of the article looks for assumptions about questions that have been asked by other people in the past. This is done in order to facilitate the process of doing this research. While the sampling technique used snowball sampling technique, with this method can obtain information through interviews. It is also a rule to obtain research information must interview 10 people. The object of this journal is in the form of writing about online business that continues to grow according to the Islamic view. Regarding the population itself, how is the process of developing online business in this modern era. Online business is now increasingly popular among young people and adults, because the income from the online business itself is very tempting. Where only a little capital can profit a lot. The existence of this journal is to explain how the views of Islam are related to online business that continues to develop in modern times. The results of this scientific study are based on the Islamic view of businesses that use online systems that must comply with Islamic law. The Prophet himself stated that buying and selling was lawful. Doing business online itself can have a very influential impact on society because it is easy, practical, and fast. If you want to do business online there is no usury, there is fraud, there is deception, then online is not in accordance with Islam. Any business model, especially online business that is carried out based on the Qur'an and the Hadith of the Prophet Muhammad SAW.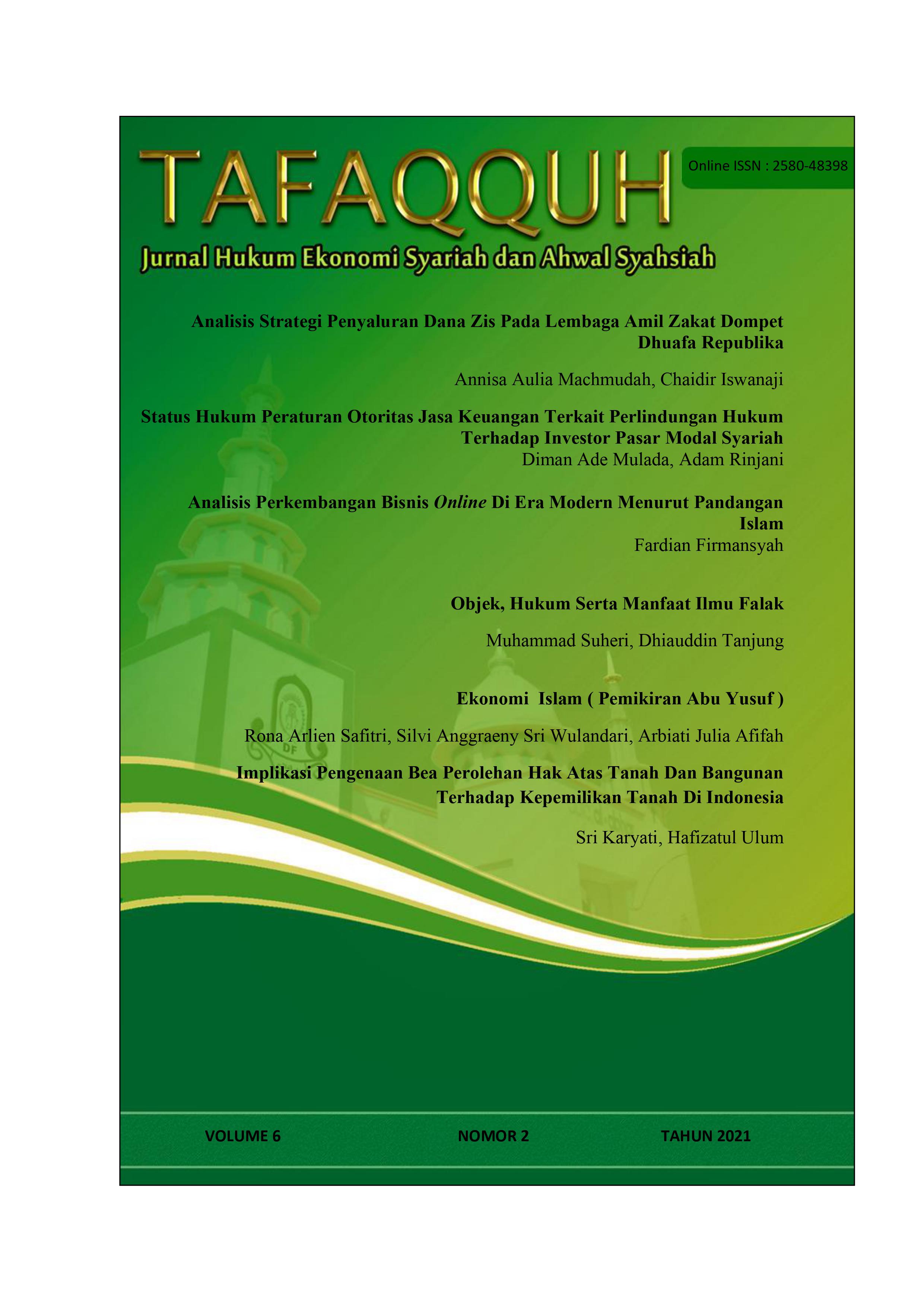 How to Cite
firmansyah, fardian. (2021). ANALYSIS OF ONLINE BUSINESS DEVELOPMENT IN THE MODERN ERA ACCORDING TO ISLAMIC VIEW. TAFAQQUH: Jurnal Hukum Ekonomi Syariah Dan Ahwal Syahsiyah, 6(2), 11-32. Retrieved from http://ejournal.kopertais4.or.id/sasambo/index.php/tafaqquh/article/view/4562
Copyright (c) 2021 TAFAQQUH: Jurnal Hukum Ekonomi Syariah Dan Ahwal Syahsiyah
This work is licensed under a Creative Commons Attribution 4.0 International License.