Konsep Pendidikan Islam Perspektif Muhaimin
Konsep Pendidikan Islam Perspektif Muhaimin
Abdul Khakim

Sekolah Tinggi Ilmu Tarbiyah Persatuan Guru Republik Indonesia Pasuruan Indonesia
Keywords:
Islamic education, Muhaimin
Abstract
Islamic education in Indonesia generally still traditional. The curriculum used in various Islamic education istitutions is still dichotomous between religious science and general science. Teaching orientation still relies on mastering the material on verbalistic all memorization system. Namely being able to say but not understand the intent and purpose let alone practice it. In reality, Islamic education has not being able to inculcate the value of Islamic teachings to students that lead to moral decadence among students. The concept of Islamic education which was initiated by Muhaimin has relevance to contemporary Islamic education. Starting from objectives of Islamic education, educators in Islamic education, themethod of Islamic education, Islamic education material, and the curriculum of Islamic education.
References
Wibowo, Agus. 2013.Pendidikan Antikorupsi Di Sekolah, Yogyakarta: Pustaka Pelajar
Mukani. 2016.Dinamika Pendidikan Islam,Malang: : Madani
Muhaimin. 2013.Rekonstruksi Pendidikan Islam, Jakarta : Rajawali Pers
al-Attas, Syed Muhammad al-Naquib. 1987.Konsep Pendidikan Dalam Islam: Suatu Rangka Pikir Pembinaan Filsafat Pendidikan Islam, Terj. Haidar Baqir Bandung: Mizan
Badarudin, Kemas. 2009. Filsafat Pendidikan Islam,Yogyakarta: Pustaka Pelajar
Muhaimin. 2012.Pemikiran dan Aktualisasi Pengembangan Pendidikan Islam, Jakarta: PT. Raja Grafindo Persada
Muhaimin. 2004.Wacana Pengembangan Pendidikan Islam, Yogyakarta: Pustaka Pelajar
Muhaimin. 2012.Paradigma Pendidikan Islam, Bandung: Remaja Rosdakarya
Muhaimin.2014. Wawasan Pendidikan Islam, Bandung: Marja
Muhaimin. 2016.Model Pengembangan Kurikulum & Pembelajaran dalam Pendidikan Islam Kontemporer di Sekolah dan Perguruan Tinggi, Malang: UIN Maliki Press
Muhainmin. 2014.Pengembangan Kurikulum Pendidikan Agama Islam di Sekolah, Madrasah, Dan Perguruan Tinggi, Jakarta: Rajawali Pers.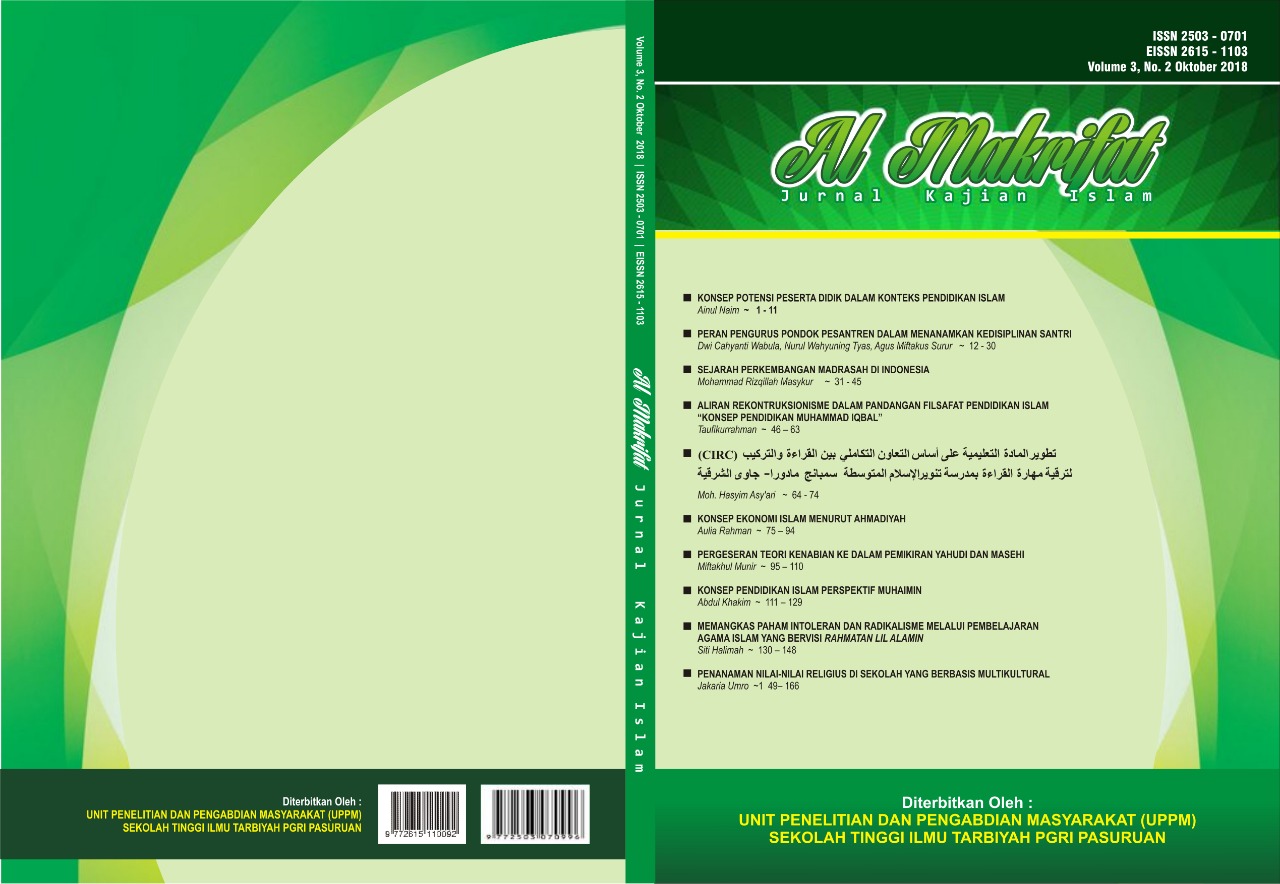 How to Cite
Khakim, A. (2018, October 7). Konsep Pendidikan Islam Perspektif Muhaimin. Al-Makrifat: Jurnal Kajian Islam, 3(2), 111-129. Retrieved from http://ejournal.kopertais4.or.id/tapalkuda/index.php/makrifat/article/view/3211