Tradisi Pembelajaran Al Barzanji Di Desa Karangwuluh
Zainal Muttaqiin

STAINU Purworejo, Jawa Tengah, Indonesia
Keywords:
Learning, al Barzanji, Karangwuluh
Abstract
Al Barzanji is an Islamic tradition that develops in the archipelago. This study aims to determine the learning of al Barzanji in Karangwuluh Village. This research is a qualitative descriptive study, by describing the situation in the field factually and accurately. Sources of data were obtained through participant observation, interviews, and documentation. The results of this study show that the people of Karangwuluh always strive for the active learning of al Barzanji so that the tradition of al Barzanji in various religious ceremonies can be sustainable. Keywords: Learning, al Barzanji, Karangwuluh.
References
Ahmad, Abdul Wahab. Makna Sunnah Hasanah dan Sunnah Sayyiah dalam Sabda Rasulullah Saw, https://islam.nu.or.id. Diakses 26 Maret 2021.
Amira, Nurul. Nilai Nilai Pendidikan Akhlak dalam Kitab Al Barzanji Karangan Syaikh Ja'far Al Barzanji, Salatiga: Skripsi tidak dijual belikan. 2019.
Departemen Agama. Al Quran al Karim. Jakarta. 2007.
Jumáh, Ali. Menjawab Dakwah Kaum Salafi. Terj. Abdul Ghafur. Jakarta: Khatulistiwa Press. 2013
Nadia, Zunly. Tradisi Maulid Pada Masyarakat Mlangi Yogyakarta, Jurnal Esensia (Vol VII, No 1, 2011).
Syam, Anna Rahma dkk.Tradisi Barzanji dalam Persepsi Masyarakat Kabupaten Bone. Jurnal Diskursus Islam (Volume 04 Nomor 2, Agustus 2016).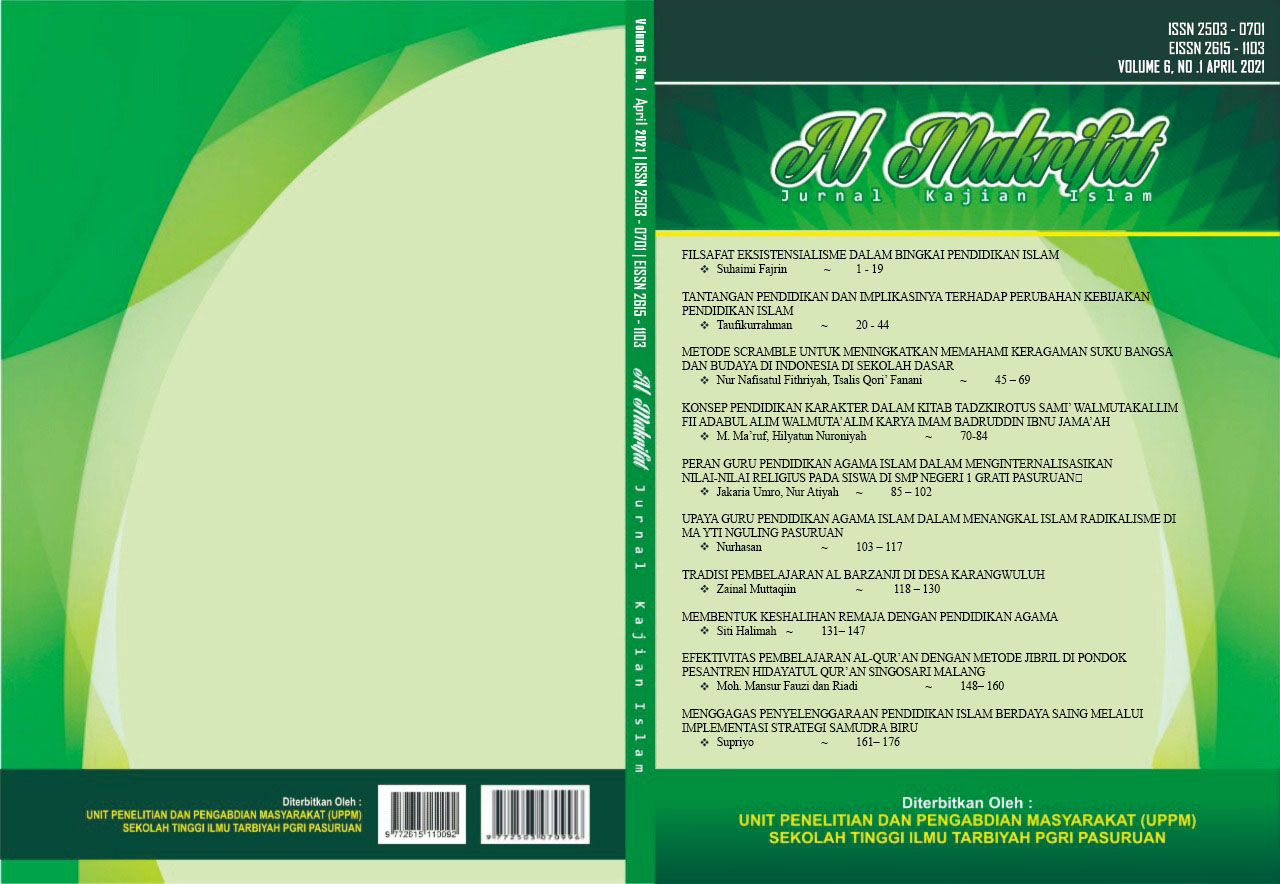 How to Cite
Muttaqiin, Z. (2021). Tradisi Pembelajaran Al Barzanji Di Desa Karangwuluh. Al-Makrifat: Jurnal Kajian Islam, 6(1), 118-130. Retrieved from http://ejournal.kopertais4.or.id/tapalkuda/index.php/makrifat/article/view/4225