EKSPLORASI PRAKTIK AJARAN BERAGAMA KELOMPOK ARISAN SABELLESAN DESA PAJUDDAN DALEMAN GULUK-GULUK SUMENEP
Zaitur Rahem

INSTIKA Guluk-Guluk Sumenep
Abstract
Abstract: Agama hadir sebagai jawaban persoalan kemanusiaan. Kehadiran agama dimaksudkan bisa menjadi 'sahabat' bagi manusia dalam menjalankan tugas-tugasnya di muka bumi. Ketika agama sekedar menjadi simbol, maka saat itulah agama punah. Akan tetapi, saat agama menjadi nafas dan darah, maka agama akan terus abadi sepanjang zaman. Problem beragama di sejumlah negara dewasa ini menjadi cambut maha berat bagi para Pemeluk beragama.Pertanyaan yang muncul, benarkakah ajaran agama (Islam) yang selama ini diyakini sebagai sumber energi sudah dipraktikkan secara benar oleh Pemeluknya. Kata kunci : Nalar, Agama, Warga Pedalaman Abstract:Religion is present as an answer to the problems of humanity. The presence of religion was intended to be a 'friend' to humans in carrying out his duties in the face of the earth. When religion becomes just a symbol, then that's when religion became extinct. However, when religion becomes the breath and blood, religion will continue enduring all time. Problem religion in some countries today become cambut mammoth for Adherent religion. Ask that appears, true teachings of religion (Islam), which is believed to be a source of energy has been put into practice correctly by its adherents. Keywords: Reason, Religion, Citizens Outback
Downloads
Download data is not yet available.
References
DAFTAR PUSTAKA

Asrohah,Hanun, Sejarah Pendidikan Islam, (Ciputat: PT. Logos Wacana Ilmu, 2001)

Bagus, Lorens, Kamus Filsafat, (Jakarta: PT Gramedia Pustaka Utama, 2002)

Basri, Hasan, Filsafat Pendidikan Islam, (Bandung: Pustaka Setia, 2009)

Brockelmann, Carl, History of the Islamic Peoples, (London: Roudledge & Kegan Paul, 1982)

Departemen RI, Al-Quran dan Terjemahnya, (Bandung: CV J-ART, 2004)

K. Hitty, Philip, History of the Arab, (Jakarta: Serambi, 2016)

Kamali, Mohammad Hashim, 2015. Membumikan Syariah, (Jakarta: Mizan, 2015)

Laffan, Michael, Sejarah Islam di Nusantara, (Yogyakarta: Bentang, 2016)

Latief, Hilan, Islam dan Urusan Kemanusiaan, (Jakarta: Serambi, 2015)

Lings, Martin, Muhammad, (Jakarta: PT Serambi Ilmu Semesta, 2002)

Muhammad Naquib Al- Attas, Syed, Islam dalam Sejarah dan Kebudayaan Melayu, (Bandung: Mizan, 1990)

Nizar, Samsul, Sejarah Pendidikan Islam: Menelusuri Jejak Sejarah Pendidikan Era Rasulullah Sampai Indonesia, (Jakarta: Kencana Prenada Media Group, 2011)

Shihab, Quraisy, Membumikan Al-Quran, (Bandung: PT Mizan Pustaka, 2006)

Smith, Huston. Agama-agama Manusia, (Jakarta: Serambi, 2016)

Yatim, Badri, Sejarah Peradaban Islam, (Jakarta: PT. Raja Grafindo, 2008)

Wawancara Tokoh:

H. Ismaiel

H. Luthfi

Ibu An'amah

Kiai Syukri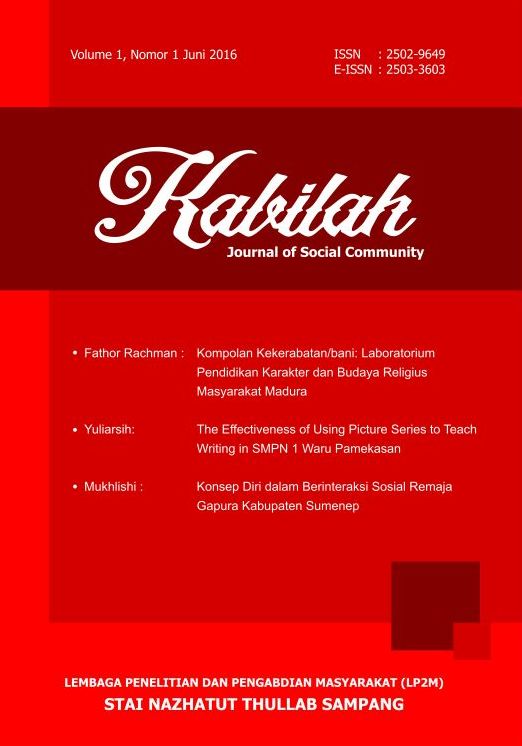 How to Cite
Rahem, Zaitur. KABILAH : Journal of Social Community 1, no. 1 (June 1, 2016): 94-108. Accessed January 19, 2021. http://ejournal.kopertais4.or.id/madura/index.php/kabilah/article/view/1713.
This work is licensed under a Creative Commons Attribution-NonCommercial-NoDerivatives 4.0 International License.