PENDIDIKAN KARAKTER DALAM PRESPEKTIF ISLAM
Siti Farida

STAI Nazhatut Thullab Sampang
Abstract
Abstrak: Pendidikan karakter dimaknai sebagai pendidikan nilai, budi pekerti, pendidikan moral, pendidikan watak yang tujuannya untuk mengembangkan kemampuan peserta didik untuk memberikan keputusan baik buruk, mewujudkan kebaikan dalam kehidupan sehari-hari dengan sepenuh hati sebagai cita-cita luhur dalam dunia pendidikan. Oleh sebab itu, maka pendidikan karakter akan terlaksana jika selaras dengan sistem pendidikan nasional. Penyelengaraan pendidikan sistem pendidikan disebuah negara akan berbeda dengan negara lainnya, karena sistem pendidikan yang diselenggarakan diberbagai negara mempunyai ciri yang sesuai dengan latar belakang budaya masing-masing negara. Dalam pendidikan karakter harus melibatkan aspek seperti: kognitif, afektif, konatif, dan psikomotorik yang harus dikembangkan sebagai suatu keutuhan (holistik) dalam konteks kultural. Dalam pendidikan Islam, pendidikan karakter merupakan pendidikan yang telah diajarkan Al qur'an, yaitu pendidikan yang mengedepankan Akhlak. Al-Qur'an dengan sangat tegas memberikan solusi yang nyata kepada kita untuk mengembangkan kesadaran spiritual, emosional, dan intelektual yang tidak hanya menjadi teori, tetapi Al qur'an memerintahkan untuk menerjemahkannya dalam kehidupan sehari-hari. Kata Kunci: Pendidikan Karakter, pendidikan Islam  Abstract: Character education is defined as the value of education, manners, moral education, character education which aims to develop the ability of learners to provide good and bad decisions, realize the good in everyday life with a vengeance as the lofty ideals in education. Therefore, it will be executed if the character education in line with the national education system. Educational organization of the education system in a country will be different from other countries, because the education system is organized in various countries have characteristics appropriate to the cultural background of each country. In character education should involve aspects such as: cognitive, affective, conative, and psychomotor should be developed as a whole (holistic) in a cultural context. In Islamic education, character education is an education that has taught Al Qur'an, namely education that emphasizes Morals. Qur'an with a very firm provides real solutions to us to develop an awareness of spiritual, emotional, and intellectual is not only a theory, but Al Quran ordered to translate it into everyday life.Keywords: Character Education, Islamic education
Downloads
Download data is not yet available.
References
DAFTAR PUSTAKA


Ahmadi, Abu dan Uhbiyati,Nur . Ilmu Pendidikan (Jakarta:, Rineka Cipta, 1991)

Gunawan, Heri, Kurikulum Dan Pembelajaran Pendidikan Agama Islam, (Bandung : Alfabeta, 2013)

Juwariyah, Dasar-dasar Pendidikan Anak dalan al-Qur'an, (Yogyakarta: Teras, 2010)

Koesoema A, Doni., Pendidiakn Karakter, (Jakarta: Grasindo, 2010)

Lickona, Thomas, Educating for Character; Mendidik untuk Membentuk karakter, Sukses Offset, (Jakarta, PT. Bumi Aksara, 2012)

Maskawih, Ibnu, Tahdzib al-Akhlak wa Tathir al-A'raq, (Mesir, Al Mathba'ah al-Misriyah, 1934)

Maunah, Binti, Perbandingan Pendidikan Islam (Yogyakarta: Teras, 2011)
Nata, Abuddin, Manajemen Pendidikan Mengatasi Pendidikan Islam di Indonesia (Jakarta: Prenada Media, 2003)
Qaradhawi, Yusuf. Pendidikan Islam dan Madrasah Hasan al-Banna, terj. Bustami A. Ghani dan Zainal Abidin Ahmad (Jakarta: Bulan Bintang, 1980)

Tafsir, Ahmad, Filsafat Pendidikan Islam. (Bandung: PT Remaja Rosda Karya, 2006)

Wiyani, Novan Ardy. Pendidikan Karakter Berbasis Iman dan Taqwa, (Yogyakarta: Teras, 2012)

Yasin, A. Fatah. Dimensi-dimensi Pendidikan Islam. (Malang: UIN Malang Press, 2008)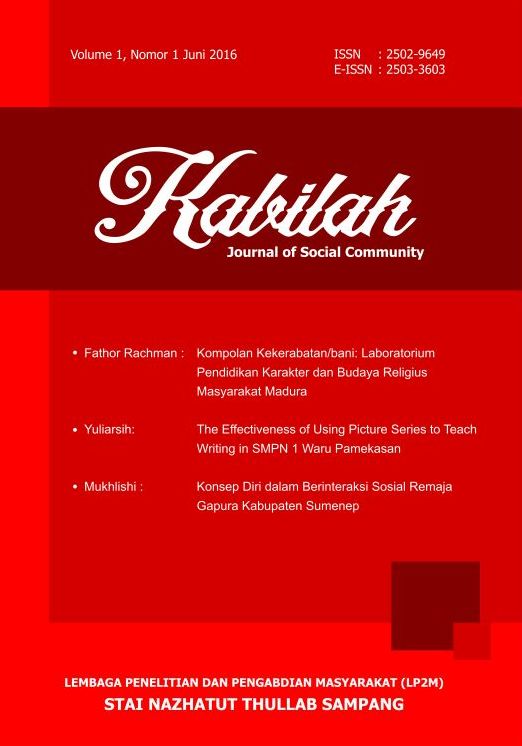 How to Cite
Farida, Siti. KABILAH : Journal of Social Community 1, no. 1 (June 1, 2016): 198-207. Accessed June 1, 2020. http://ejournal.kopertais4.or.id/madura/index.php/kabilah/article/view/1724.
This work is licensed under a Creative Commons Attribution-NonCommercial-NoDerivatives 4.0 International License.