Penggunaan Media Alat Peraga Nasyid Sebagai Pembelajaran Inovatif Guna Memahami Konsep Agama Islam di SMA Negeri 1 Ambunten
L. Qodri Shiddiq

Guru SMA Negeri 1 Ambunten
Abstract
ABSTRACT             Success of learning is determined by many factors, including the teacher's factor in carrying out the teaching and learning process because the teacher can directly affect Maintaining and improving intelligence and skills of the students solve the above problems and to achieve the education to the maximum the teacher's role is very important and teachers are expected to have a way of models of good teaching and being able to select appropriate learning models and in accordance with the concepts of subjects that will be presented             While the goal from the research is a to determine the significance of differences in learning acquisition between learning using songs that breathe Islam and learning without using songs that breathe Islam on the subject matter of Islamic religion on the subject of the journey of Ra. sulullah, b to find out the significance of the difference in learning acquisition based on the learning styles of SMA Negeri 1 students, know between the use of Islamic learning songs with the learning acquisition of students in SMA Negeri 1 ambunten.             From the analysis, it is found that there is a significant difference in learning acquisition between Islamic religious learning. the subject matter of the Prophet's journey by using Islamic-breathed songs to students of SMA Negeri 1 ambunten means that the use of songs with Islamic breaths to organize the learning environment can increase the acquisition of learning and learning will be meaningful and successful when learning or students are free from pressure and tension, songs breathing Islam that is played can determine the mood of the listener and the lover, the sound of relaxing Islamic breathing songs with the right rhythm can help release all forms of tension,               There is a real interaction between the use of Islamic-inspired songs Learning with learning acquisition in SMA Negeri 1 students provides an indication that between learning Islamic songs and learning outcomes have a close relationship, Islamic-breathed songs and learning styles have a significant influence in increasing learning acquisition   For keywords using media, tools nasyid display, innovative learning.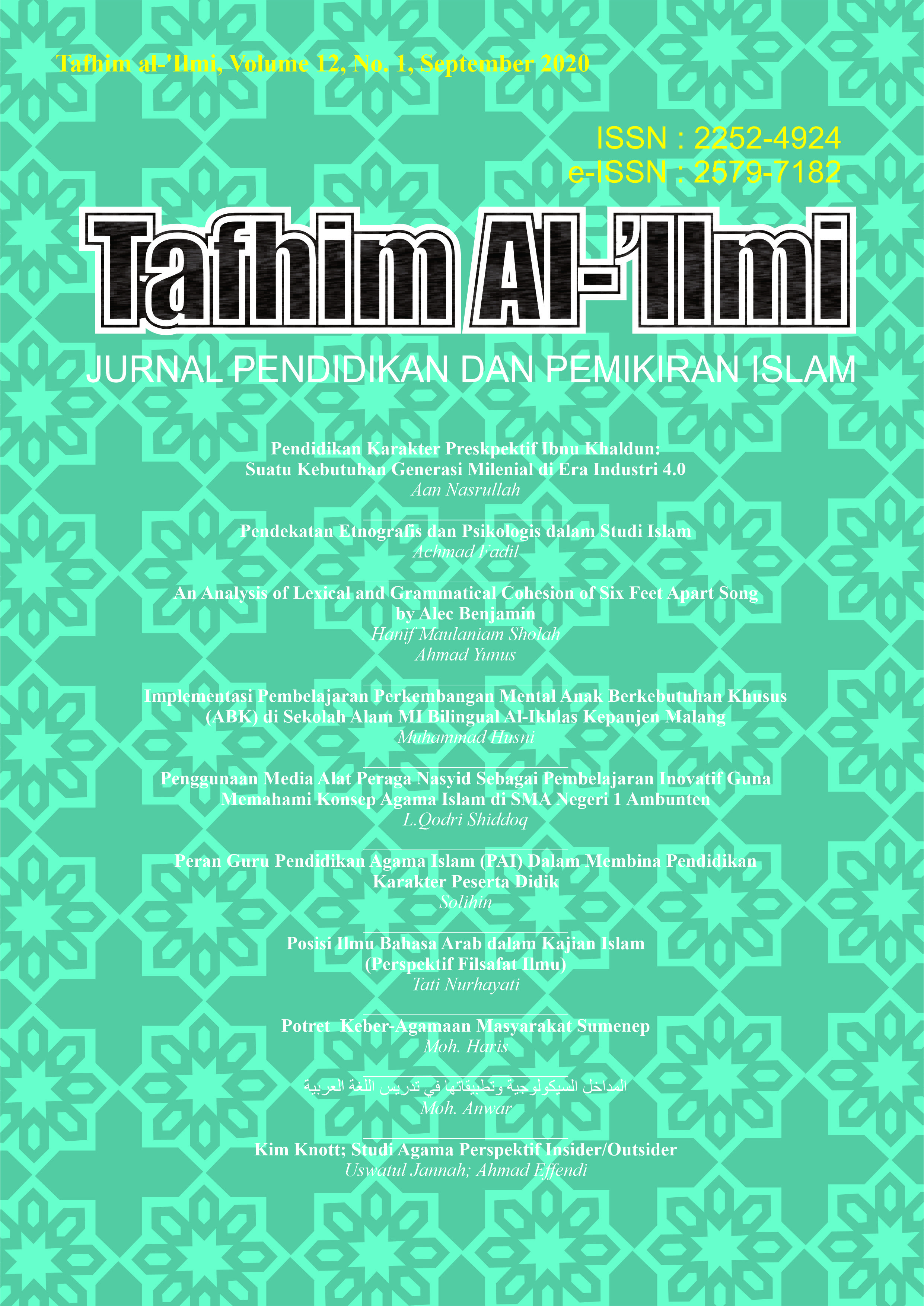 This work is licensed under a Creative Commons Attribution-ShareAlike 4.0 International License.
Artikel yang dimuat dalam jurnal ini boleh disebarluaskan, diterbitkan kembali, dengan syarat mencantumkan bahwa artikel tesebut telah dimuat di jurnal Tafhim al-'Ilmi dengan mencantumkan volume, nomor, dan halaman artikel terkait.