Pendekatan Sistem Terhadap Teori Hukum Islam" Jasser Auda"
Moh Ulumuddin

Sekolah Tinggi Agama Islam At-Tahdzib Jombang
Abstract
Berdasarkan teori maqashid yang digagas Auda, maka tercapainya "kebermaksudan" hukum Islam menjadi pertimbangan utama bermanfaat atau tidaknya penelitian tersebut. Sejauh hukum Islam belum dipahami sebagaimana tawaran Auda, maka manfaat praktis dari penelitian ini perlu ditindaklajuti lebih serius. Namun terlepas dari hal tersebut di atas, penelitian Auda setidaknya memberikan tiga manfaat terhadap perkembangan studi Islam. Pertama, Auda berhasil "mengkontemporerisasi" hukum Islam dengan pendekatan sistem melalui maqashid al-syari'ah. Kedua, Auda memberikan kontribusi terhadap perkembangan teori hukum Islam melalui teori baru tentang maqashid. Ketiga, Auda berhasil memodifikasi teori sistem, sehingga menjadi teori baru dalam filsafat Islam
References
Berdasarkan buku panduan penulisan makalah dalam mata kuliah MSI dari M. Amin Abdullah. Bandingkan dengan M. Amin Abdullah, Metodologi Penelitian Untuk Pengembangan Studi Islam: Perspektif 8 Point Sudut Pandang, Religia: Jurnal Studi-Studi Agama, Vol IV. No. 1. Januari 2005.h. 16-37
7 bab tersebut terdiri dari maqashiid al-shari'ah a contemporary perspective, systems as philosophy & methodology for analysis, islamic law, imams, & schools: a historical survey, classical theories of islamic law, contemporary theories in islamic law, a systems approach to islamic juridical theories.
Jasser Auda, Maqasid al-Shariah as Philosophy of Islamic Law: A System Approach, ,London: The International Institute of Islamic Thought, 2007, h. 192
Ibid. h.. XXII
Ibid. h. 1-2.
Ibid. h. 3.
Ibid. h. 6-8.
Ibid. h. 193-194.
Ibid. h. 197-200
Ibid. h. 201-206.
Ibid. h. 206-207.
Ibid. h. 226-227,
Ibid. h. 228.
Ibid h. 232.
Ibid h. 232-235.
Ibid h. 237.
Ibid h. 239.
Ibid h. 241.
Ibid h. 241-243.
Ibid h. 243-244.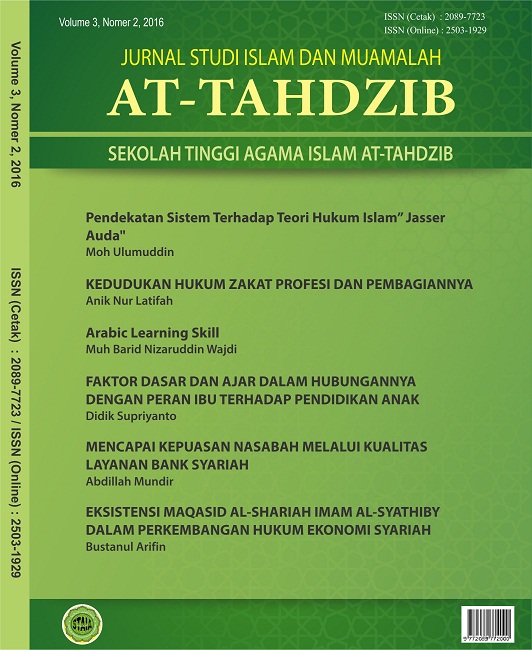 How to Cite
Ulumuddin, M. (2016). Pendekatan Sistem Terhadap Teori Hukum Islam" Jasser Auda". At-Tahdzib: Jurnal Studi Islam Dan Muamalah, 3(2), 1-12. Retrieved from http://ejournal.kopertais4.or.id/mataraman/index.php/tahdzib/article/view/1862
Copyright (c) 2016 AT-Tahdzib: Jurnal Studi Islam dan Muamalah
This work is licensed under a Creative Commons Attribution 4.0 International License.

Jurnal Studi Islam by At-Tahdzib is licensed under a Creative Commons Attribution 4.0 International License.
Based on a work at http://ejournal.kopertais4.or.id/mataraman/index.php/tahdzib