Generasi Muslim Milenial Sebagai Model Islam Wasaṭiyyah Zaman Now
Musyafangah Musyafangah

Pascasarjana IAIN Purwokerto

Bekti Taufiq Ari Nugroho

Institus Agama Islam Negeri (IAIN) Salatiga

Wildan Nur Hidayat

Institus Agama Islam Negeri (IAIN) Salatiga
Keywords:
millennial generation, wasaṭiyyah, phenomenological approach, sociological approach
Abstract
This study study describes and analyzes the notion of wasaṭiyyah Islam, which explains the millennial generation of wasaṭiyyah Islam. Islamic wasaṭiyyah must be taken from the clerical explanation, so as not to trigger 'missunderstanding' and intolerant attitude that damages the image of Islam itself. This research belongs to library research. Data collection is done by quoting, adapting, and analyzing the representative literaries and relevant to the issues discussed, then reviewing and concluding them. The results of this study indicate that: 1) Through the process of literacy and teaching the true religion, millennial generations can be agents of change in syiar Islam wasaṭiyyah. Tolerant Islam, respect for diversity and a benevolent Islam for all people; 2) The nature, existence and urgency of Islam wasaṭiyyah is the generation of Islam ummatan wasatan interpreted as followers of religion that take the middle way or adherents of the principle of moderate, be a fair and balanced people in various things, both in terms of sharia and muamalah and can create harmony in life, because it can touch all aspects faced by humans, and offer the principles of unity by referring to the Qur'an as an open book, promoting justice, equality, tolerance, humanity, liberation and non-discrimination; 3) Phenomenology should not create a contradiction between a true and an incorrect religion. In a forced state, phenomenology can vigilantly distinguish pure and impure religiosity. There are two main perspectives of sociology that are often used as a basis in viewing religious phenomena in society, namely: functionalist perspective, and symbolic interactionism.
References
Azis, Amri dan Ahmad Baharuddi. Konstruksi Islam Moderat: Menguak Prinsip Rasionalitas, Humanitas, Dan Universalitas Islam. Makasar: ICATT Press., 2012.

Baidhawy, Zakiyuddin. Islam, Studi: Pendekatan Dan Metode. Yogyakarta: Insan Madani, 2011.
Connolly, Peter. Aneka Pendekatan Studi Agama. Yogyakarta: LKiS, 2011.
Ghazali, Adeng Muchtar. Ilmu Perbandingan Agama. Bandung: Pustaka Setia, 2000.
Hidayat, Surahman. Hidayat, Surahman. 2012. Islam Moderat: Menebar Islam Rahmatan Lil 'Alamin. Jakarta: Pustaka Ikadi, 2012.
Lubis, H M Ridwan. Agama Dan Perdamaian: Landasan, Tujuan, Dan Realitas Kehidupan. Gramedia Pustaka Utama, 2017.
Nasution, Khoirudin. Pengantar Studi Islam. Yogyakarta: Academia Tazzafa, 2007.
Prasetyanti, Retnayu. "Generasi Millenial Dan Inovasi Jejaring Demokrasi." POLINTER 3, no. 1 (2017).
Quthb, Sayyid. Tafsir Fi Ẓilāl Al-Qur'an: Di Bawah Naungan Al-Qur'an. Bandung: Mizan Media Utama, 2007.
Rachman, Budhi Munawar. Argumen Islam Untuk Liberalisme. Jakarta: RajaGrasindo, 2010.
Shihab, M. Quraish. Wawasan Al-Qur'an: Tafsir Tematik Atas Pelbagai Persoalan Umat. Bandung: Mizan, 2007.
Solahudin, M. "Pendekatan Tekstual Dan Kontekstual dalam Penafsiran Al-Qur'an." Al-Bayan: Jurnal Studi Al-Qur'an Dan Tafsir 1, no. 2 (2016): 115–30.
Sunderson, Steven K. Sosiologi Makro. Edited by Sahad Simamora. Jakarta: Bina Aksara, 1984.
Susanto, Edi. Dimensi Studi Islam Kontemporer. Jakarta: Prenadamedia, 2016.
Wahyudi, Dedi. Pengantar Aqidah Akhlak Dan Pembelajarannya. Yogyakarta: Lintang Sari Aksara, 2017.
Wilaela. Sejarah Islam Klasik. Pekanbaru: UIN Sultan Syarif, 2016.
Zarkasi, Ahmad. "Metodologi Studi Agama" XI, no. 1 (2016): 1–16. https://doi.org/http://dx.doi.org/10.24042/adyan.v11i1.1434.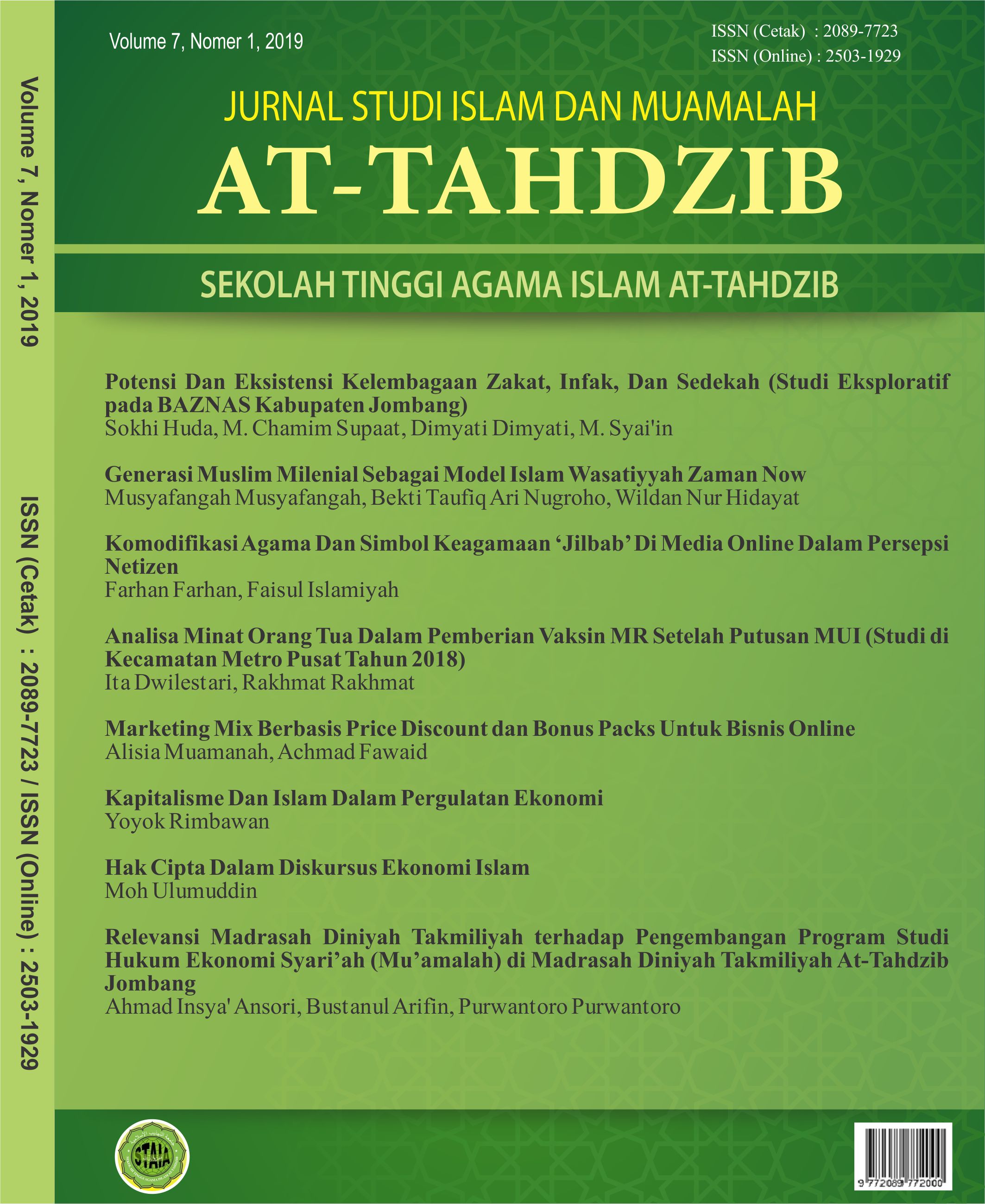 How to Cite
Musyafangah, M., Nugroho, B., & Hidayat, W. (2019, March 24). Generasi Muslim Milenial Sebagai Model Islam Wasaṭiyyah Zaman Now. At-Tahdzib: Jurnal Studi Islam Dan Muamalah, 7(1), 32- 50. Retrieved from http://ejournal.kopertais4.or.id/mataraman/index.php/tahdzib/article/view/3530
This work is licensed under a Creative Commons Attribution 4.0 International License.

Jurnal Studi Islam by At-Tahdzib is licensed under a Creative Commons Attribution 4.0 International License.
Based on a work at http://ejournal.kopertais4.or.id/mataraman/index.php/tahdzib