Orientasi dan Perkembangan Regulasi Perbankan Syariah
Moh Ulumuddin

Sekolah Tinggi Agama Islam At-Tahdzib Jombang
Abstract
Banking regulation in command (UU No 14 years 1967 on banking points up to the last regulation of UU No 21 year 2011 on OJK, so that there is a clear description of the history of regulatory developments Sharia banking. The presence of Sharia banks in the midst of conventional banking is at least two main reasons concerning the background of the establishment of Sharia banks, namely: first, from the legal aspect, the view that the interest in the conventional bank The law is unlawful because it belongs to the category of Riba forbidden in religion, not only on the religion of Islam but also by other religious religions; Secondly, from the economic aspect, the surrender of business risk to one party is judged to violate the norms of justice and can cause selfishness.
References
Antonio, M. Syafii, Bank Syariah dari Teori ke Praktek, (Jakarta: Gema Insani, 2001)
Arthesa dan Handiman, Bank dan Lembaga Keuangan Bukan Bank (Jakarta: Indeks, 2006)
Bank Indonesia, Himpunan Peraturan Perundang-undangan Paket kebijakan Keuangan, Moneter, dan Perbankan 27 Oktober 1888 (Jakarta: 1988)
Basir, Cik, Penyelesaian Sengketa Perbankan Syariah (Jakarta: Kencana, 2009)
Burhanuddin, Aspek Hukum Lembaga Keuangan Syariah (Yogyakarta: Graha Ilmu, 2010)
Burhanuddin, Aspek Hukum Lembaga keuangan Syariah, (Yogyakarta, Graha Ilmu, 2010)
Dewi, Gemala, Aspek-aspek Hukum dalam Perbankan dan Perasuransian Syariah di Indonesia (Jakarta: Kencana, 2007)
Djamil, Fathurrahman, Metode Ijtihad Majelis Tarjih Muhammadiyah (Jakarta: Logos Publishing House, 1995)
Hasan, Zuhairi, Undang-undang Perbankan Syariah: Titik Temu Hukum Islam dan Hukum Nasional (Jakarta: Rajawali Pers, 2009)
Perwataatmadja, Bank dan Asuransi Islam di Indonesia (Jakarta: Prenada Media, 2005)
Sjahdeini, Sutan Remy, Perbankan Islam (Jakarta: Pustaka Utama Grafiti, 1999)
Sumitro, Warkum, Asas-asas Perbankan Islam dan Lembaga-lembaga Terkait(Jakarta: Raja Grafindo, 2004)
Undang-undang perbankan syariah No. 21 Tahun 2008 Pasal 1 angka 1.
UU No. 14 Tahun 1967 Tentang Pokok-pokok Perbankan.
http://tarjih.muhammadiyah.or.id/muhfile/tarjih/download/Fatwa%2008 2006_Bunga%20Bank.pdf.
http://www.nu.or.id/post/read/7970/bunga-bank-konvensional-menurut-hukum-islam.
http://kbbi.web.id/bank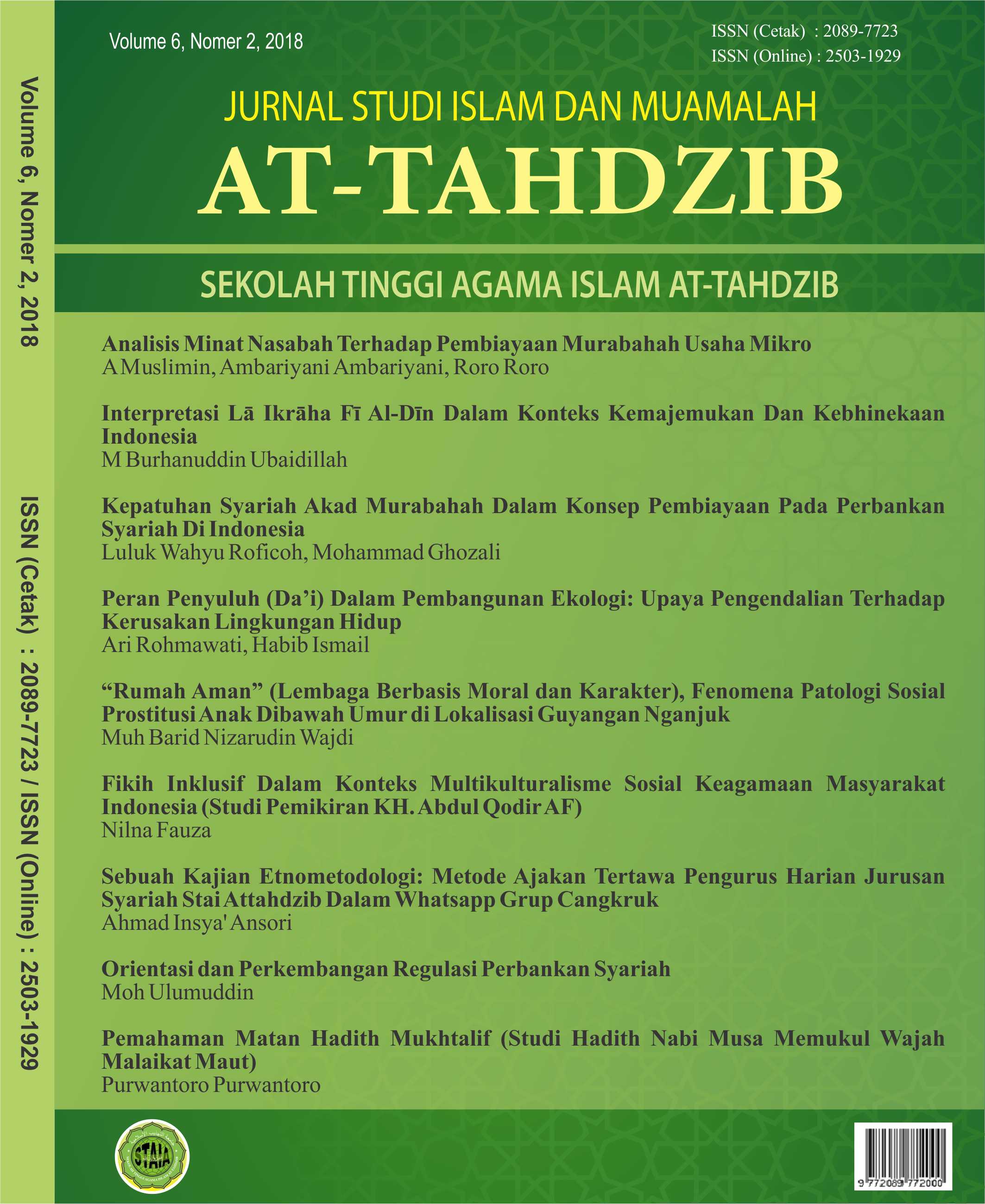 How to Cite
Ulumuddin, M. (2019, May 19). Orientasi dan Perkembangan Regulasi Perbankan Syariah. At-Tahdzib: Jurnal Studi Islam Dan Muamalah, 6(2), 128 - 138. Retrieved from http://ejournal.kopertais4.or.id/mataraman/index.php/tahdzib/article/view/3625
This work is licensed under a Creative Commons Attribution 4.0 International License.

Jurnal Studi Islam by At-Tahdzib is licensed under a Creative Commons Attribution 4.0 International License.
Based on a work at http://ejournal.kopertais4.or.id/mataraman/index.php/tahdzib