Relevansi Corporate Social Responsibility Terhadap Nilai-Nilai Ekonomi Islam Perspektif Mazhab Mainstream
Bustanul Arifin

Sekolah Tinggi Agama Islam AT-Tahdzib Jombang

Zainal Fanani

Sekolah Tinggi Agama Islam At-Tahdzib Jombang

M Muflikhul Khitam

Sekolah Tinggi Agama Islam At-Tahdzib Jombang
Abstract
Corporate social responsibility is a program dedicated to the interests of humanity and the environment and is intended to promote human beings, especially those around Environmental sustainability, especially where the company is operated. Corporate Social Responsibility is a concept relevant to the economic values of Islam in the point of view of the Mainstream sect. Researchers divide it into 3 principles, as follows: 1) Corporate Social Responsibility is faced with the principle of compound ownership (Multitype ownership) is relevant to the value of ownership (ownership) and the value of balance (equilibrium). Ownership values include private property and collective ownership. The balance value in terms of balance between right and obligation should be in care. Both of these values are derived from the value of Unity of God. 2) Corporate Social Responsibility if connected with the principle of freedom of action/endeavor (freedom to act) is to the company with the community that belongs to the concept of Khalifat That implies unity and brotherhood. Such freedom is in the context of economic freedom that corresponds to Sharia. 3) Corporate Social Responsibility Judging by the social Justice principles (social Justice) is demonstrated through its identity as part of the company's business ethics in which it applies the principle of fairness. Because in its implications, CSR emphasizes the concept of 3 P (profit, people, and planet) interrelated.
References
Abdul Mannan, Muhammad. Hukum Ekonomi Syariah: Dalam Perspektif Kewenangan Peradilan Agama. Jakarta: Kencana Prenada Group
Abdul Mannan, Muhammad. Islamic Economics; Theory and Practice. (Houder and Sthoghton Ltd) Ter. Potan Arif Harahap. Ekonomi Islam: Teori dan Praktek, Jakarta: Intermesa. 1992
Adi, Rianto. Metodologi Penelitian Sosial dan Hukum, Jakarta: Granit. 2004
An-Nabhani, Taqiyyudin. Membangun Sistem Ekonomi Alternatif: Perspektif Islam. Surabaya: Risalah Gusti. 1996
Aryu Inayati, Aninda. Pemikiran Ekonomi M. Umer Chapra. Pascasarjana Universitas Muhammadiyah Surakarta
Aslam Haneef, Mohamed. Contemporary Islamic Economic Thought: A selected Comparartive Analysis. Kuala Lumpur. 1969
As-Suyu>thi>, al-Ima>m. al-Asybah wa Nadha>ir, al-Haramai>n, T.th
Azwar Karim, Adiwarman. Sejarah Pemikiran Ekonomi Islam. Jakarta: Raja Grafindo Persada. 2015
Baqir as-Sadr, Muhammad. Iqtisha>duna> (Our Economics). Teheran: WOFIS. 1983/ 1403 H
Bertens, Kess. Pengantar Etika Bisnis. Yogyakarta: Kanisius. 2015
Budi Untung, Hendrik. Corporate Social Responsibility. Jakarta: Sinar Grafika Offset. 2008
------------Buku Panduan Tanggung Jawab Sosial Perusahaan (Corporate Social Responsibility-CSR). 2010
------------,Corporate Social Responsibility. Bogor: T.pn., tt
Connolly, Peter. Aneka Pendekatan Studi Agama, diterjemahkan oleh Imam Khoiri. Yogyakarta: LKiS. 2002
Djakfar, Muhammad. Agama, Etika dan Ekonomi. Malang: UIN Maliki Press. 2014
Djakfar, Muhammad. Etika Bisnis. Jakarta: Penebar Plus. 2012
Edi Suharto. Corporate Social Responsibility: What Is And Benefits For Corporate
Edi Suharto. CSR & COMDEV: Investasi Kreatif Perusahaan di Era Globalisasi, Bandung: Alfabeta. 2010
Henderson, David. Misguided Virtue "False Notions of Corporate Social Responsibility". London: The Institute of Economic Affairs. 2001
K. S, Jomo. Islamic Economic Alternatives, Critical Perspectives and New Directions. Kuala Lumpur: Ikraq. 1993
Khan, Akram. Economic Message of The Qur'an. Kuwait: Islamic Book Publisher. 1996
Kotler, Philip dan Lee, Nancy. Corporate Social Responsibility. New Jersey: John Wiley and Sons, Inc. 2005
Lestari, Devi. Pelaksanaan Corporate Social Responsibility (CSR) dalam pengelolaan Lingkungan Hidup di PTPN XII Kebun Damparl-Mumbulsari, Jember Perpspektif Maqashid Syariah, Malang: UIN Maulana Malik Ibrahim Malang
Mansur, Syuhada. "Pelaporan Corporate Social Responsibility Perbankan Syariah Dalam Perspektif Syariah Enterprise Theory (Studi Kasus Pada Laporan Tahunan PT Bank Syariah Mandiri)" Makassar: Universitas Hasanuddin. 2012.
Milton dan Friedman, Rose. Two Lucky People. Chicago: University of Chicago Press. 1998
Mughits, Abdul. Epistemologi Ilmu Ekonomi Islam; Kajian atas Pemikiran M. Abdul Mannan
Mundir, Abdillah, dkk. Perbandingan Sistem Ekonomi. Surabaya: Kopertais IV Press. 2015
Nejatullah Siddiqi, Muhammad. Muslim Economic Thinking: A Survey of Contemporary Literature, Jeddah: International Centre for Research in Islamic Economis King Abdul Aziz University
Poerwanto. Corporate Social Responsibilty; Menjinakkan Gejolak Sosial di Era Pornografi, Yogyakarta: Pustaka Pelajar. 2010
Ratnasasi, Ratri. Corporate Social Responsibility. Surabaya: T.pn, T.th.
Naqvi, Syed Nawab Haedir. Menggagas Ilmu Ekonomi Islam. Yogyakarta: Pustaka Pelajar. 2003
Santoso. Konsep Pelaksanaan Corporate Social Responsibility (CSR) dan Penerapannya pada Lembaga Keuangan Syariah (Studi Kasus Terhadap Praktik Baitul Maal Wa Tamwil (BMT) Al- Falah). Cirebon: Institut Agama Islam Negeri Syekh Nurjati. 2012
Sugianto, Kartono. Konsep Kepemilikan dalam Islam, Yogyakarta: Mira Pustaka. 2007
Ulfa, Marya. Kapita Selekta Ekonomi Kontemporer. Bandung: Alfabeta. 2010
Ulum, Fahrur. Dinamika Konsentrasi Sistem Ekonomi Islam; Studi Komparasi Pola Pemikiran Beberapa Tokoh Ekonomi Islam Kontemporer, UIN Sunan Ampel Surabaya. 2013
Umer Chapra, Muhammad. Al-Qur'an Menuju Sistem Moneter yang Adil, Yogyakarta: PT. Dhana Bakti Prima Yasa. 1997
Umer Chapra, Muhammad. Islam and The Economic Challenge. Ter. Nur hadi Ihsan dan Rifqi Amar. Islam dan Tantangan Ekonomi; Islamisasi Ekonomi Kontemporer, Surabaya: Risalah Gusti. 1999
Umer Chapra, Muhammad. Masa Depan Ilmu Ekonomi: Sebuah Tinjauan Islam. Ter. Ikhwan Abidin B, Jakarta: Gema Insani Press. 2001
Warson Munawwir, Ahmad. Kamus Al-Munawwir Arab Indonesia Terlengkap. Surabaya: Pustaka Progressif. 1997
Yusup, Asdar. Paradigma Kontemporer Ekonomi Islam. Jurnal Universitas Muhammadiyah Makassar. Vol. 11. No. 2. Desember 2014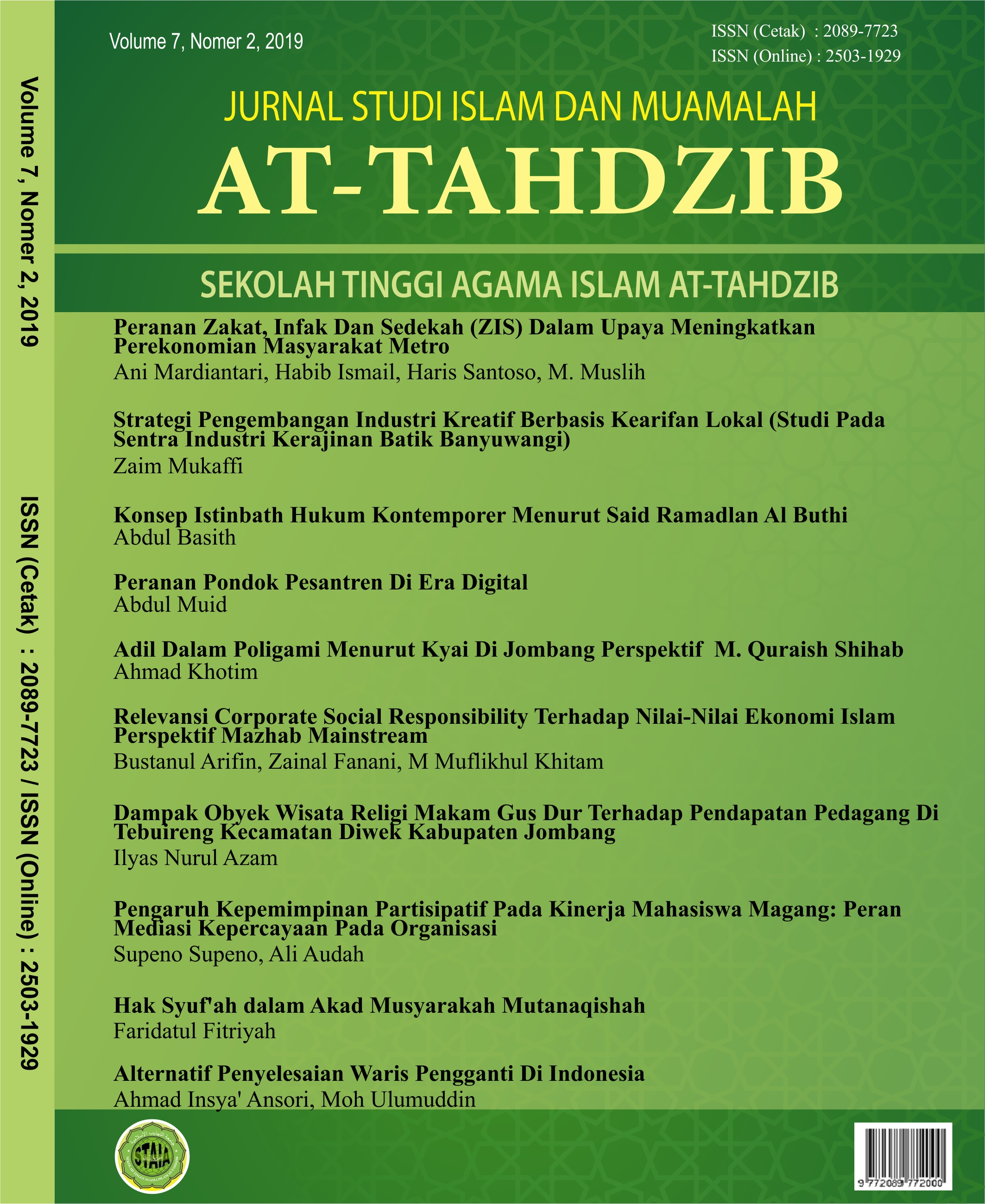 How to Cite
Arifin, B., Fanani, Z., & Khitam, M. (2019, October 21). Relevansi Corporate Social Responsibility Terhadap Nilai-Nilai Ekonomi Islam Perspektif Mazhab Mainstream. At-Tahdzib: Jurnal Studi Islam Dan Muamalah, 7(2), 100 - 120. Retrieved from http://ejournal.kopertais4.or.id/mataraman/index.php/tahdzib/article/view/3745
This work is licensed under a Creative Commons Attribution 4.0 International License.

Jurnal Studi Islam by At-Tahdzib is licensed under a Creative Commons Attribution 4.0 International License.
Based on a work at http://ejournal.kopertais4.or.id/mataraman/index.php/tahdzib