Waris Dan Wasiat Dalam Hukum Islam : Studi Atas Pemikiran Hazairin Dan Munawir Sjadzali
Muchammad Hammad

Sekolah Tinggi Agama Islam At Tahdzib,Ngoro Jombang, Jawa Timur
Keywords:
Hazairin, Munawir Sjadzali, Wasiat dan Waris
Abstract
This research is the study of thought, which compares between Hazairin idea and Munawir Sjadzali about inheritance and wills in Islamic Law. In contrast to the view of the majority of Muslim jurists, Hazarin and Sjadzali stated that the Islamic inheritance system in individual bilateral, as will the researchers describe in this paper. Researchers also will explain the differences in approach between the two figures is the originator of Indonesian schools of jurisprudence. Finally, it can be seen that both Hazarin and Sjadzali want any part of the waris and wasiat between male and female.
References
Abubakar, Al Yasa, Ahli Waris sepertalian Darah: Kajian Perbandingan terhadap Penalaran Hazairin dan Penalaran Fikih Madzab, Jakarta: INIS, 1998.
Anshori, Abdul Ghofur, Filsafat Hukum Kewarisan Islam: Konsep Kewarisan Bilateral Hazairin, cet. ke-2, Yogyakarta: UII Press, 2005.
Azra, Azyumardi, Saiful Umam (eds.), Menteri-Menteri Agama RI: Biografi Sosial-Politik, Jakarta: INIS & PPIM Departemen Agama RI, 1998.
Departemen Agama RI, Al-Qur"an dan Terjemahannya, Semarang: PT. Toha Putra, 2002.
Hazairin, Hukum Kewarsian Bilateral Menurut Qur"an dan Hadith, cet. ke-6, Jakarta: Tintamas, 1982.
, Hendak Kemana Hukum Islam, cet. ke-3, Jakarta: Tintamas, 1960.
Harjono, Anwar, et.al., Pembaharuan Hukum Islam di Indonesia, Jakarta: ttp., 1976.
Najib, Agus Moh., Pengembangan Metodologi Fikih Indonesia dan Kontribusinya Bagi Pembentukan Hukum Nasional, cet. ke-1, Jakarta: Kementrian Agama RI, 2011.
Sarmadi, Sukris, Transendensi Keadilan Hukum Waris Islam Transformatif, cet. ke-1, Jakarta: RajaGrafindo Persada, 1997.
Sjadzali, Munawir, Ijtihad Kemanusiaan, cet. ke-1, Jakarta: Paramadina, 1997.
, et.al., Kontekstualisasi Ajaran Islam: 70 Tahun Prof. Dr. H. Munawir Sjadzali, MA, cet. ke-1, Jakarta: Yayasan Paramadina, 1995.
http://ml.scribd.com /doc/21477248/Reaktualisasi-Hukum-Islam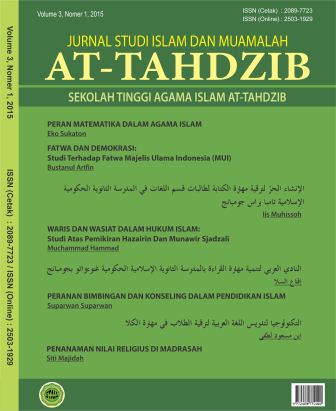 How to Cite
Hammad, M. (2015, November 18). Waris Dan Wasiat Dalam Hukum Islam : Studi Atas Pemikiran Hazairin Dan Munawir Sjadzali. At-Tahdzib: Jurnal Studi Islam Dan Muamalah, 3(1), 46-59. Retrieved from http://ejournal.kopertais4.or.id/mataraman/index.php/tahdzib/article/view/820
This work is licensed under a Creative Commons Attribution 4.0 International License.

Jurnal Studi Islam by At-Tahdzib is licensed under a Creative Commons Attribution 4.0 International License.
Based on a work at http://ejournal.kopertais4.or.id/mataraman/index.php/tahdzib