Peranan Bimbingan Dan Konseling Dalam Pendidikan Islam
Suparwan Suparwan

Sekolah Tinggi Agama Islam At Tahdzib,Ngoro Jombang, Jawa Timur
Keywords:
Role, counseling, Islamic Education
Abstract
By nature, human beings are created by God as a religious with keksistensiannya and live together. Human beings are born as a berunsurkan monopluralis body and spirit accompanied with reason and conscience and the passions are given the freedom to wills. However, it requires a responsibility that must be endured, and it can not be run with the maximum and may be difficult to be accomplished without the guidance of the parties concerned.In this case counseling has a very important role, in which counseling is an advisory activity with or in the form of suggestions and suggestions in the form of communicative conversation between the counselor and the client by using psychological methods on the basis of systematic knowledge about human personality in efforts to improve mental health clients.The bottom line is the main element in the implementation of the counselor to do is to inculcate the basic teachings of Islam with said Al-Qur'an and Hadith, for which there are values that are very good if actually applied in daily life, so that all men can accept and understand about life and how to deal with it especially Muslims, and in this case counseling pempunyai very important role to achieve.
References
Bakari, Hamdani. 2002. Konseling dan Psikoterapi Islam. Fajar Pustaka. Yogyakarta
Fatimatuzzahro. 2011. Bimbingan dan Konseling Dalam Pendidikan Islam. http://fatimatuzzahrofadhil.blogspot.com/2011/09/bimbingan-dan-konseling-dalam.html
Maisaroh, Siti. 2011. Bimbingan dan Konseling Dalam Pendidikan Islam. http://id.shvoong.com/social-sciences/psychology/2037794-bimbingan-dan-konseling-dalam-pendidikan/
Nurmelly, Mely. 2011. Peran Agama Dalam Bimbingan dan Konseling. Widyaswara Muda bdk. Palembang.
Rahim Faqih, Aunur. 2001. Bimbingan dan Konseling Dalam Islam. UII press:Yogyakarta
Tohirin. 2007. Bimbingan dan Konseling di Sekolah dan Madrasah. Rajawali Pers: Jakarta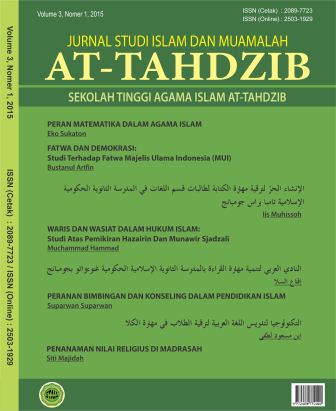 How to Cite
Suparwan, S. (2015, November 18). Peranan Bimbingan Dan Konseling Dalam Pendidikan Islam. At-Tahdzib: Jurnal Studi Islam Dan Muamalah, 3(1), 71-86. Retrieved from http://ejournal.kopertais4.or.id/mataraman/index.php/tahdzib/article/view/822
This work is licensed under a Creative Commons Attribution 4.0 International License.

Jurnal Studi Islam by At-Tahdzib is licensed under a Creative Commons Attribution 4.0 International License.
Based on a work at http://ejournal.kopertais4.or.id/mataraman/index.php/tahdzib