PENERAPAN AKAD MUDHARABAH PADA TRANSAKSI PENYIMPANAN DANA NASABAH DI BANK SYARIAH
Ahmad Warid Asy'ari dan Muhammad Yazid

Universitas Islam Negeri Sunan Ampel Surabaya
Keywords:
Penyimpanan Dana Nasabah, Mudharabah, Bank Syariah
Abstract
ABSTRACT
Islamic banks are financial institutions that use a profit-sharing system in their business activities. Many people believe that mudharabah deposits in Islamic banks are the same as deposits in ordinary banks, however, mudharabah deposits have their own characteristics, one of which is the adoption of a profit-sharing system in managing customer deposits. Mudharabah is a financing transaction based on sharia, which is used as an Islamic banking financing transaction, which is carried out by the parties based on trust. Trust is the most important element in a mudharabah financing transaction, the trust in question is the trust of the shahib Al-mal to the mudharib, trust is the most important element, because in a mudharabah transaction, the shahib Al-mal may not ask for collateral or collateral from the mudharib and may not interfere in the transaction. in project management, shahibul al-mal may only give certain suggestions to mudharib. In this study, the researcher used a normative approach with a law approach and a conceptual approach. The result of this study is the discovery of mud contract features in customer deposits at Islamic banks, which can be seen from 6 things, namely investment deposits, subjects or parties who are legal entities, sharing commercial results, sharing commercial risks, insuring and withdrawing customer funds.
Keywords : Depositing Customer Funds, Mudharabah, Islamic Bank
  ABSTRAK
Bank syariah adalah lembaga keuangan yang menggunakan sistem bagi hasil dalam kegiatan usahanya. Banyak kalangan masyarakat yang meyakini bahwa simpanan mudharabah di bank syariah sama dengan simpanan pada bank biasa, meskipun demikian simpanan mudharabah memiliki karakteristik tersendiri, salah satunya adalah adopsi sistem bagi hasil dalam pengelolaan simpanan nasabah. Mudharabah adalah suatu transaksi pembiayaan berdasarkan syariah, yang digunakan sebagai transaksi pembiayaan perbankan islam, yang dilakukan oleh para pihak berdasarkan kepercayaan. Kepercayaan merupakan unsur terpenting dalam transaksi pembiayaan mudharabah, kepercayaan yang dimaksud adalah kepercayaan dari shahib Al-mal kepada mudharib, kepercayaan merupakan unsur terpenting, karena dalam transaksi mudharabah, shahib Al-mal tidak boleh meminta jaminan atau agunan dari mudharib dan tidak boleh ikut campur di dalam pengelolaan proyek, shahibul al-mal hanya boleh memberikan saran-saran tertentu kepada mudharib. Dalam penelitian ini, peneliti menggunakan pendekatan normatif dengan pendekatan undang-undang dan pendekatan konseptual. Hasil dari penelitian ini adalah ditemukannya fitur akad mudharabah pada simpanan nasabah di bank syariah, yang dapat dilihat dari 6 hal yaitu simpanan investasi, subjek atau pihak yang berbadan hukum, membagikan hasil komersial, berbagi risiko komersial, mengasuransikan dan menarik dana nasabah.
Kata Kunci : Penyimpanan Dana Nasabah, Mudharabah, Bank Syariah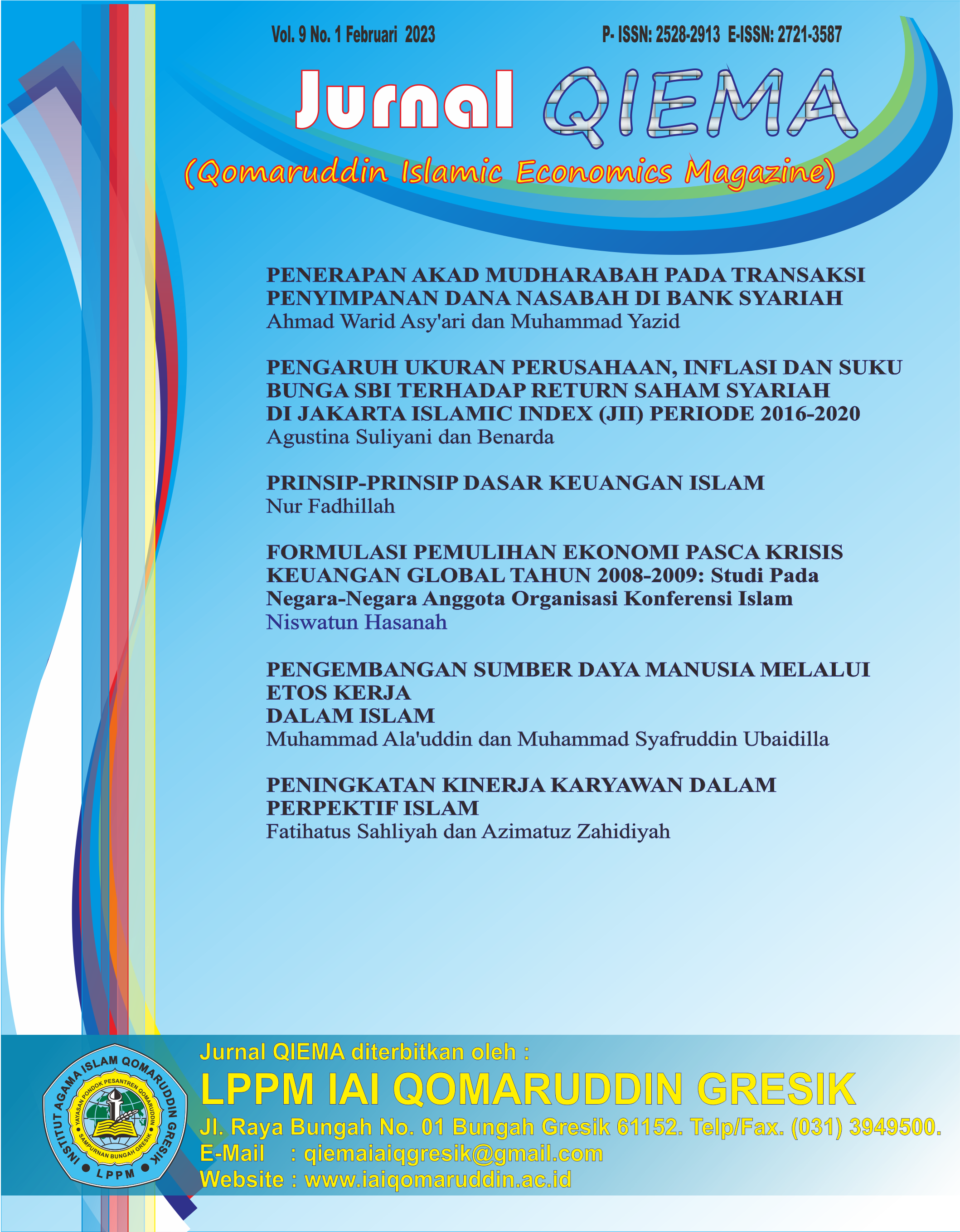 How to Cite
Muhammad Yazid, A. W. A. dan. (2023). PENERAPAN AKAD MUDHARABAH PADA TRANSAKSI PENYIMPANAN DANA NASABAH DI BANK SYARIAH. Jurnal Qiema (Qomaruddin Islamic Economics Magazine), 9(1), 1-16. https://doi.org/10.36835/qiema.v9i1.4010
Copyright (c) 2023 Jurnal Qiema (Qomaruddin Islamic Economics Magazine)
This work is licensed under a Creative Commons Attribution 4.0 International License.