Analisis Efisiensi Perbankan Syariah (Unit Usaha Syariah) Indonesia Periode 2013-2015: Pendekatan Dea (Data Envelopment Analysis)
M Imam Syairozi

Universitas Islam Lamongan

Noer Rafikah zulyanti

Universitas Islam Lamongan

Ratna Handayati

Universitas Islam Lamongan
Keywords:
Efficiency, Sharia Business Unit, DEA.
Abstract
                    This research is intended to know the condition of efficiency level of syariah banking in Indonesia in the period of 2012-2015 by using 11 Sharia Business Unit as research sample. The samples are Bank Negara Indonesia Syariah, Bank Rakyat Indonesia, State Savings Bank, Bank Bukopin, Bank Permata, Bank Niaga, BPD DKI, BPD West Java-Banten, BPD Riau, BPD North Sumatra and BPD Aceh. From this research, it is found that from 11 research samples, there are 6 banks that have efficient status, 2 bank status is inefficient during year 2005-2007 while 3 other bank tends to fluctuate during year 2005-2007 where in 2007 3 bank is efficient status. This shows that the level of efficiency owned by Islamic banks in Indonesia is quite good, although the contribution variable, it can be said that sharia banking still need to work harder in order to maintain its existence because in this research, it is known that the acquisition of variable efficiency of financing output and input deposits tend to be low among other variables (89.80% & 89.14%).
References
Adi S, Putu Mahardika. 2003. Analisa Kinerja Pemerintah Daerah: Suatu
Pendekatan Dengan Menggunakan Data Envelopment Analysis di Seluruh Daerah Kota dan Kabupaten di Propinsi Bali. Jurnal Ekonomi. Volume 7 no. 2. Juni. Hal 159-172.
Akhtar, Mohammad Hanif. 2002. X-Efficiency Analysis of Commercial Banks in Pakistan: A Preliminary Investigation. Multan, Pakistan: Associate Profesor of
International Business Department of Commerce B. Z. University.
Batchelor, Valli Boobal. 2005. A Comparable Cross-System Bank Productivity
Measure: Empirical Evidence from The Malaysian Dual Banking System. Thesis. Faculty of Business. Edith Cowan University. Malaysia.
Cooper, Donald, R & C, William, Emory. 1996. Metode Penelitian Bisnis. Jilid 1.
Edisi Kelima. Jakarta:Erlangga.
Diana, Yumanita & Ascarya. 2005. Bank Syariah : Gambaran Umum. Pusat
Pendidikan dan Studi Kebanksentralan (PPSK) Bank Indonesia. Jakarta.
Ferdian, Ilham Reza & R. Nugroho Purwantoro. Pengukuran Kinerja Bank Syariah:
Integrasi Pendekatan DEA dengan Analisis Rasio Keuangan. Manajemen Usahawan Indonesia. Oktober 2006. No. 10. Th. XXXV.
Hadad, Muliaman D, Wimboh Santoso, Dhaniel Ilyas & Eugenia Marda Nugraha. 2003.
Analisa Efisiensi Industri Perbankan Indonesia: Penggunaan Metode NonParametrik Data Envelopment Analysis (DEA). http://www.bi.go.id/NR/rdonlyres/C2FC92CC-F93B-4CFF-905E-2007E55FE 7D2/1400/PenggmetodeparametrikDEA.pdf. Diakses tanggal 13 Februari 2017
Harahap, Sofyan Syafri & Muhammad Yusuf. 2004. Akuntansi Perbankan Syariah. Ed.1.
Cet. 1. Jakarta: LPFE Usakti
Hasibuan, Malayu SP . 2005. Dasar-dasar Perbankan. Jakarta : Bumi Aksara
HM Subana & Sudrajat. 2005. Dasar-dasar Penelitian Ilmiah. Cet.2. Bandung: Pustaka Setia.
Karim, Adiwarman. 2006. Bank Islam : Analisis Fiqih dan Keuangan. Ed.3. Cet.3.
Jakarta : PT. Raja Grafindo Persada.
Mardalis. 2003. Metode Penelitian: Suatu Pendekatan Proposal. Jakarta: Bumi Aksara
Muhamad. 2000. Lembaga-Lembaga Keuangan Umat Kontemporer. Ed. 1. Yogyakarta :
UII Press
Muhammad. 2003. Bank Syariah : Analisis Kekuatan, Kelemahan, Peluang, dan Ancaman. Yogyakarta : EKONISIA
Barokati, Nisaul, and Fajar Annas. "Pengembangan Pembelajaran Berbasis Blended Learning Pada Mata Kuliah Pemrograman Komputer (Studi Kasus: UNISDA Lamongan)." SISFO Vol 4 No 5 4 (2013).
Barokati, Nisaul, Nizarudin Wajdi, and Muh Barid. "Application Design Library With Gamification Concept." Jurnal Lentera: Kajian Keagamaan, Keilmuan dan Teknologi 3, no. 1 (2017): 93–102.
Dhaniarti, Iswachyu, M Ikhsan Setiawan, Sri Wiwoho Mudjanarko, and Ani Wulandari. "ICT AND ECO CAMPUS, STRATEGY FOR REDUCING ENERGY CONSUMPTION IN THE NAROTAMA UNIVERSITY." In Proceeding Forum in Research, Science, and Technology (FIRST) 2016. Politeknik Negeri Sriwijaya, 2016.
Fajarianto, Otto, Juhana Juhana, Rahmat Tullah, and Andhika Rama Putra. "Student Satisfaction Application System to Web-Based Campus Services (Case Studies in STMIK Bina Sarana Global)." ADRI International Journal Of Information Technology 1, no. 1 (2017): 28–33.
Lestari, Veronika Nugraheni Sri. "PEJIARAHAN DART PIKIRAN KE HATI (Sebuah Resensi: Merebut Hati Rakyat, Melalui Nasionalisme, Demokrasi, Dan Pembangunan Ekonomi)" (2017).
Setiawan, M. Ikhsan, Agus Sukoco, Iswachyu Dhaniarti, and Cholil Hasyim. "The Development of the Central Business District (CBD) Based on Public-Private Partnership." IJTI (International Journal Of Transportation And Infrastructure) 1, no. 1 (September 29, 2017): 9–14. Accessed November 2, 2017. http://jurnal.narotama.ac.id/index.php/ijti/article/view/327.
Wajdi, Muh. Barid Nizaruddin, Yuli Choirul Ummah, and Devit Etika Sari. "UKM Development Business Loan." IJEBD (International Journal Of Entrepreneurship And Business Development) 1, no. 1 (October 1, 2017): 99–109. Accessed November 9, 2017. http://jurnal.narotama.ac.id/index.php/ijebd/article/view/350.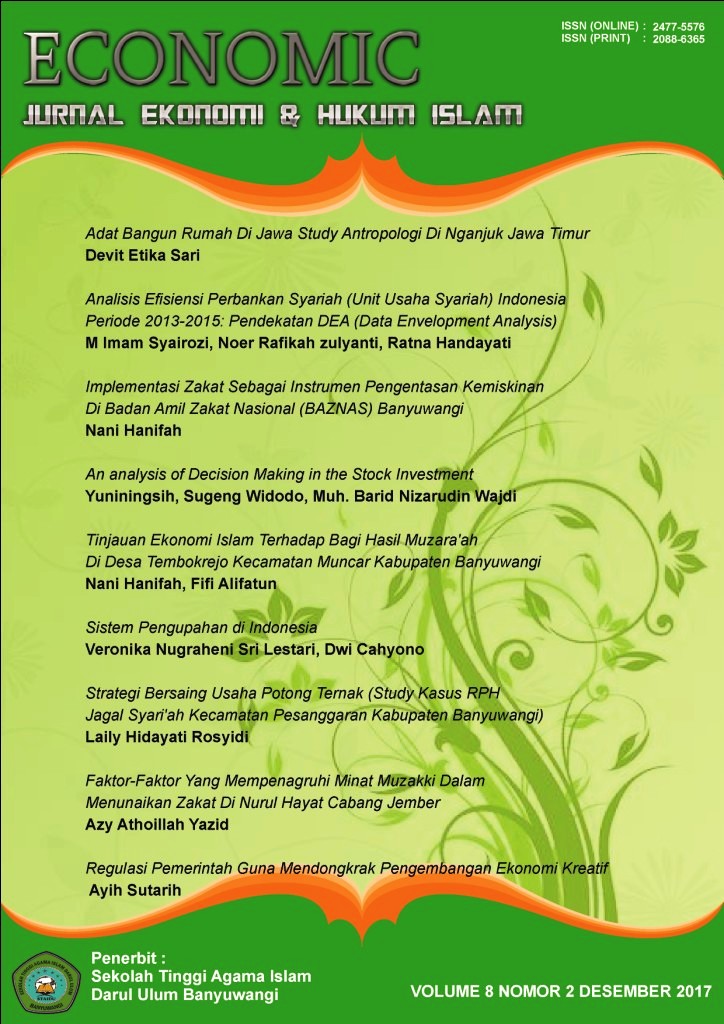 How to Cite
Syairozi, M. I., zulyanti, N. R., & Handayati, R. (2017). Analisis Efisiensi Perbankan Syariah (Unit Usaha Syariah) Indonesia Periode 2013-2015: Pendekatan Dea (Data Envelopment Analysis). Economic: Journal of Economic and Islamic Law, 8(2), 93-103. Retrieved from http://ejournal.kopertais4.or.id/tapalkuda/index.php/economic/article/view/2985
Copyright (c) 2017 Economic: Journal of Economic and Islamic Law
This work is licensed under a Creative Commons Attribution-ShareAlike 4.0 International License.
Authors who publish with this journal agree to the following terms:
Authors retain copyright and grant the journal right of first publication with the work simultaneously licensed under a Creative Commons Attribution License that allows others to share the work with an acknowledgement of the work's authorship and initial publication in this journal.
Authors are able to enter into separate, additional contractual arrangements for the non-exclusive distribution of the journal's published version of the work (e.g., post it to an institutional repository or publish it in a book), with an acknowledgement of its initial publication in this journal.
Authors are permitted and encouraged to post their work online (e.g., in institutional repositories or on their website) prior to and during the submission process, as it can lead to productive exchanges, as well as earlier and greater citation of published work (See The Effect of Open Access).