Tinjauan Ekonomi Islam Terhadap Bagi Hasil Muzara'ah Di Desa Tembokrejo Kecamatan Muncar Kabupaten Banyuwangi
nani Hanifah

STAI Darul Ulum Banyuwangi

Fifi Alifatun

STAI Darul Ulum Banyuwangi
Keywords:
Islamic Economic Review, Sharing, Muzara'ah.
Abstract
Humans are social creatures are creatures that live in the community omnipotence. As social beings who can not live on their own without the help of another human being, people are required to work in order to meet daily needs. Many types of livelihoods that can be selected by the people of this world. One of which is farmed. Farming is one type of legal work in Islam and the agricultural sector is one of the primary economic sources other than the industrial sector, trade and service sectors. This study aims to determine the outcome in the village muzara'ah Tembokrejo and determine the economic outlook of Islam on production muzara'ah. This research is qualitative, while in gathering file using interviews, observation and literature study. Once the data is collected the next step is to analyze the data and then draw conclusions from the data collected, using descriptive analytical method. The results showed that the yield in the village muzara'ah Tembokrejo done by weighing or dosing, if any weighing or dosing the rice harvest to get 10 kg of the results obtained Mr. H.Slamet 8 kg and Mr Sururi 2 kg, with the results according to Mr Sururi already made a prosperous family. And this is a deal that has become a habit in the village Tembokrejo Muncar District of Banyuwangi. Implementation muzara'ah agreement on cooperation in agriculture are reviewed in Islamic economy is legitimate and appropriate, it can be seen from the provisions of the pillars, conditions, forms of contract, the object and the expiration of the contract muzara'ah and is appropriate based Economic Law Compilation Syari'ah (KHES).
References
Ali, Zainuddin. Hukum Perdata Islam. Jakarta: Sinar Grafika. 2009.
Departeman Agama RI. Al-Qur'an dan Terjemahannya. Bandung: CV. Diponegoro. 2009.
Fauzia. Ika Y. dkk. Prinsip Dasar Ekonomi Islam, V 1. Jakarta: Kencana Prenada Media Group. 2014.
Hanifah, Nani. "Implementasi Zakat Sebagai Instrumen Pengentasan Kemiskinan di Badan Amil Zakat." Economic: Jurnal Ekonomi dan Hukum Islam. (Maret 2016): 60-61.
Hidayat, Mohamad. An Introduction to The Sharia Economic. Edisi Pertama. Jakarta : Zikrul Hakim. 2010.
Huda. Nurul, dkk. Ekonomi Makro Islam Pendekatan Teoretis. Jakarta: Kencana Prenada Media Group. 2009.
Karim, Adiwarman A. Ekonomi Mikro Islami, Edisi Ketiga. Jakarta: PT Raja Grafindo Persada. 2007.
Kompilasi Hukum Ekonomi Syariah. Jakarta: Kencana Prenada Media Group, 2009.
Kudlori, Muhammad. "Analisis Penerapan Bagi Hasil pada Akad Muzara'ah di Desa Pondowan Kecamatan Tayu Kabupaten Pati dalam Perspektif Ekonomi Islam." Economic: Jurnal Ekonomi dan Hukum Islam. (Januari 2013): 2.
Machmudah, Siti. "Analisis Hukum Islam Terhadap Pertanian Dengan Sistem Bagi Hasil Disertai Upah." Economic: Jurnal Ekonomi dan Hukum Islam. (Januari 2013): 1.
Moleong, Lexy J. Metodologi Penelitian Kuantatif . Bandung: Rosda Karya. 1993.
Nasir, Moh. Metodologi Penelitian. Jakarta: Ghalia Indonesia. 1998.
Neno Lestari, Ragil. "Menggagas Sistem Muzara'ah Sebagai Alternatif Bentuk Pembiayaan Pertanian di Indonesia." Economic: Jurnal Ekonomi dan Hukum Islam. (Agustus 2015): 68.
Rahman, Afzalur. Doktrin Ekonomi Islam. Yogyakarta : PT. Dana Bhakti Wakaf. 1995.
Sugiyono. Metode Penelitian Kuantitatif, Kualitatif dan R&D. Bandung: Alfabeta. 2009.
Suharsimi, Arikunto. Prosedur Penelitian Suatu Pendekatan Praktik. Jakarta: PT Rineka Cipta. 2006.
Surahman, Winarso. Dasar dan Tehnik Riserch dengan Metodologi Ilmiah. Bandung: Tarsito. 1
Dhaniarti, Iswachyu, Bayu Airlangga Putra, M Ikhsan Setiawan, Agus Sukoco, and Ani Wulandari. "Entrepreneurship Education in Islamic Community: Its Application in Human Resource Planning and Development Course" (n.d.).
Dhaniarti, Iswachyu, M Ikhsan Setiawan, Sri Wiwoho Mudjanarko, and Ani Wulandari. "ICT AND ECO CAMPUS, STRATEGY FOR REDUCING ENERGY CONSUMPTION IN THE NAROTAMA UNIVERSITY." In Proceeding Forum in Research, Science, and Technology (FIRST) 2016. Politeknik Negeri Sriwijaya, 2016.
Wajdi, Muh. Barid Nizaruddin. "Pendidikan Ideal Menurut Ibnu Khaldun Dalam Muqaddimah." JURNAL LENTERA : Kajian Keagamaan, Keilmuan dan Teknologi 1, no. 2 (September 30, 2015): 272–283. Accessed October 21, 2017. http://www.ejournal.staimnglawak.ac.id/index.php/lentera/article/view/49.
Wajdi, Muh Barid Nizarudin. "Monopoli Dagang Dalam Kajian Fiqih Islam." AT-Tahdzib: Jurnal Studi Islam dan Muamalah 4, no. 2 (2016): 81–99.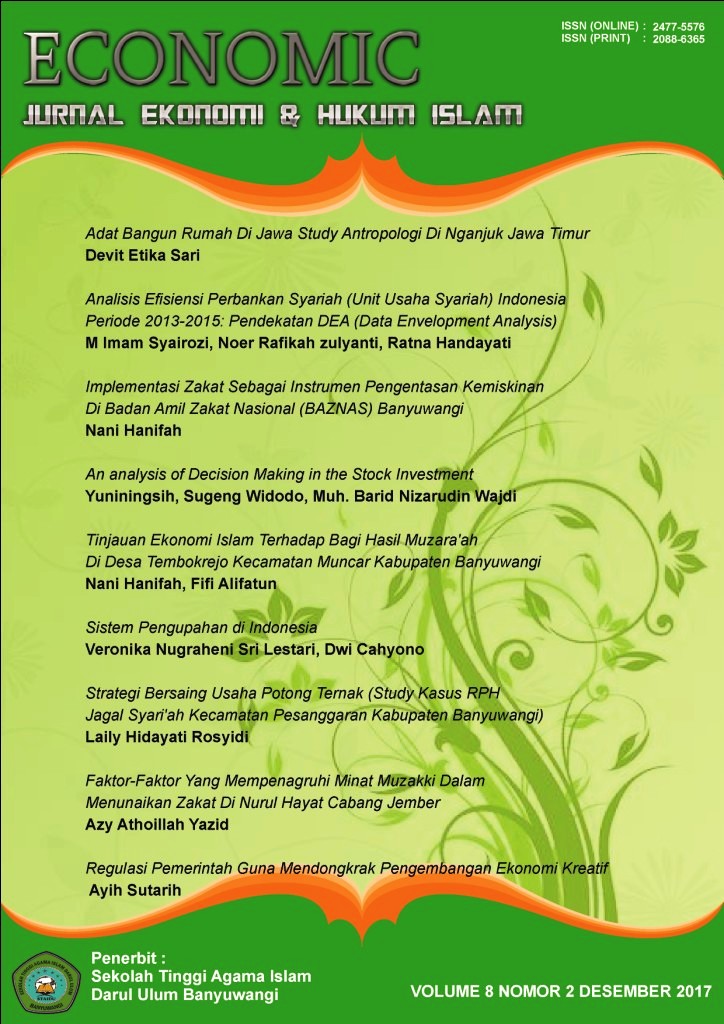 How to Cite
Hanifah, nani, & Alifatun, F. (2017). Tinjauan Ekonomi Islam Terhadap Bagi Hasil Muzara'ah Di Desa Tembokrejo Kecamatan Muncar Kabupaten Banyuwangi. Economic: Journal of Economic and Islamic Law, 8(2), 129-143. Retrieved from http://ejournal.kopertais4.or.id/tapalkuda/index.php/economic/article/view/2988
Copyright (c) 2017 Economic: Journal of Economic and Islamic Law
This work is licensed under a Creative Commons Attribution-ShareAlike 4.0 International License.
Authors who publish with this journal agree to the following terms:
Authors retain copyright and grant the journal right of first publication with the work simultaneously licensed under a Creative Commons Attribution License that allows others to share the work with an acknowledgement of the work's authorship and initial publication in this journal.
Authors are able to enter into separate, additional contractual arrangements for the non-exclusive distribution of the journal's published version of the work (e.g., post it to an institutional repository or publish it in a book), with an acknowledgement of its initial publication in this journal.
Authors are permitted and encouraged to post their work online (e.g., in institutional repositories or on their website) prior to and during the submission process, as it can lead to productive exchanges, as well as earlier and greater citation of published work (See The Effect of Open Access).