Sistem Pengupahan di Indonesia
Veronika Nugraheni Sri Lestari

Universitas Dr. Soetomo, Surabaya Jawa Timur

Dwi Cahyono

Universitas Dr. Soetomo, Surabaya Jawa Timur
Keywords:
Tenaga Kerja, upah, pekerja, barang, jasa
Abstract
Berdasarkan Undang-Undang no.13 tahun 2003 tentang ketenagakerjaan: Tenaga kerja adalah setiap orang yang mampu melakukan pekerjaan guna menghasilkan barang dan/atau jasa untuk memenuhi kebutuhan sendiri maupun untuk masyarakat. Upah adalah hak pekerja/buruh yang diterima dan dinyatakan dalam bentuk uang sebagai imbalan dari pengusaha atau pemberi kerja kepada pekerja/buruh yang ditetapkan dan dibayarkan menurut suatu perjanjian,kesepakatan dan perundang-undangan,termasuk tunjangan bagi pekerja/buruh dan keluarganya atas suatu pekerja dan/atau jasa yang telah atau akan dilakukan. Sehubungan dengan hal tersebut, dalam Undang-Undang No.13 Tahun 2003 serta peraturan pelaksanaannya yang antara lain dituangkan dalam Keputusan Menteri Tenaga Kerja harus dipahami dan dipatuhi oleh semua pihak yang terkait dengan hubungan kerja, hal ini disebabkan dalam perjanjian kerja merupakan dasar bagi masing-masing pihak bila terjadi perselisihan dikemudian hari, maka penyusunan perjanjian kerja yang benar dan sesuai dengan ketentuan yang berlaku merupakan hal yang sangat penting dan strategis.
References
Undang-Undang Republik Indonesia no.13 tahun 2003 tentang KetenagaKerjaan
Payaman J Simanjuntak. Pengantar Ekonomi Sumber Daya Manusi – Edisi Kedua. Lembaga Penerbit- FE UI , Buku 1 Edisi 4, 2000.
Sonny Sumarsono, . Ekonomi Sumber Daya Manusidan Ketenagakerjaan, Graha Ilmu Yogyakarta, 2003.
Pror. Dr. Hj.Sedarmayanti, MPd, APU, Manajemen Sumber Daya Manusia, Reformasi Birokrasi dan Manajemen Pegawai Negeri Sipil, Edisi Revisi, Refika Aditama, 2016
Pror. Dr. Hj.Sedarmayanti, MPd, APU, Perencanaan dan Pengembangan Manajemen Sumber Daya Manusia, Untuk meningkatkan kompetensi, kinerja dan produktivitas kerja, Refika Aditama, 2017
Dra.Afrida BR, MS, Ekonomi Sumber Daya Manusia, Graha Ilmu Yogyakarta, 2002.
Dhaniarti, Iswachyu, Bayu Airlangga Putra, M Ikhsan Setiawan, Agus Sukoco, and Ani Wulandari. "Entrepreneurship Education in Islamic Community: Its Application in Human Resource Planning and Development Course" (n.d.).
Lestari, Veronika Nugraheni Sri. "PEJIARAHAN DART PIKIRAN KE HATI (Sebuah Resensi: Merebut Hati Rakyat, Melalui Nasionalisme, Demokrasi, Dan Pembangunan Ekonomi)" (2017).
Wajdi, Muh Barid Nizarudin. "Monopoli Dagang Dalam Kajian Fiqih Islam." AT-Tahdzib: Jurnal Studi Islam dan Muamalah 4, no. 2 (2016): 81–99.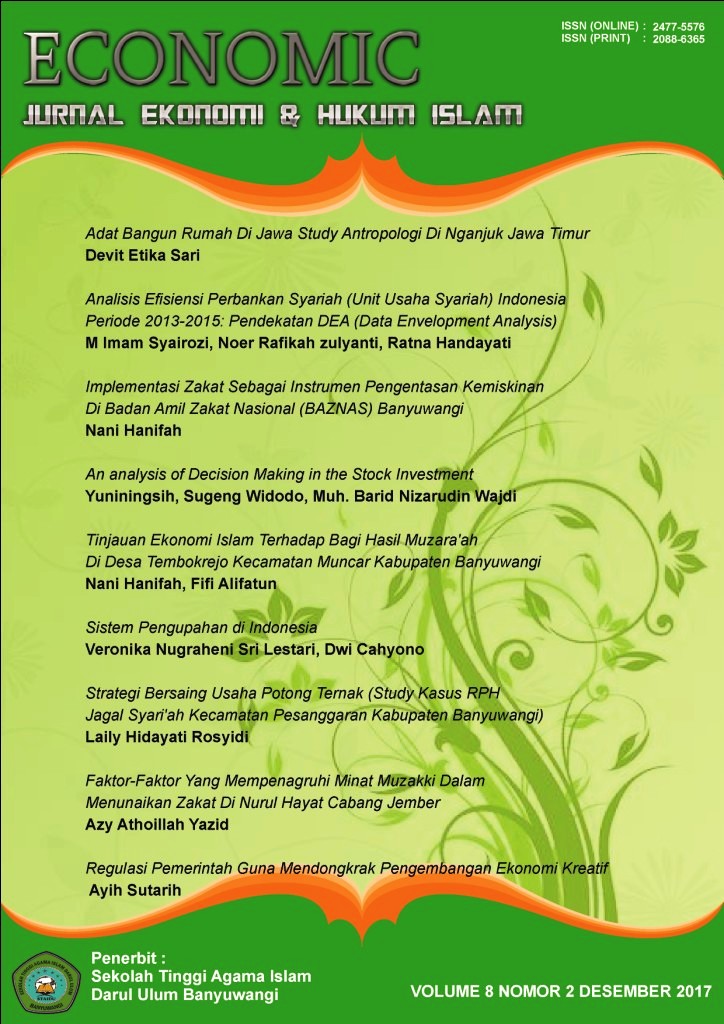 How to Cite
Sri Lestari, V. N., & Cahyono, D. (2017). Sistem Pengupahan di Indonesia. Economic: Journal of Economic and Islamic Law, 8(2), 144-153. Retrieved from http://ejournal.kopertais4.or.id/tapalkuda/index.php/economic/article/view/2989
Copyright (c) 2017 Economic: Journal of Economic and Islamic Law
This work is licensed under a Creative Commons Attribution-ShareAlike 4.0 International License.
Authors who publish with this journal agree to the following terms:
Authors retain copyright and grant the journal right of first publication with the work simultaneously licensed under a Creative Commons Attribution License that allows others to share the work with an acknowledgement of the work's authorship and initial publication in this journal.
Authors are able to enter into separate, additional contractual arrangements for the non-exclusive distribution of the journal's published version of the work (e.g., post it to an institutional repository or publish it in a book), with an acknowledgement of its initial publication in this journal.
Authors are permitted and encouraged to post their work online (e.g., in institutional repositories or on their website) prior to and during the submission process, as it can lead to productive exchanges, as well as earlier and greater citation of published work (See The Effect of Open Access).