Strategi Bersaing Usaha Potong Ternak (Study Kasus RPH Jagal Syari'ah Kecamatan Pesanggaran Kabupaten Banyuwangi)
Laily Hidayati Rosyidi

STAI Darul Ulum Banyuwangi
Keywords:
Competitive Strategy, RPH
Abstract
RPH Jagal Syariah is a business which focuses on animal slaughtering which aims to serve people's demand in Pesanggaran village of Banyuwangi district. In running its business RPH Butcher Shariah is not the only RPH that exist in Pesanggaran sub district but there are many other similar RPH business which also have the same purpose. Therefore, it is important for the RPH Jagal Syariah to create a strategy that aims to protect itself best against pressure and competition and also be superior. Seeing this phenomenon, the authors are interested to further analyze by referring to the focus of research as follows: What is the process of RPH activities of the Butcher District of Pesanggaran Banyuwangi ?, Is there any significant difference between the RPH Jagal Syariah and Conventional RPH ?, and how the RPH competitive strategy Butcher of Sub-district of Pesanggaran of Banyuwangi Regency? This research uses qualitative research, data collection method that is observation and interview. The data obtained is analyzed by descriptive method. Data validity using triangulation technique. The results of this study indicate that (1) The process of RPH Jagal Syari'ah in Pesanggaran sub-district of Banyuwangi district is done very carefully by upholding the rule of Islamic law and the law stipulated by the government regarding RPH in slaughtering animals. (2) there is a significant difference in business practices run by RPH Jagal Syari'ah with Conventional RPH. (3). The competitive strategy used by RPH Jagal Syari'ah is by internal and external analysis approach. Internal analysis includes: physical resources, finance, technology, human resources, reputation and organization have been very good. Similarly, External analysis includes price leadership, differentiation and focus strategy is also very good and able to compete in a healthy manner.
References
Akhmad, Nur Zaroni. 2007. Bisnis Dalam Prespektif Islam (telaah aspek keagamaan dalam kehidupan ekonomi), Mazahib Vol.IV, No.2. Desember
Arifin, Johan. 2007. Fiqih Perlindungan Konsumen. Semaranga. Rasail.
Arikunto, Suharsismi. 2006. Prosedur Penelitian Suatu Pendekatan dan Praktek. Jakarta. Rinekaa cipata.
Arikunto. 1993. Prosedur Penelitian, Suatu Pendekatan dan Praktek, edisi ke Sembilan. Jakarta. Rinekaa cipata.
Balai Informasi Pertanian. 1993. Karkas dan Bagian-Bagiannya Vol I. DKI Jakarta
Cravens, David W. 1996. Pemasaran Strategi Jilid I. Jakarta. Erlangga
David, Fred R. 2011. Management Strategic (Konsep Strategi Manajemen), edisi 12. Jakarta. Salemba Empat
Dirjen Bima Islam dan Penyelenggaraan Haji. 2003. Bagian proyek sarana dan prasarana produk halal, Tanya Jawab Seputar Poduki Halal Jakarta.
Dirjen Bima Islam. 2010. Pedoman dan Tata Cara Pemotongan Hewan Secara Halal. Jakarta. Kementrian Agama Republik Indonesia
Fandy, T. 2000. Strategi Pemasaran. Yogyakarta. Penerbit Andi
Fazlur, Rohman. 1997. Muhammad sebagai Seorang Seorang Pedagang. Jakarta. Yayasan Swarna Bhumy.
Gauzali, Saydam. 1997. Kamus Istilah Kepegawaian. Jakarta. Midas Surya Grafindo.
Grant, Robert M. 1997. Diterjemahkan Oleh Tomas Secokusomo. Analysis Strategi Kontemporer. Konsep, Tekhnik, Aplikasi. Jakarta. Erlangga
Grant, Robert M.. 1995. Analysis Strategi Kewirausahaan Konsep. Tekhnik dan Aplikasi. Jakarta. Erlangga
Hermanianto, Joko Dkk. Pengetahuan Bahan Daging dan Unggas. Modul 1. Pengetahuan bahan pangan hewani
Irawan, Hadi. 2002. 10 Prinsip Kepuasan Pelanggan. Elex Media Komputindo
Kotler, Philip dan Amstrong, Gary. 2008. Prinsip-prinsip Pemasaran Jilid 1. Jakarta. Erlangga.
Kotler, Philip. 2001. Manajemen Pemasaran: Analysis, Perencanaan, Implementasi dan Kontrol. Jakarta: PT Prehallindo
Kotler, Philpi dan Keller, Kevin Lane. 2009. Manajemen Pemasaran: Edisi 13 Jilid 1. Jakarta. Erlangga
Manullang, M. 2002. Pengantar Bisnis. Yogyakarta. Gadjah Mada University Press.
Moleong, Lexy J. 2007. Metodologi Penelitian Kualitatif. Bandung. Penerbit PT Remaja Rosdakarya Offset
Mudrajat, Kuncoro. 2007. Ekonomitrika Industri Indonesia: Menuju Negara Industri Baru 2030?. Yogyakarta. Penerbit Adi
Muhaimin. 2011. Perbandingan Etika Bisnsis Etnik Cina & Pebisnis Lokal. Yogyakarta. Pustaka Pelajar
Muhammad. 2004. Etika Bisnis Islami. Yogyakarta. Unit Penerbit dan Percetakan
Munir, Mishbah. 2012. Pengaruh Sumberdaya Internal Terhadap Kmampuan Pelaku Institusi dan Startegi Keunggulan Bersaing dalam Peningkatan Kinerja Koperasi (KSP/USP) Agribisnis di Jawa Timur. Surabaya: Progaram Pascasarjana Universitas 17 Agustus 1945.
Muslich. 2010. Etika Bisnis Islami. Yogyakarta. Ekonisia Fakultas Ekonomi UII
Nadzir. Muhammad. 1983. Metode Penelitian Indonesia. Ghalia Indonesia
Porter, Michael M. 1980. Competitive Strategy: Techniques For Analyzing Industries and Competitors. New York. Free Press
Porter. Michael E. 1994. Keunggulan Bersaing. Menciptakan dan Mempertahankan Kinerja Unggul. Jakarta. Binarupan Aksara
Ramadhany, Firmansyah. 2011. Strategi Bersaing Komoditas Sapi Potong di Indonesia (Studi Kasus pada PT.ELDERS INDONESIA). Jakarta. Fakultas Ilmu Sosial dan Ilmu Politik. Universitas Indonesia
Rangkuti, Freddy. 2002. Measuring Costumer Statisfaction. Jakarta. Gramedia Pustaka Utama
Sabit, Saayid. 1987. Fiqih Sunnah 13, diterjemahkan oleh Kamaludin A. Marzuki dari Fiqh sunnah. Bandung. PT. Alma'arif
Saifullah, M. 2011. Etika Bisnis Islam dalam Praktek Bisnis Rasuluwlah. Forum Penelitian. (1): 143-145
Schiffman & Kanuk. 2004. Perilaku Konsumen (Edisi 7). Jakarta. Prentice Hall
Siregar, S.B. 2003. Tekhnik Pemeliharaan Ternak Sapi dan Anaysis Usaha. Jakarta. Penerbit Swadaya
Soeparno. Pengertian dan Ruang Lingkup Pemotongan Ternak Modul I
Sugiyono. 2009. Metode Penelitian Bisnis (Pendekatan Kuantitatif, Kualitatif dan R&D). Bandung. Alfabeta
Sugiyono. 2011. Metode Penelitian Kuantitatif dan R&D. Alfabeta
Sulistyo – Basuki. 2006. Metode Penelitian. Jakarta. Wedatama Widya Sastra dan Fakultas Ilmu Pengetahuan Budaya Universitas Inddonesia
Swastha, Basu. 2010. Manajemen Penjualan: Pelaksana Penjualan. Jakarta. BPFEY
Ulrich, Karl T & Steven D. Eppinger 2001. Perancangan & Pengembangan Produk. Jakarta. Salemba Tekhnis
Umar, Husain. 2002. Riset Pemasaran dan Perilaku Konsumen. Jakarta. Gramedia Pustaka Utama
Yusanto, Ismail Muhammad dan Muhammad Widjajakusuma. 2002. Menggagas Bisnis Islami. Jakarta. Gema Insani Press
Dhaniarti, Iswachyu, Bayu Airlangga Putra, M Ikhsan Setiawan, Agus Sukoco, and Ani Wulandari. "Entrepreneurship Education in Islamic Community: Its Application in Human Resource Planning and Development Course" (n.d.).
Wajdi, Muh. Barid Nizaruddin, Yuli Choirul Ummah, and Devit Etika Sari. "UKM Development Business Loan." IJEBD (International Journal Of Entrepreneurship And Business Development) 1, no. 1 (October 1, 2017): 99–109. Accessed November 9, 2017. http://jurnal.narotama.ac.id/index.php/ijebd/article/view/350.
Wajdi, Muh Barid Nizarudin. "Monopoli Dagang Dalam Kajian Fiqih Islam." AT-Tahdzib: Jurnal Studi Islam dan Muamalah 4, no. 2 (2016): 81–99.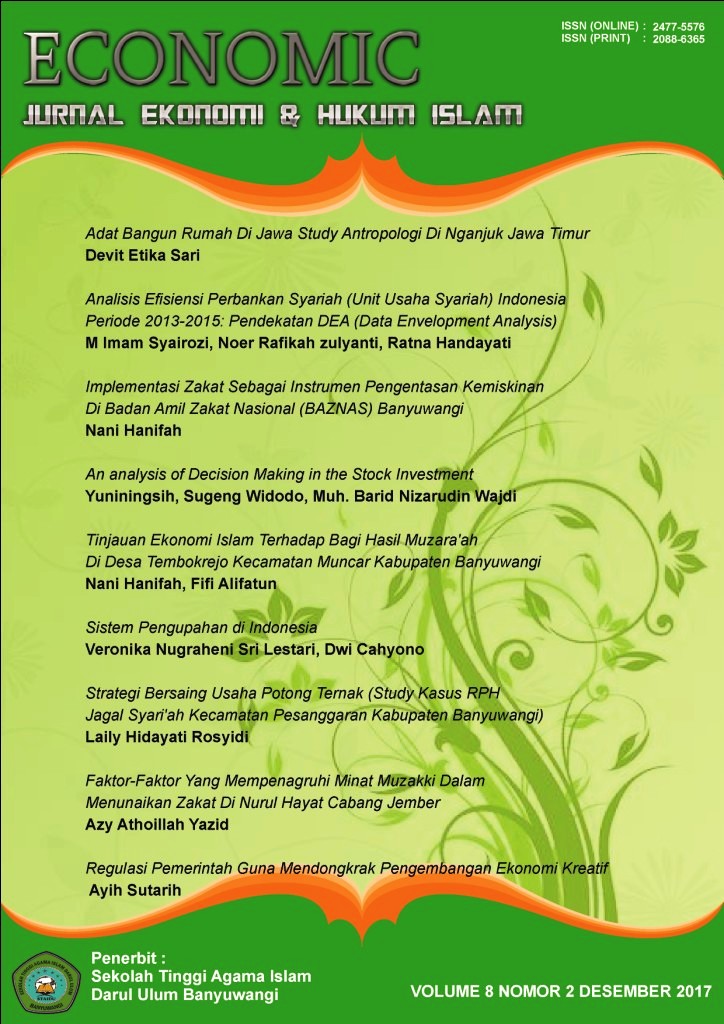 How to Cite
Rosyidi, L. (2017, December 3). Strategi Bersaing Usaha Potong Ternak (Study Kasus RPH Jagal Syari'ah Kecamatan Pesanggaran Kabupaten Banyuwangi). Economic: Journal of Economic and Islamic Law, 8(2), 154-172. Retrieved from http://ejournal.kopertais4.or.id/tapalkuda/index.php/economic/article/view/2990
This work is licensed under a Creative Commons Attribution-ShareAlike 4.0 International License.
Authors who publish with this journal agree to the following terms:
Authors retain copyright and grant the journal right of first publication with the work simultaneously licensed under a Creative Commons Attribution License that allows others to share the work with an acknowledgement of the work's authorship and initial publication in this journal.
Authors are able to enter into separate, additional contractual arrangements for the non-exclusive distribution of the journal's published version of the work (e.g., post it to an institutional repository or publish it in a book), with an acknowledgement of its initial publication in this journal.
Authors are permitted and encouraged to post their work online (e.g., in institutional repositories or on their website) prior to and during the submission process, as it can lead to productive exchanges, as well as earlier and greater citation of published work (See The Effect of Open Access).