Regulasi Pemerintah Guna Mendongkrak Pengembangan Ekonomi Kreatif
Ayih Sutarih

Fakultas Hukum Universitas Swadaya Gunung Jati Cirebon
Keywords:
Kata kunci : Ekonomi Kreatif, BEKRAF, dan Regulasi.
Abstract
Ekonomi kreatif merupakan strategi dalam sistem pembangunan yang dapat menjadi harapan untuk mencapai keunggulan kompetitif wilayah. Pengembangannya membutuhkan dukungan ketersediaan sumberdaya alam dan manusia serta dukungan pemerintah dalam bentuk regulasi. Selanjutnya para stakeholder perlu menyeleksi regulasi tersebut agar pelaksanaannya tidak menghambat pertumbuhan ekonomi kreatif. Pemerintah telah mengeluaran beberapa peraturan perundang-undangan dan pembentukan BEKRAF (Badan Ekonomi Kreatif). BEKRAF diharapkan dapat menjadi fasilitator antar pemerintah dan wilayah serta menjadi lembaga yang dapat memberikan solusi permasalahan baik modal dan pemasaran serta memberikan upaya perlindungan hukum dan hak kekayaan intelektual. Masyarakat mengharapkan BEKRAF dapat menjadi lembaga yang menjembatani hubungan dengan pemerintah dan memberikan solusi permasalahan seperti modal, pemasaran, serta memberikan upaya perlindungan hukum dan hak kekayaan intelektual.
References
Anggraeni, Neni. "Industri Kreatif." Jurnal Ekonomi XIII, no. 3 (Desember 2008).
Barokati, Nisaul, and Fajar Annas. "Pengembangan Pembelajaran Berbasis Blended Learning Pada Mata Kuliah Pemrograman Komputer (Studi Kasus: UNISDA Lamongan)." SISFO Vol 4 No 5 4 (2013).
Barokati, Nisaul, Nizarudin Wajdi, and Muh Barid. "Application Design Library With Gamification Concept." Jurnal Lentera: Kajian Keagamaan, Keilmuan dan Teknologi 3, no. 1 (2017): 93–102.
BEKRAF. "Kebangkitan Ekonomi Kreatif Berpotensi Menjadi Tulang Punggung Perekonomian Indonesia." Majalah Retas Vol 1 (Desember, 2016).
Ifit Novita Sari, Vita. "Kurikulum Ideal Untuk Indonesia" (2015).
Isharyanto. Hukum Kebijakan Ekonomi Publik. Yogyakarta: Toha Madia, 2016.
Mauled, Moelyono. Menggerakan Ekonomi Kreatif Antara Tuntutan Dan Kebutuhan. Jakarta: PT Raja Grafindo Persada. 2010.
Suhariyanto, Kecuk : File:///D:ekonomi%20kreatif/ Badan%20 Pusat%20 Statistik,htm. diunduh tgl 08 mei 2017,jam 10.15.
Suparwoko. Pengembangan Ekonomi Kreatif Sebagai Penggerak Pariwisata. dalam Yogyakarta parwoko@ftsp.uii.ac.id,file:IIID:/Data%20FLESDISH%20 Pink/
Thoha, M. Globlalisasi Krisis Ekonomi dan Kebangkitan Ekonomi Kerakyatan. Jakarta: Pustaka Quantum, 2002.
ekonomi%20 kreati),Makalah diunduh 10 Mei 2017 jam 10.15.
Sari, Ifit Novita. "Kepemimpinan Moral-Spiritual Guru Dalam Pembentukan Karakter Peserta Didik.(Studi Multikasus Di Sekolah Dasar Plus Al Kautsar, Sekolah Dasar Negeri Kauman I, Dan Sekolah Dasar Katolik Santa Maria II Di Kota Malang)." DISERTASI dan TESIS Program Pascasarjana UM (2017).
Wajdi, Muh. Barid Nizaruddin, Yuli Choirul Ummah, and Devit Etika Sari. "UKM Development Business Loan." IJEBD (International Journal Of Entrepreneurship And Business Development) 1, no. 1 (October 1, 2017): 99–109. Accessed November 9, 2017. http://jurnal.narotama.ac.id/index.php/ijebd/article/view/350.
Wajdi, Muh Barid Nizarudin, and Veronika Nugraheni Sri Lestari. "Definisi Dan Karakteristik Makalah" (2017).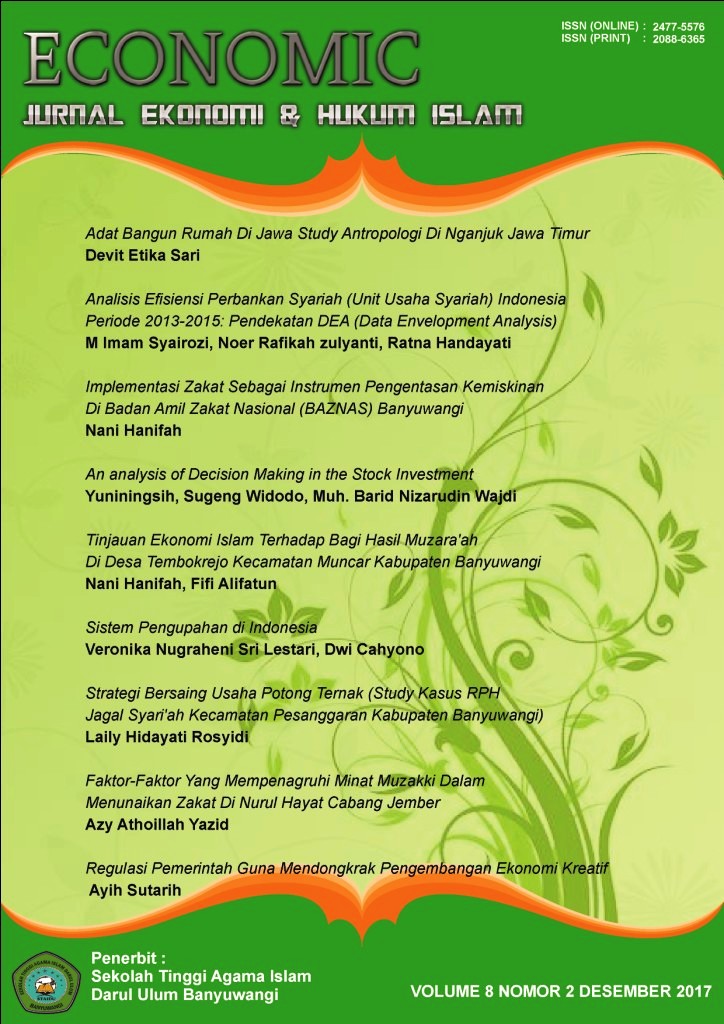 How to Cite
Sutarih, A. (2017). Regulasi Pemerintah Guna Mendongkrak Pengembangan Ekonomi Kreatif. Economic: Journal of Economic and Islamic Law, 8(2), 199-213. Retrieved from http://ejournal.kopertais4.or.id/tapalkuda/index.php/economic/article/view/3043
Copyright (c) 2017 Economic: Journal of Economic and Islamic Law
This work is licensed under a Creative Commons Attribution-ShareAlike 4.0 International License.
Authors who publish with this journal agree to the following terms:
Authors retain copyright and grant the journal right of first publication with the work simultaneously licensed under a Creative Commons Attribution License that allows others to share the work with an acknowledgement of the work's authorship and initial publication in this journal.
Authors are able to enter into separate, additional contractual arrangements for the non-exclusive distribution of the journal's published version of the work (e.g., post it to an institutional repository or publish it in a book), with an acknowledgement of its initial publication in this journal.
Authors are permitted and encouraged to post their work online (e.g., in institutional repositories or on their website) prior to and during the submission process, as it can lead to productive exchanges, as well as earlier and greater citation of published work (See The Effect of Open Access).