Analisis Runtuhnya Islam Di Spanyol
Miftakhul Munir

STIT PGRI Pasuruan
Keywords:
Analysis, The Collapse of Islam, In Spain
Abstract
Spain began with the fall of the Umayyad Caliphate in the 11th Century. Spanish history considers the 718 covadonga battle here where the leader of Asturia, Pelayo, repelled the Islamic forces as a sign of the beginning of the actual conquest. In the 13th century there were two important processes of Christianization and the incorporation of Spain. Menchristenisasi the country is certainly different from uniting, or recapture. The only region on the peninsula where Islam is firmly rooted is the area that has become a land for the growth of semitic and cartago civilizations. At the end of the 13th century, all over the mainland, many Muslims had submitted themselves to Christianity through conquest or through treaties but still maintained law and religion.
References
Suwito, sejarah social pendidikan islam, kencana, Jakarta: 2005.
Amin, Samsul Munir, sejarah peradaban islam, sinar grafika offset, Jakarta : 2009.
Http://fadliyanur.multiply.com/journal/item/34, Diakses tanggal 02 januari 2011.
Syalabi, A, sejarah dan kebudayaan islam, pustaka alhusna: Jakarta, 1983.
Yatim, Badri sejarah peradaban islam, PT Rajagrafindo persada, Jakarta, 2008.
Badri yatim, Sejarah Peradaban Islam Dirasah Islamiyah Ii, rajawali pers, Jakarta, 2008.
Taufiqurrahman, Sejarah Politik Masyarakat Islam, Bina Usaha Yogyakarta: 2001.
Hitti, Philip K, History Of The Arabs, PT serambi ilmu semesta, Jakarta: 2010.
Nizar, Syamsul Sejarah Pendidikan Islam Menelusuri Jejak Sejarah Era Rasullah Sampai Indonesia, fajar interpratama offset, Jakarta: 2007.
W Montgomery Watt, kejayaan islam. Yogya, Tiara Wacana, 1990.
Ira M Lapidus, sejarah social umat islam, Jakarta Rajawali 1999.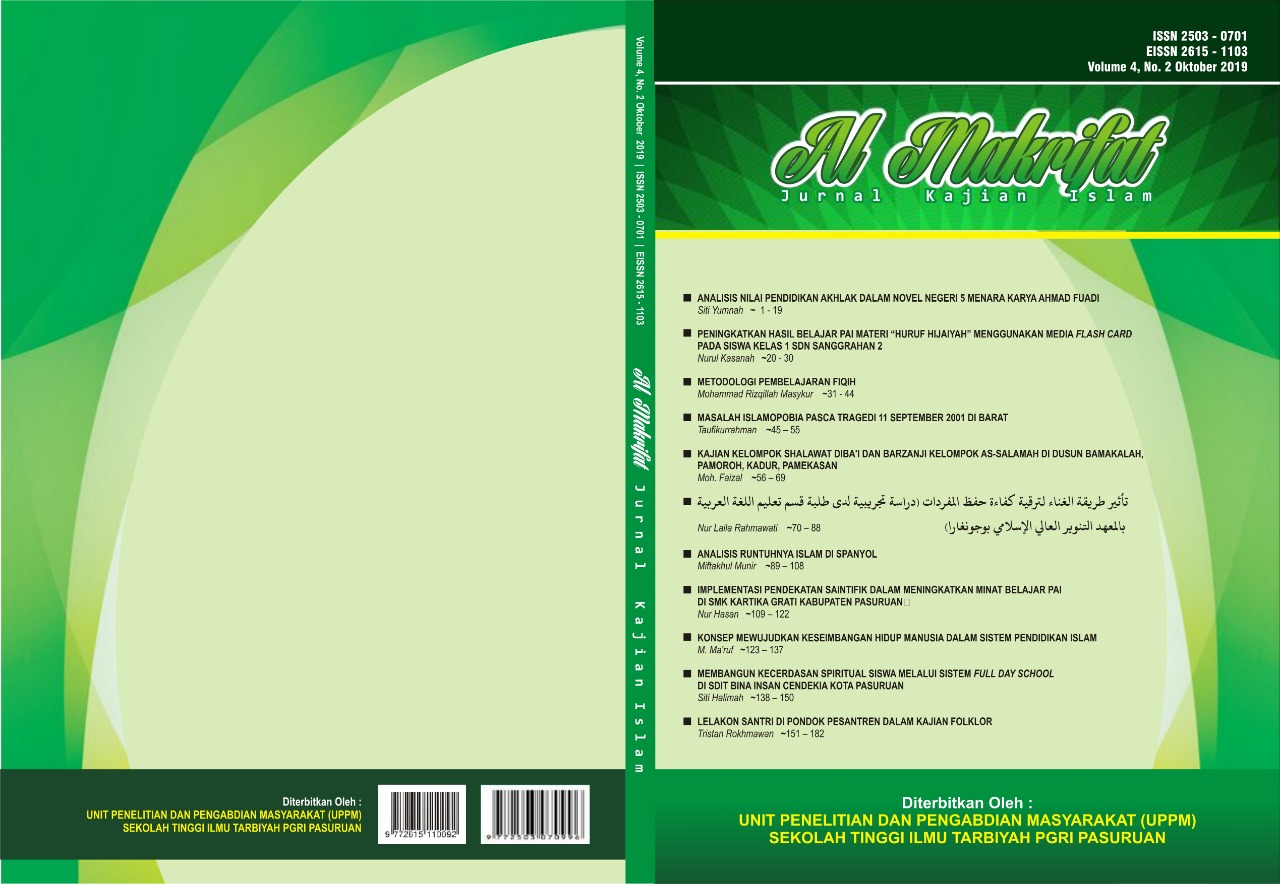 How to Cite
Munir, M. (2019). Analisis Runtuhnya Islam Di Spanyol. Al-Makrifat: Jurnal Kajian Islam, 4(2), 89-108. Retrieved from http://ejournal.kopertais4.or.id/tapalkuda/index.php/makrifat/article/view/3459