Bank dan Riba: Implikasinya dalam Ekonomi Islam
Abstract
Islamic banks are banks whose activities leave usury problems. While usury is meant is excess property in a muamalah with no compensation. The mechanism of interest-free Islamic banking / usury based on philosophical and practical reasons. The principle of Islamic banking profit sharing makes the risk of loss smaller than deposit interest, but this high profit share still cannot provide a large influence on the economy. The reason is people still choose bank interest because the negative implications of the bank interest system are not felt directly individually in the near future by the public
References
Algoud dan Lewis. Perbankan Syariah; Prinsip Praktik dan Prospek (terj), Jakarta: PT. Serambi Ilmu, 2003.
Arifin, Zainul. Dasar-Dasar Manajeman Bank Syariah, Jakarta: Alfabeta, 2002.
Chapra, Umer. Islam and The Economics Challenge, USA: The Islamic Foundaton and The Instiute Of Islamic Thought, 1995.
Chapra, Umer. Masa Depan Ilmu Ekonomi; Sebuah Tinjauan Islam, Jakarta: Tazkiya Cendaki dan Gema Insani press, 2001.
Hadi, Abu Sura'I abdul. Bunga Bank Islam, Surabaya: al-Ikhlas,1993.
Hosein Imaran N. The Prohibition of Riba in the Quran and Sunnah, Kualalumpur: Ummavision,1997.
Karim. Adiwarman A. Bank Islam analisis Fiqih dan Keuangan, Jakarta: Raja Grafindo Persada, 2014.
Karin, Adiwarman A. Konsep Uang dalam Islam, Yogyakarta: FE. UGM, 2001.
Kholid, M. "Praktik Akad Pembiayaan Gadai Emas Perspektif Hukum Islam." Al-Insyiroh: Jurnal Studi Keislaman 2.1 (2018): 128-137.
Mashudi. "Perilaku Dan Budaya Konsumen Madura Dalam Dinamika Etika Bisnis Syariah." Al-Insyiroh: Jurnal Studi Keislaman 2.2 (2018): 133-149.
Muhamad. Ekonomi Moneter Islam, Yogyakarta: UII Press, 2018.
Muhammad, " Kontrovensi tentang Bunga Bank dan Riba", Mukaddmah Jurnal Studi Islam dan Informasi PT AIS, Vol. III. No. 4, Yogyakarta: Kopertais Wilayah III dan PT AIS DIY
Muhammad. Manajemen Bank Syariah, UPP AMP YKPN, 2002.
Muslehuddin, Muhammad. Banking and Islamic Law, Jakarta: Rineka Cipta, 1974.
Perwataatmadja, Karnaen. Apa dan Bagaimana Bank Islam, Yogyakarta: PT. Dana Bhkati Wakaf, 1997.
Suparyanto, Didik. "Prospek Perbankan Syariah di Indonesia." Al-Insyiroh: Jurnal Studi Keislaman 2.2 (2018): 170-181.
Yafie, Ali. Fiqh Perdagangan Bebas, Jakarta: Teraju, 2003.
Zulkifli, Sunarto. Panduan Praktis Transaksi Perbankan Syariah, Jakarta: Zikrul Hakim, 2003.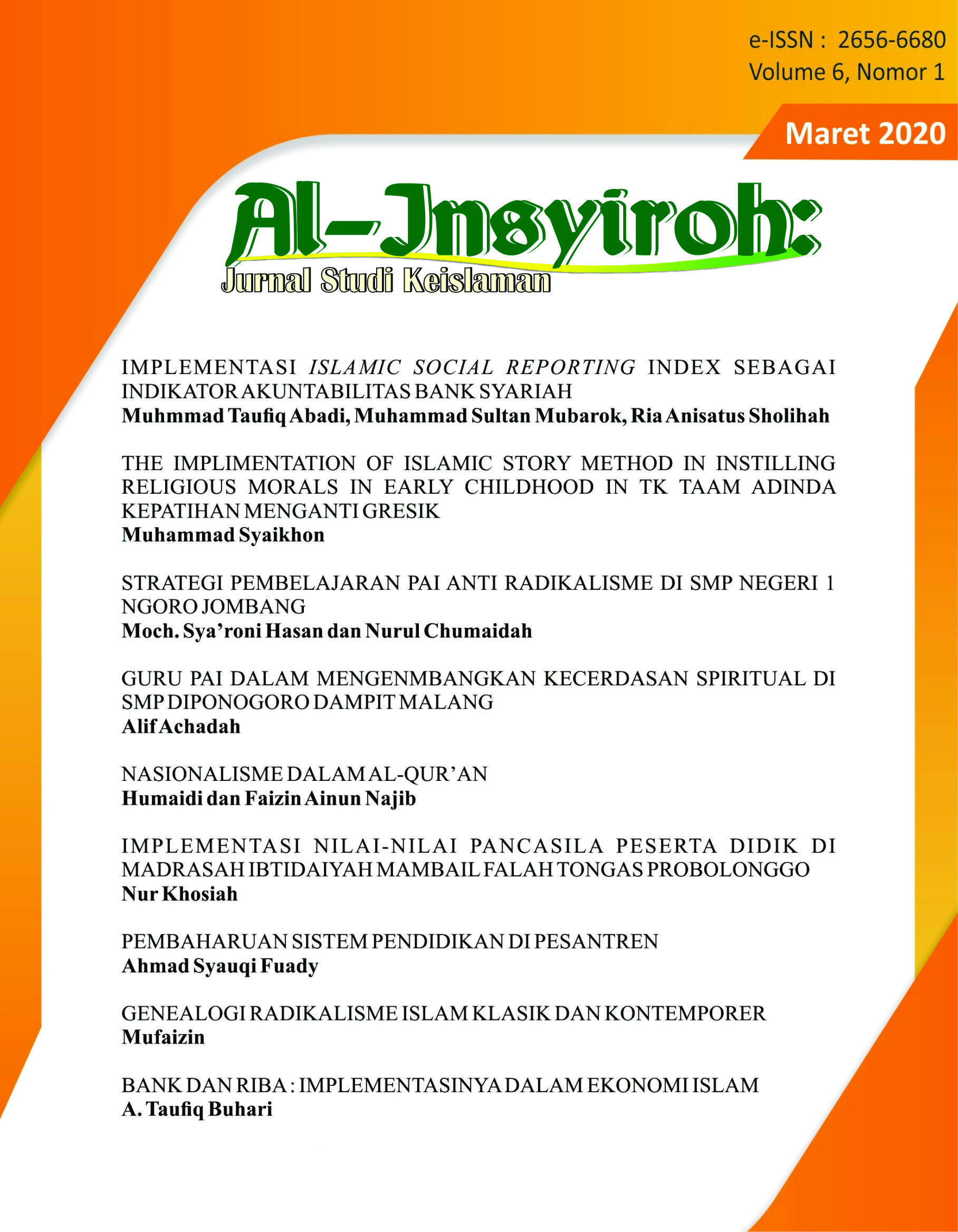 Downloads
How to Cite
Buhari, A. T. (2020). Bank dan Riba: Implikasinya dalam Ekonomi Islam. Al-Insyiroh: Jurnal Studi Keislaman, 6(1), 127–136. https://doi.org/10.35309/alinsyiroh.v6i1.3824
License

This work is licensed under a Creative Commons Attribution-ShareAlike 4.0 International License.