Urang Banjar Philosophy: Education and The Social Affairs of The Community
Keywords:
Bahuma, Banjar, masyarakat, teknologi, perubahan
Abstract
ABSTRACT: The possibility of social change in the Orang Banjar ideology is illustrated in this study. The people of Banjar demonstrate that farming is to be taught for the next generation, not just for the economies alone Bahuma or right farming. This research is field research with a descriptive-analytical approach. This research found that the philosophics of the traditions of Banjar should thrive wherever they are, with the approach of longitude (honesty, trust and fathanah), superficial (persistent and resilient), tugul (diligent and continuity), paibadah (near to God), batarget (sight and a clear mission). This paper is based on al-Qur'an surah Al-Fath verse 29 and al-A'raaf verse 56 and supports Ashabiyah Ibn Khaldun's theory, which emphasizes that three stages tend to change people's thinking, namely the stage of creation, the stage of enjoyment, and the stage of individuality. Likewise, Arnold Toynbee's theory, which suggests that changes that happen in society, whether they are improvement or failure, can be explained by social concepts that are always interrelated, namely challenges and responses. Keywords: Bahuma, Banjar, society, technology, change, education.
References
Bulmer, M. (2017). Sociological research methods. Routledge.
Dove, M. R. (1986). Peasant versus government perception and use of the environment: A case-study of Banjarese ecology and river basin development in South Kalimantan. Journal of Southeast Asian Studies, 17(1), 113–136.
Gunarwan, A. (2001). Indonesian and Banjarese Malay among Banjarese Ethnics in Banjarmasin City: A Case of Diglossia Leakage?.
Hadi, S. (2015). Studi Etika Tentang Ajaran-ajaran Moral Masyarakat Banjar. Jurnal Tashwir, 3(6).
Mayhew, B. H. (1984). Baseline models of sociological phenomena. Journal of Mathematical Sociology, 9(4), 259–281.
Michiani, M. V., & Asano, J. (2017). A Study on the Historical Transformation of Physical Feature and Room Layout of Banjarese House in the Context of Preservation. Urban and Regional Planning Review, 4, 71–89.
Rafiek, M. R. M. (2018). Pemasyarakatan Bahasa Indonesia Melalui Madihin Banjar Jhon Tralala Dan Hendra Sebagai Upaya Mempererat Persatuan Bangsa Indonesia (The socialization Of Indonesian Language Through Madihin Banjar By Jhon Tralala And Hendra As Efforts To Strengthen National Unity Of Indonesia). JURNAL BAHASA, SASTRA DAN PEMBELAJARANNYA (JBSP), 3(2), 184–195.
Romadoni, A. N. (n.d.). THE ETHNOMATEMATICS ASPECTS OF BANJAR CULTURE IN BALANGAN DISTRICT OF SOUTH KALIMANTAN.
Saptandari, P. (2014). Indonesian Spa and Traditional Wellness: Gender, Health and Life Styles. Health, 5(3), 20–31.
Steenbrink, K. A. (2006). Dutch colonialism and Indonesian Islam: Contacts and conflicts, 1596-1950 (Vol. 7). Rodopi.
Sumawinata, B. (1999). Soil Chemical Profiles Developed from Pyrite-containing Sediments under Banjarese Agricultural Practices in South Kalimantan. Japanese Journal of Southeast Asian Studies, 36(4), 475–493.
Suryatin, E. (2017). Analisis Semantik Verba Bermakna'Menyakiti'dalam Bahasa Banjar. Metalingua: Jurnal Penelitian Bahasa, 12(1), 43–56.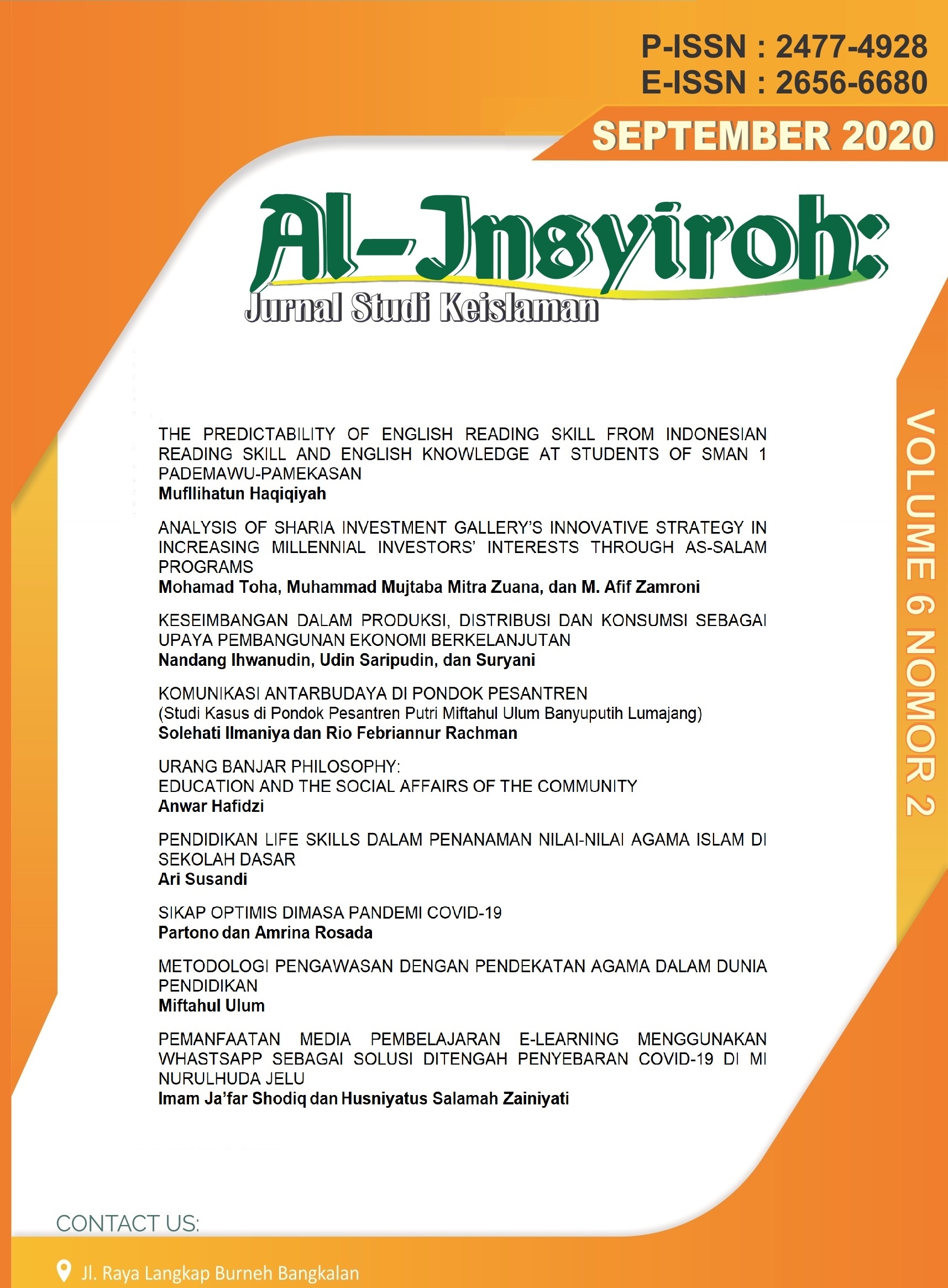 Downloads
How to Cite
Hafidzi, A. (2020). Urang Banjar Philosophy: Education and The Social Affairs of The Community. Al-Insyiroh: Jurnal Studi Keislaman, 6(2), 85–94. https://doi.org/10.35309/alinsyiroh.v6i2.3915
License

This work is licensed under a Creative Commons Attribution-ShareAlike 4.0 International License.