Tadarruj dan Tikrar Terhadap Evaluasi Pembelajaran Tartil al-Qur'an Dalam Perspektif Kitab Muqaddimah Ibn Khaldun
Keywords:
tadarruj, tikrar, evaluasi pembelajaran, tartil quran
Abstract
This study aims to examine more deeply the evaluation of the ideal tartil al-Quran learning in Ibn Khaldun's view. This study uses a qualitative descriptive method using a phenomenological approach. The data collection techniques use observation data, interviews and related references. The data analysis technique also uses four stages, namely data reduction, data classification by structuring several points of analysis related to the conclusion of the analysis. As for the results of this study, (1) only some teachers implemented the tikrar concept. (2) Whereas the tadarruj at Khadijah Middle School was well systematic
References
Abidin, Mohd Zahirwan Halim Zainal. "Pandangan Ibnu Khaldun Berkaitan Kaedah Pendidikan Dalam Kitab Al-Muqaddimah." IDEALOGY 2, no. 1 (2017): 26–35.
Aliah, Nelud Darajaatul. "Observasi Pembelajaran Bil Qolam Di SMP Khadijah Surabaya," 2020.
Aliyah, Minhatul. "Wawancara Program Taklim Al-Qur'an." Waka Kurikulum SMP Khadijah, 2020.
Asy-Syahida, Salma Nadhifa, and A. Mujahid Rasyid. "Studi Komparasi Metode Talaqqi Dan Metode Tilawati Dalam Meningkatkan Kemampuan Membaca Al-Qur'an." Jurnal Pendidikan Islam Indonesia 4, no. 2 (2020): 186–191.
Bil Qolam, Tim. Strategi Evaluasi Pembelajaran Al-Qur'an Dengan Metode Bil Qolam. Singosari: Bil Qolam, 2017.
DKB, DIAGNOSTIK KESULITAN BELAJAR. "Psikologi Pendidikan" (2007).
Hamzah, Mohd Isa. "Implementation and Development of Qur'an Learning Method in Malaysia and Indonesia: An Analysis" (2018).
Haq, Andri Moewashi Idharoel, Prahasti Suyaman, and Leonita Siwiyanti. "PROFIL KEMAMPUAN MEMBACA AL-QURAN MAHASISWA MELALUI KEGIATAN PEER MENTORING." Ummi 10, no. 2 (2016): 40–44.
Hernawan, Asep Herry, Hj Permasih, and Laksmi Dewi. "Pengembangan Bahan Ajar." Direktorat UPI, Bandung 4, no. 11 (2012).
Ismail, Masthurhah, Puteri Rohani Megat Abdul Rahim, and Muhammad Sufi Mohamad Yusoff. "Educational Strategies to Develop Discipline among Students from the Islamic Perspectives." Procedia-Social and Behavioral Sciences 107 (2013): 80–87.
Kadir, Mohd Amin Bin. "Adult Learners Understanding in Learning Islam Using the Andragogy Approach in Singapore." Journal of Education and Practice 7, no. 17 (2016): 1–12.
Khadijah, SMP. "Dokumentasi Draft Khotimin Khotimat Al-Qur'an SMP Khadijah Surabaya Tahun Ajaran 2018/2019." YTPSNU Khadijah Surabaya, 2019.
Matondang, Zulkifli, Ely Djulia, Sriadhi Sriadhi, and Janner Simarmata. Evaluasi Hasil Belajar. Yayasan Kita Menulis, 2019.
Mufaizin, Mufaizin, and Yassir Arafat. "Implementasi Metode Jibril dalam Meningkatkan Kemampuan Membaca Al Qur'an Kelas C2 Tahsin Tilawah Lembaga Takhassusul Qur'an Darul Hikmah." AL-THIQAH-Jurnal Ilmu Keislaman 3.01 (2020): 39-54.
Mujib, Abdul. "Pendekatan Fenomenologi Dalam Studi Islam." Al-Tadzkiyyah: Jurnal Pendidikan Islam 6, no. 2 (2015): 167–183.
Mursyid, Ali, and Inayatul Mustautina. "Tajwid Di Nusantara Kajian Sejarah, Tokoh Dan Literatur." ELFURQANIA: Jurnal Ushuluddin dan Ilmu-Ilmu Keislaman 5, no. 1 (2019): 75–104.
Nahar, Syamsu. "Studi Ulumul Quran" (2015).
Nata, H. Abuddin. Manajemen Pendidikan: Mengatasi Kelemahan Pendidikan Islam Di Indonesia. Kencana, 2012.
Nuaim, Mas Hasan. "Wawancara Guru Tartil Al-Qur'an Di SMP Khadijah Surabaya," 2020.
Nugraha, Muldiyana. "Manajemen Kelas Dalam Meningkatkan Proses Pembelajaran." Tarbawi: Jurnal Keilmuan Manajemen Pendidikan 4, no. 01 (2018): 27–44.
Ramdhan, Tri Wahyudin. "Model Pengembangan Kurikulum Multikultural." Al-Insyiroh: Jurnal Studi Keislaman 5.2 (2019): 39-53.
Subhan, Arief. Lembaga Pendidikan Islam Indonesia: Abad Ke-20. Kencana, 2012.
Weisberg, Robert W. "Toward an Integrated Theory of Insight in Problem Solving." Thinking & Reasoning 21, no. 1 (2015): 5–39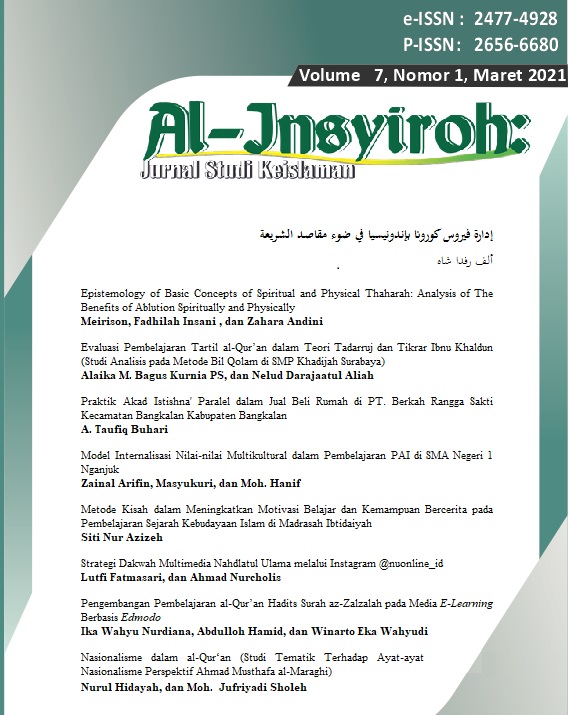 Downloads
How to Cite
PS, A. M. B. K., & Aliah, N. D. (2021). Tadarruj dan Tikrar Terhadap Evaluasi Pembelajaran Tartil al-Qur'an Dalam Perspektif Kitab Muqaddimah Ibn Khaldun. Al-Insyiroh: Jurnal Studi Keislaman, 7(1), 44–57. https://doi.org/10.35309/alinsyiroh.v7i1.4093
License

This work is licensed under a Creative Commons Attribution-ShareAlike 4.0 International License.